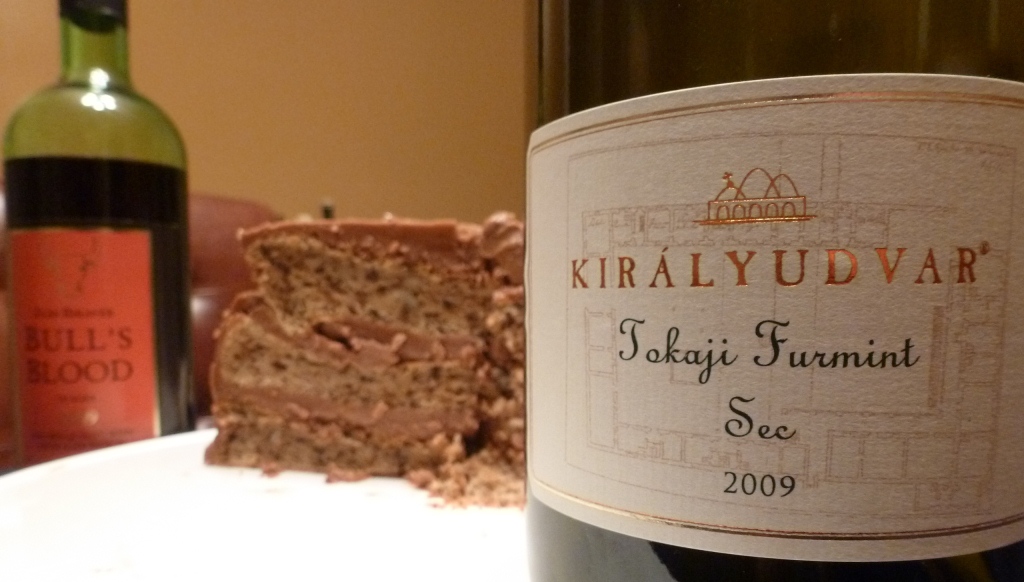 A dear friend and talented graphic designer did me the great favor of designing my business cards some time ago, and I resolved to thank him in proper Odd Bacchus fashion. Since his paternal grandfather is of Hungarian extraction, it seemed like a fun idea to cook up a full-blown Hungarian feast for him and his wife, complete with wine pairings.
Frustratingly, sometimes it seemed that making a full-blown Hungarian feast was easier than finding fine Hungarian wines.
A number of shops in Chicago carry Hungarian wines, but too often it's low-quality, "semi-sweet" plonk. Binny's, for example, had a number of unpromising looking bottles in its small Eastern European wine section, to which Georgia, Armenia and Bulgaria apparently send the wines too appalling to drink at home. These countries actually all make fine wine, but it too rarely makes it to the United States.
I moved on to the Austrian section, planning to use the Austro-Hungarian Empire as an excuse to serve wine from across the border. What a pleasant surprise to find a bottle of 2009 Királyudvar Tokaji Furmint Sec hiding in a forest of Grüner Veltliner! And how telling, that Binny's chose to place this Hungarian wine in the high-class Austrian section, rather than in the Eastern 'hood with its over-sweet compatriots. I snatched it up.
The name takes a little unpacking to understand. The Királyudvar winery is located in Tokaj, a renowned wine region near Hungary's northern boundary. Although this region is most famous for Sauternes-like Tokaji Aszú, a lusciously sweet wine made from botrytized Furmint and Hárslevelű grapes, this Furmint/Hárslevelű blend is sec, or dry. Sweet wines from Tokaj have been prized for centuries, but dry table wines are a relatively new phenomenon.
Because Furmint grapes are particularly susceptible to the botrytis fungus (noble rot), they're ideal for Tokaji Aszú, but much harder to use in dry wines. Rather than use chemicals to tackle the botrytis, Királyudvar found a hillside vineyard called Percze where botrytis sets in very late in the season, allowing the grapes to fully ripen before being affected by the fungus.
The resulting dry Furmint delighted all of us at the table. It had a rich, enticing and exotic aroma of overripe pear and perhaps a touch of camphor. Others smelled dark berries and even bubble gum. The lush texture and honeyed flavor reminded me of why Furmint and Hárslevelű work so well in Tokaji Aszú. Ample acids provided refreshing balance, and I loved the clean, minerally finish. The acids also stood up well to my version of "Fisherman's Soup à la Szeged," though the pairing didn't make any sparks fly.
I felt nervous about my $8 bottle of Egri Bikavér, also known as Bull's Blood, Hungary's most famous red wine and the only Hungarian red I could find. As The Sotheby's Wine Encyclopedia notes, this Kékfrankos-based wine from Eger (halfway between Budapest and Tokaj) "has been notoriously variable in both quality and character" since the 1980s. My gamble did not pay off. This wine tasted like vanilla-soaked wood, and not much else. It was undrinkable. Fortunately, the Furmint could hold its own even against the beef pörkölt, a thick stew with onions, bell peppers, tomatoes, garlic and spicy paprika.
I wish that more of Hungary's finer reds would make their way stateside. Unless you have a reputable source, sticking to whites will be safest. If you do see a dry Hungarian white, I strongly recommend giving it a try. It will likely have been made by a forward-thinking winery and crafted with care. And if you do happen upon a well-priced bottle of Tokaji Aszú, for goodness sake buy it, and bring it over immediately.
SUMMARY
2009 Királyudvar Tokaji Furmint Sec: A delightful and unusual white, with a rich aroma and rich flavors tempered by food-friendly acids and attention-grabbing minerals. Drink with light cream- or olive-oil based sauces, or even lightly spicy Asian cuisine. Chill well before serving.
Grade: A-
Find It: I purchased this bottle at Binny's in Lakeview (in the Austrian section) for $20. Ignore the website's description — it's not a dessert wine. It's fruity, but unquestionably dry.