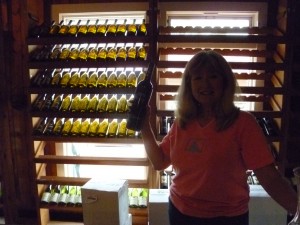 4. JEFFERSON VINEYARDS: In this pretty piece of Virginia countryside, Thomas Jefferson planted the first commercial vineyards in Virginia and probably the first in the entire New World. His viticultural efforts generally failed, unfortunately, but nowadays, Jefferson Vineyards produces some very tasty wine indeed. The reds here were particularly appealing.
The light-bodied Cabernet Franc (a blend of 2010 and 2011 vintages, since the 2011 vintage was marred by Hurricane Irene) had an aroma of dark fruit and iron, and it tasted fruity and earthy with some good structure. Jefferson Vineyards was the first to bottle a varietal Petit Verdot in Virginia, and the 2010 vintage continues that proud tradition. It had a jammy nose and plummy, meaty flavors with juicy acids and a touch of tobacco in the finish. And the rich Meritage (rhymes with "heritage"), a Bordeaux-style blend, smelled marvelously rich and had a palate to match: jam, vanilla, balanced acids and a chocolatey finish. Delightful.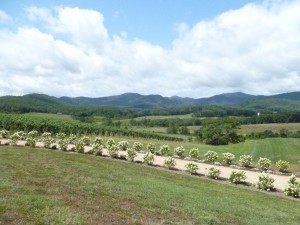 3. PIPPIN HILL FARM: The wines here tasted just fine; a through-line seemed to be rather limey, occasionally pointy acids in many of the whites and some of the reds. I'm not necessarily dying to try any of them again, but I would kill to be back on the gorgeous terrace outside the tasting room. My stars and stripes, what a view! Vineyards, farms, mansions, the Blue Mountains in the distance…
It's truly spectacular. A glorious place for lunch and a glass of wine.
2: BARBOURSVILLE VINEYARDS: One of the first modern wineries in Virginia, Barboursville was founded in 1976 by the Zonins, a renowned Italian winemaking family. As you might expect, you'll encounter several Italian varietals here, such as a r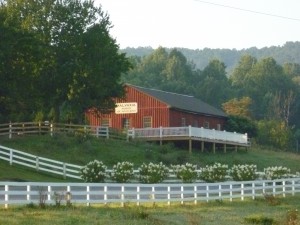 ichly fruity Sangiovese, an earthy Barbera and a tightly wound Nebbiolo. The sharply focused Viognier Reserve, austere Octagon (a Bordeaux-style blend) and Sauternes-like Malvaxia Reserve also made quite an impression on me.
Because the tasting room can be quite crowded, especially on weekends, I recommend trying the wines paired with some wonderfully delicious Italian cuisine in the adjacent Palladio Restaurant. The Caprese salad with perfectly ripe heirloom tomatoes and sumptuously creamy burrata cheese haunts me still. Work off lunch with a stroll past the vineyards to the ruins of Governor James Barbour's mansion, dating from the early 19th century.
1: KESWICK VINEYARDS: Brian Schornberg, the engaging son of Keswick Vineyards' founders, manned the tasting room the morning of my visit. He was able to pour only five wines for me, the rest having sold out, and all five were superb.
A surprising Verdejo (a traditionally Spanish variety) tasted fresh, green and elegant. The rosé, a blend of Bordeaux varieties and a bit of Norton (a fine local variety) moved from sweet strawberries to grapefruity acids to a chalky finish — perfect. The Merlot had a beautiful nose that reminded me of when I used to spread raspberry jam and Nutella on toasted rolls. On t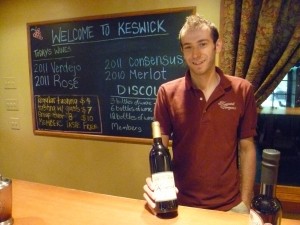 he palate, it was voluptuous but well-structured — like a 40-something Sophia Loren. The freshly bottled Cabernet Sauvignon exhibited the same attention to structure, with notes of cherries, black pepper and cocoa. Finally, it was great fun to try the fruity and earthy 2011 Consensus, the product of an annual blending competition held on the property (some 200 wine club members participated in the competition and voted on the winner).
Almost all of Keswick's wines get sucked up by the wine club, and the rest are sold out of the tasting room. You won't find them in stores, alas. So the only way you'll get to taste these beauties is to head to Keswick's idyllic estate yourself!
Virginia Albemarle County, Barboursville Vineyards, Charlottesville, Jefferson Vineyards, Keswick Vineyards, Pippin Hill Farm