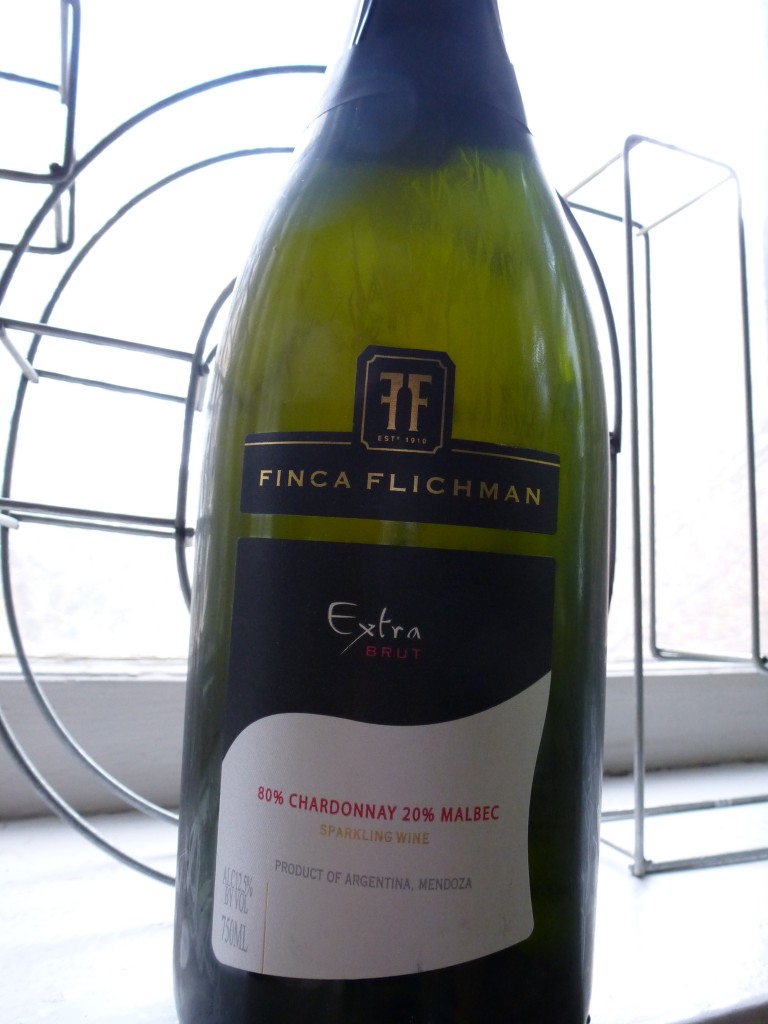 Last year, I wrote that wine alone might not be enough to get you through Thanksgiving. Nevertheless, as a host, you'll likely be expected by at least some of your guests to serve wine, or as a guest, your hosts may very well expect you to bring a bottle of wine. In either case, since family is almost surely involved, you probably aren't in a mood to spend a lot of money. But of course, you also don't want your family whispering behind your back — for years to come — about that crappy wine you served, with which they could barely wash down that desiccated turkey and gelatinous stuffing.
I have just the thing to thread the needle. Ignore whatever other articles you've read, recommending $20 Rhône-style blends or $30 Pinot Noirs. Save those for yourself and your partner — they'll spruce Thanksgiving leftovers right up. For the big day itself, get thee to Binny's and pick up some NV (non-vintage) Finca Flichman Brut Extra. It's $10 a bottle (or even less if you buy a case), and it's perfectly delightful.
This apricot-colored sparkling wine comes from Mendoza in Argentina, a region much more famous for its Malbec. In fact, it might be tempting to serve Malbec at Thanksgiving, but don't do it. Everyone thinks it's inexpensive, so even if you buy a really nice Malbec, you'll end up looking cheap. On the other hand, no one knows what an Argentinean sparkling wine costs, and when they taste this unusual blend of 80% Chardonnay and 20% Malbec, they'll never guess it runs just a few dollars more than Yellow Tail.
The grapes for this wine are, impressively at this price point, harvested by hand, theoretically ensuring that only the ripest fruit ends up in the presses. Unfortunately, the second fermentation does not happen in the bottle, in what is known as the Methode Champenoise. Finca Flichman uses the less labor-intensive Charmat process, which usually results in larger, less-refined bubbles.
I tend to be suspicious of wines made in the Charmat method, but in this case, there was no need to fear. The plentiful bubbles couldn't be described as "pin-prick," exactly, but they were smaller and more elegant than I expected. The aromas of strawberry and watermelon also surprised me. They were a feint, however — the wine tasted dry but round, with lively, orangey acids and pleasant note of yeast. The berries reappeared only at the end, as a whisper on the finish. Yum. I haven't tried it with turkey or stuffing, but I have a feeling it would pair perfectly.
And perhaps most important of all, the Finca Flichman's pinkish-orange color will match beautifully with an autumnally themed Thanksgiving table. Your family will be pleased, and your wallet will remain more or less intact. Those are things I can definitely be thankful for.
SUMMARY
NV Finca Flichman Extra Brut: Fruity on the nose but dry, round and a bit yeasty on the palate. A stellar value, and a fine match for a range of foods. In short, an ideal Thanksgiving choice.
Grade: A-
Find It: I purchased this wine at Binny's for $10.
Argentina, Sparkling Chardonnay, Finca Flichman, Malbec, Mendoza, Thanksgiving Wine