Baden will always have a special place in my heart. This extravagantly beautiful ex-duchy in Germany's far southwest was the first (and only) wine region where I've actually lived. From my base in Freiburg-im-Breisgau, the beguiling capital of the Black Forest, I remember striking out on my bicycle along unpaved paths to villages like Staufen, nestled at the foot of hillside vineyards leading up to a ruined castle. Some friends and I even biked across the Rhein River to Colmar in the Alsace region; I love that my first entry into France was by bicycle rather than airplane.
Some of my Mitstudenten gathered for a 10-year reunion in Freiburg back in 2009, and in between visits to our dorms and a favorite Biergarten or two, we took a train to Ihringen, an important wine village in the Vulkanfelsen ("volcanic cliffs") section of the Kaiserstuhl, just across the river from the Alsace. This is a "first-class wine district," according to The Sotheby's Wine Encyclopedia, and indeed, we tasted some lovely things at Wasenweiler, a cooperative winery we toured.
Despite Baden's many fine wines, there's a very good chance you've never actually tasted anything from this region. Even Binny's, one of the largest wine stores in the country, carries precisely zero wines from Baden. Because of the marketing success of the massive Zentralkellerei Badischer Winzergenossenschaften (ZBW), almost all exports out of Baden are "well-made, but rather basic, characterless wine," as the Encyclopedia notes. But an array of smaller producers makes very high-quality wines, as the Encyclopedia and I agree, and it's a shame we can't find them outside of Germany (or even outside Baden, for that matter).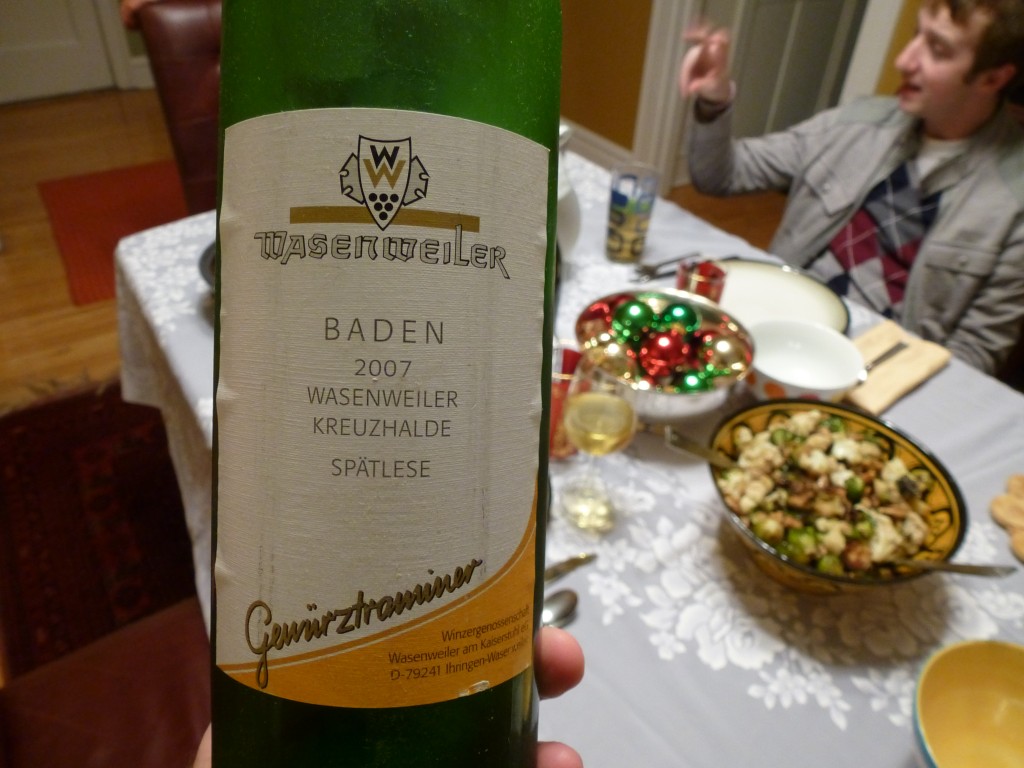 I brought back one bottle from Wasenweiler, a 2007 "Kreuzhalde" Gewürztraminer Spätlese. It's quite a mouthful, both in terms of pronunciation and flavor. "Kreuzhalde" is the name of the specific vineyard, a hilly, sunny site that requires harvesting by hand (you can see a photo here). "Spätlese" refers to the level of the fruit's ripeness at the time it was picked, as measured by the amount of sugar in the grapes. It translates basically as "late harvest," but it falls in the rough middle of the scale, between Kabinett and Auslese. And Gewürztraminer is the wonderful grape variety, which The Oxford Companion to Wine calls "Deeply colored, opulently aromatic and fuller bodied than almost any other white wine."
And so it was. The Wasenweiler looked honey-gold in the glass, and the aroma! A heady honeysuckle perfume. But my worries that this wine had aged too long were only finally dispelled when I gave it a try. The acids remained mostly intact, ensuring balance and liveliness. It tasted exotic and spicy, with flavors of ripe pear, cinnamon, ginger, jasmine and incense, yet it was surprisingly dry. It stood up quite well to a dinner of vegetarian choucroute (sauerkraut cooked with veggies, spices and wine) and Käsespätzle (noodle-like dumplings with caramelized leeks, butter and Emmentaler cheese).
What a wonderful reminder of that sunny day in Ihringen, when we got semi-lost on the way to the winery and wandered for a while along vineyards and well-tended gardens. Maybe it's not such a bad thing that wines from Baden are so hard to find. Now, whenever I have the chance to drink one, it's a truly special experience, bringing me right back to that glorious piece of German countryside. It makes me hunger for a return trip, and it reminds me how lucky I am to have lived there for a time.
And somehow, it's reassuring to know that there are still some things you can get only by traveling to the source.
Germany, Gewürztraminer Baden, Freiburg, Ihringen, Kaiserstuhl, Vulkanfelsen, Wasenweiler