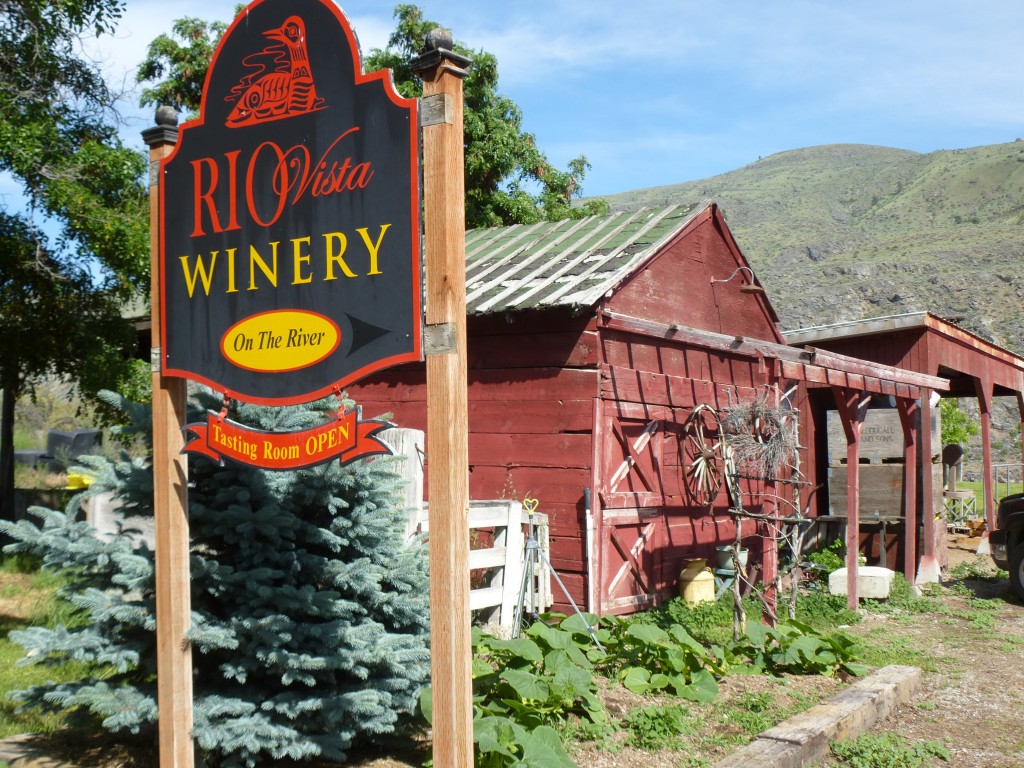 The first winery we visited as part of the Wine Blogger's Conference pre-conference excursion to Lake Chelan was not, in fact, on the lake. Since Rio Vista stands on a hillside overlooking the Columbia River about 10 miles to the north, it technically belongs to the huge Columbia River AVA, not the four-year-old Lake Chelan AVA (American Viticultural Area). Even so, travelers to Lake Chelan should consider a short detour to Rio Vista, accessible by road, boat or float plane.
Because of Seattle's reputation, one might imagine that a vineyard in Washington State receives vast quantities of rain, but eastern Washington lies in the rain shadow of the Cascade Mountains, making it a veritable desert. Most wineries here need to irrigate their sun-soaked vineyards.
As tempted as I was to take advantage of that sun and bask on Rio Vista's river-view terrace, I was here on business, and I headed straight to the bar to get tasting. Here are some of my favorite wines, most of which turned out to be blends: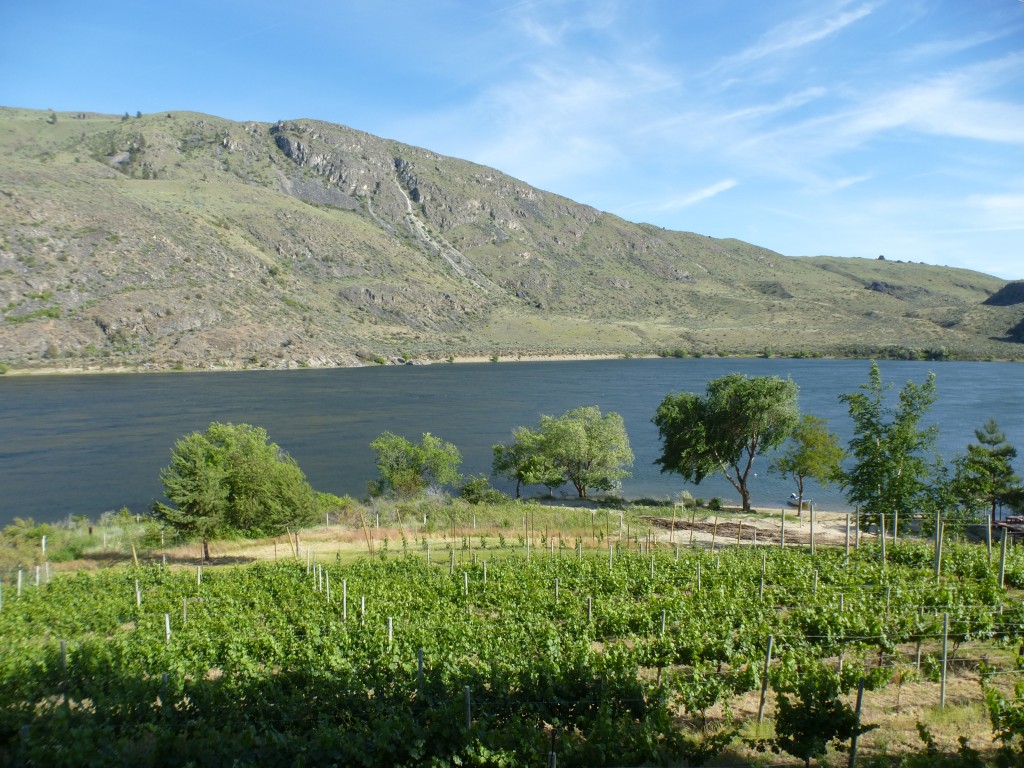 2012 Wild Rose Rosé: A blend of 60% Merlot and 40% Syrah, this pink charmer had a tight, spicy aroma, creamy fruit and a zippy prickle on the finish. $19.
2012 Sunset on the River: This very unusual combination of Gewürztraminer, Pinot Gris and Chardonnay had a beautifully floral, aromatic nose. It starts sweet but tart acids take over, keeping things balanced. $20
2009 Loony Red: Another rather unorthodox blend, this wine mixes two Bordeaux varieties (Merlot and Cabernet Sauvignon) with a Rhône grape (Syrah). It works. I got sucked in right away by the enticing, darkly jammy aroma. The flavor didn't disappoint, with a richly fruity start, some oak, some dusty tannins and a zing of spice. $28
2011 Malbec: This wine really divided the crowd. Some people loved the pronounced coffee aroma and the flavors of mocha and cherries, but others remarked that if they wanted a cup of coffee, they would go to Starbucks. $32
2011 Cabernet Sauvignon: We tasted this wine straight from the barrel, which always feels like a special experience, even if the wine is only half-baked. In this case, I wouldn't have hesitated to drink a whole glass (or more). This creamy, fruity Cabernet had a carefully controlled spiciness and a delicious mocha finish. (Yet to be released — the 2009 costs $32.)
As tasty as these wines were, what really made the visit to Rio Vista unforgettable was the float plane ride. Groups of six of us headed down to the dock on the river and clambered aboard for 30-minute panoramic tours of the region. Quarters were close, but I happily snapped photos of the rugged hills and the lakeside vineyards (see my previous post about the landscape here).
I noticed that the fellow next to me wasn't taking photos, and oddly enough, his eyes were closed. I didn't think all that much of it until I saw beads of sweat forming on his brow, incongruous in the relatively cool airplane. It wasn't until we were about 10 minutes from landing that the poor gentleman requested an air sickness bag.
Alas, this modestly sized receptacle proved inadequate for the task. My greenish-looking neighbor rapidly filled the sack with the colorful remains of the beautiful hors d'oeuvres he had been nibbling just minutes earlier. Thereafter, though he politely kept the bag close to his mouth as he wretched, with each heave, a fine (and occasionally not-so-fine) spray of vomit would burst into the air. Fireworks of bile glimmered for a split second in the sunlight before they landed on my window, my leg, my arm, my shirt, my camera, my glasses, and yes, my mouth.
Thankfully, just as we were reaching these new heights of ghastliness, the plane began its descent. "Oh no, oh no, oh no, oh no, oh no, oh no," my neighbor said, as we made a final turn before landing. We all exited the plane with no small amount of relief, but none so much as my motion-sick friend, overfull air sickness bag in hand. It was, without question, an unforgettable introduction to Lake Chelan.
Washington Columbia River Valley, Float Plane, Lake Chelan, Rio Vista