Much to my surprise and delight, I received an invitation to attend the Grands Crus de Bordeaux tasting held here in Chicago at the Drake Hotel. You may be wondering what Bordeaux wines could possibly be considered unusual or obscure. Bordeaux is, after all, perhaps the most famous wine region in the world, with wines in such demand that top bottles can infamously cost more than $1,000 each. Bordeaux was already famous when Thomas Jefferson traveled through the region, purchasing wine to stock his cellars at Monticello. Indeed, the oldest château, Pape-Clément, has been producing wine under that name continuously since 1305.
I wondered what else could be said about the wines of Bordeaux, and I also wondered how a writer who has "Dedicated to Drinking the Unusual and the Obscure" on his business card would be received by the grape juice grandees at this tasting. It wouldn't be too much of a stretch for them to regard this blog as a direct reaction to overpriced wines and the culture of snobbery they engender. And where, stereotypically, would this culture flower more fully than in Bordeaux?
But Bordeaux is no monolith, and neither are its winemakers. In fact, almost everyone at the tasting was at the very least quite cordial, and most seemed very pleased to meet me. Perhaps it was because I was genuinely interested in learning more about the wines — many people walked up to the tasting tables, held out their glasses with barely a word, and retreated to taste the wines with their friends or colleagues. I observed one woman who repeatedly charged up to a table of dump buckets, emptied her excess wine and literally ran back to the tasting tables. I can't imagine that she had too many enlightening conversations.
I learned quite a bit from my chats with the winery representatives, especially those from unfamous châteaux. I approached one winery I had in my notes as a Cru Bourgeois Exceptionnel, but the representative corrected me. "In the last classification, we became just Cru Bourgeois."
"Oh that's strange," I replied. "I read in The Sotheby's Wine Encyclopedia that your wines are some of the best values in the Médoc."
"Well, the last time we didn't really try," he answered, rather cryptically. "The classification, eh…" He trailed off.
"I'm sure the classification doesn't always reflect reality, does it," I ventured. "I mean, I'm sure there are a lot of powerful interests who influence the classification."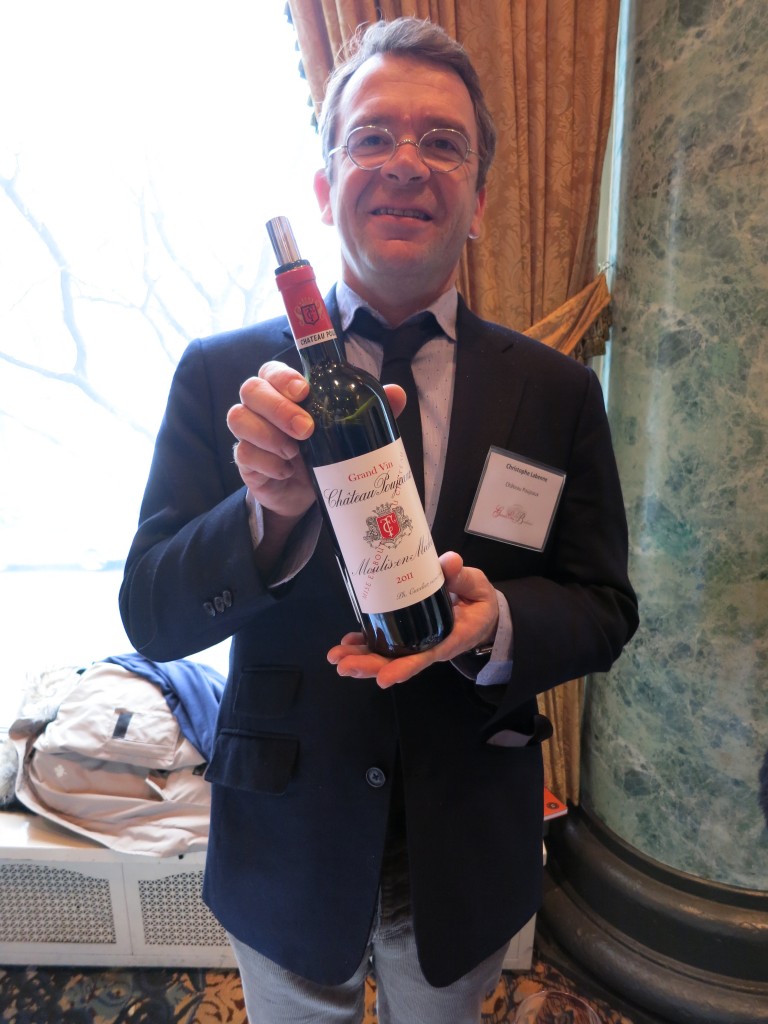 He simply raised his eyebrows at that. Bordeaux classifications, even were they entirely free from political influences, would still be quite confusing and only a rough gauge of quality. Time and time again, Sotheby's writes of châteaux performing well above their classifications (and occasionally of châteaux resting on past laurels). More confusing for the American wine consumer, different parts of Bordeaux use different classification vocabularies, which, of course, are also different from the classification system of Burgundy and other regions of France. You might understandably feel excited to find a low price on a grandiosely named St-Émillon grand cru, for example. After all, a good deal on a grand cru from Burgundy would be exciting indeed. But a St-Émillon grand cru is just one step up from the most basic St-Émillon.
Another winery representative and I chatted about his wine, which turned out to be one of my very favorites of the entire tasting. I remarked that it was an incredible value for the price. He leaned in close to me, and said, "You know, to be perfectly honest, I never buy wines that cost more than 50 or 60 euro. That's maybe $100? Anything that costs more than that is bull****. When you buy wines," he gestured towards the room, "that cost $300 or $800, you are not buying the wine. You are buying the label. I want to buy only the wine." This felt like a shocking admission from a winery representative standing in the middle of a Grands Crus de Bordeaux tasting.
So classification and price are not necessarily true indicators of value in Bordeaux. One final additional complicating factor is vintage. In Bordeaux, unlike in Napa, the quality of the vintage can vary radically from year to year, and worse, the vintage can be wonderful for certain châteaux and dire for others. In 2011, for example, was inconsistent for red wines but excellent for white and sweet wines.
Bordeaux, therefore, defies broad generalizations. I'm tempted to throw up my hands and say the heck with it, I'm not buying anything from Bordeaux. But what a loss that would be. Bordeaux, for all its inconsistencies and wild prices, produces all sorts of thoroughly delicious wines. These are wines that have long set viticultural standards around the world. To ignore them would be to deny yourself great pleasure. It pays to learn a little about Bordeaux and shop as an educated consumer.
If you've made it this far in this blog post, you are likely willing to do a little more reading on the subject. A well-written reference book like The Sotheby's Wine Encyclopedia can be a wonderful resource, describing the various Bordeaux sub-regions, classification systems and notable châteaux in engaging, opinionated prose. Having an overview of how the region is organized is invaluable; you'll get an immediate sense of which Bordeaux wines are most likely to align with your palate. A trusted wine shop where you can turn for advice is equally invaluable. Learn the outlines of the classification systems so that you won't be suckered in by grands crus that aren't necessarily so grand. Don't bother with anything that costs more than $100 (not usually a problem for me in any case). Get a sense of which vintages in the last five to ten years were excellent (2005, 2009, 2010), and look for more basic wines from these years.
Learning about the vagaries of Bordeaux — red, white and sweet — can actually be great fun. There are Bordeaux wines out there for every kind of palate, and those are wines worth finding. A small amount of reading about the region will pay significant dividends when you're faced with a large Bordeaux section at the liquor store. Your efforts will be repaid with wines rich in fruit, strong with structure and well-balanced with focused acids and minerals.
And just because it's Bordeaux, don't assume it isn't unusual. The sweet wines of Barsac and Preignac and the elegant dry whites of Pessac-Léognan have little popularity or name recognition in this country. But they deserve it, as I'll describe in some upcoming posts.