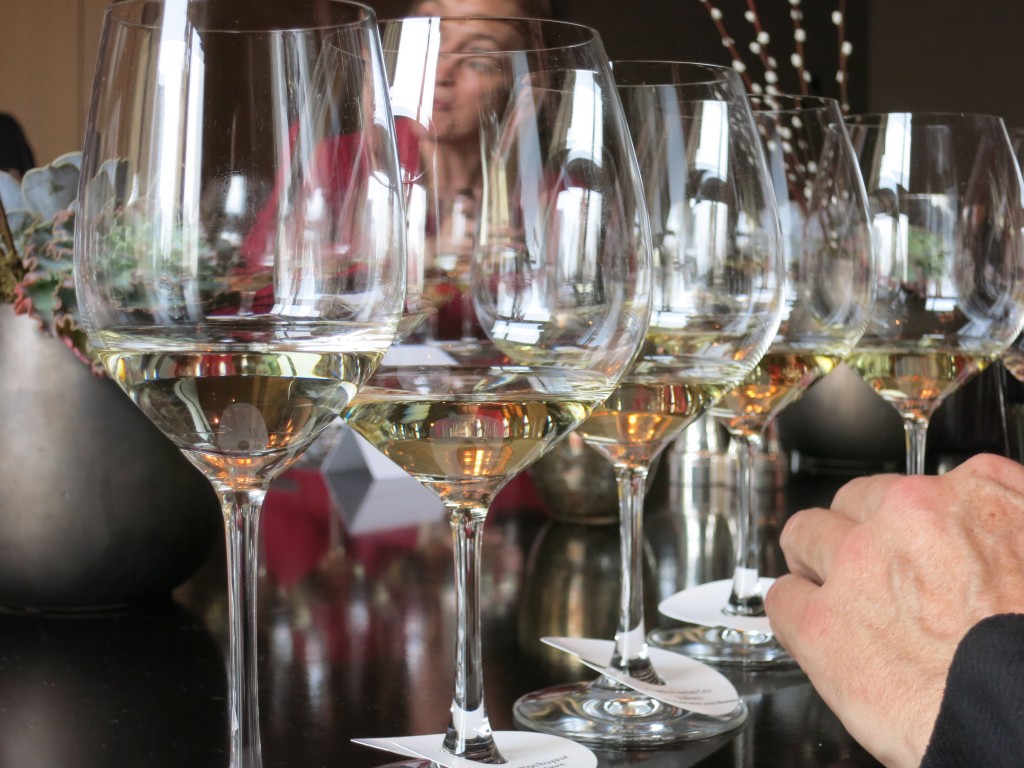 Chablis, as I wrote in my previous post, is not to be confused with "Chablis" from California, a mistake I made myself until I was in my mid-20s. Bland Californian "Chablis" has nothing to do with the real thing from northern Burgundy, a fact driven home by the deliciously focused and forceful examples of Chablis I tasted at a recent lunch held to promote the wines.
Californian "Chablis" harmed (and continues to harm) the reputation of real Chablis, but the region had even bigger problems to overcome before it became the generally stable and successful appellation it is today. According to The Oxford Companion to Wine, Chablis owed much of its early success to its proximity to Paris. But the railways bypassed the region in the mid-19th century, cheap wines from the Midi became more popular in the French capital, and by the 1950s, Chablis vineyards had shrunk to just 1,250 acres.
In the 1960s, technology enabled the Chablis winemakers to better guard against frost damage, a serious problem in these northerly vineyards, giving them more income security and stability. Vineyards were replanted — in fact, some even argue that too many are now in production — and Chablis has expanded to more than 10,000 acres of vines today.
Petit Chablis, such as the one described in my previous post, come from the least-desirable vineyards, though that doesn't mean they're bad wines. The categories move up from there to Chablis, Premier Cru Chablis and Grand Cru Chablis, with the vineyards' exposure to the sun counting as the most important factor. At this lunch, we had the fortune to sample at least one example of each category, allowing us to easily compare and contrast.
The Petit Chablis made for a refreshing aperitif, and I also quite liked the 2012 Domaine William Fèvre "Champs Royaux" Chablis made from "the best grapes from a variety of vineyards," according to one of our hosts, vintner Louis Moreau. It had a very fresh and green aroma with some spiciness, like green peppercorns mixed with fresh green hay. It felt focused and fresh and tight, with amply juicy acids and some slate-like minerals on the finish.
Mr. Moreau also poured one of his own wines, a 2012 Domaine Louis Moreau Vaillons Premier Cru, which comes from the southeast-facing Vaillons vineyard on a hillside immediately southwest of the town of Chablis. I loved its aroma, a mix of white pepper and some brininess, like perfectly fresh raw scallops (that may not sound appealing to some, but it really was delightful). There was that wonderful Chablis focus again, with tightly controlled white-pepper spice and the classic minerality on the finish. This Premier Cru had such clarity and elegance, but it had a rounder, richer character than either the Chablis or the Petit Chablis.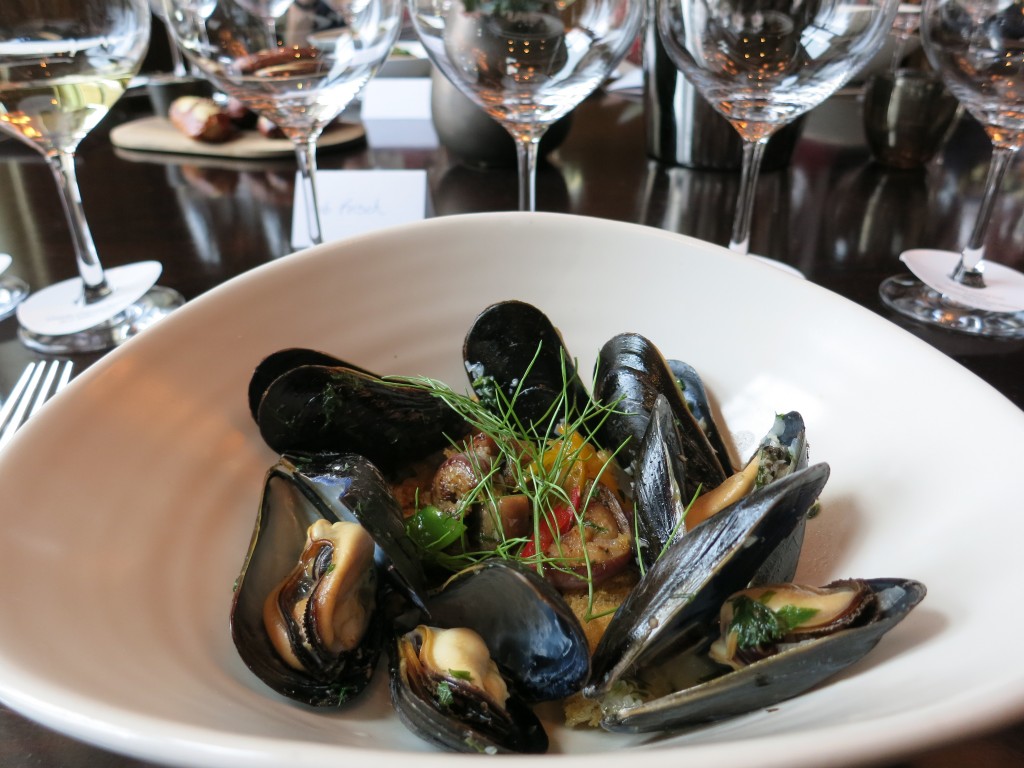 We tasted two other expertly crafted Premier Cru wines, a well-balanced 2012 Domaine Laroche Vau de Vey Premier Cru and a delicate 2012 Louis Michel & Fils Montée de Tonnerre Premier Cru. Like the Louis Moreau, both had zesty acids making them work beautifully with food.
And then there was the superlative 2011 Domaine Christian Moreau Père et Fils Valmur Grand Cru. My World Atlas of Wine calls Chablis from the Valmur vineyard "some critics' ideal: rich and fragrant." I'm certainly not one to disagree with the Atlas — this wine was an absolute delight. It had a spicy aroma marked by notes of popcorn. Some Chablis can be almost austere, but this Grand Cru had real richness. It started ripe and round and then focused into taut laser beam of white-pepper spice. Gorgeously balanced and very elegant.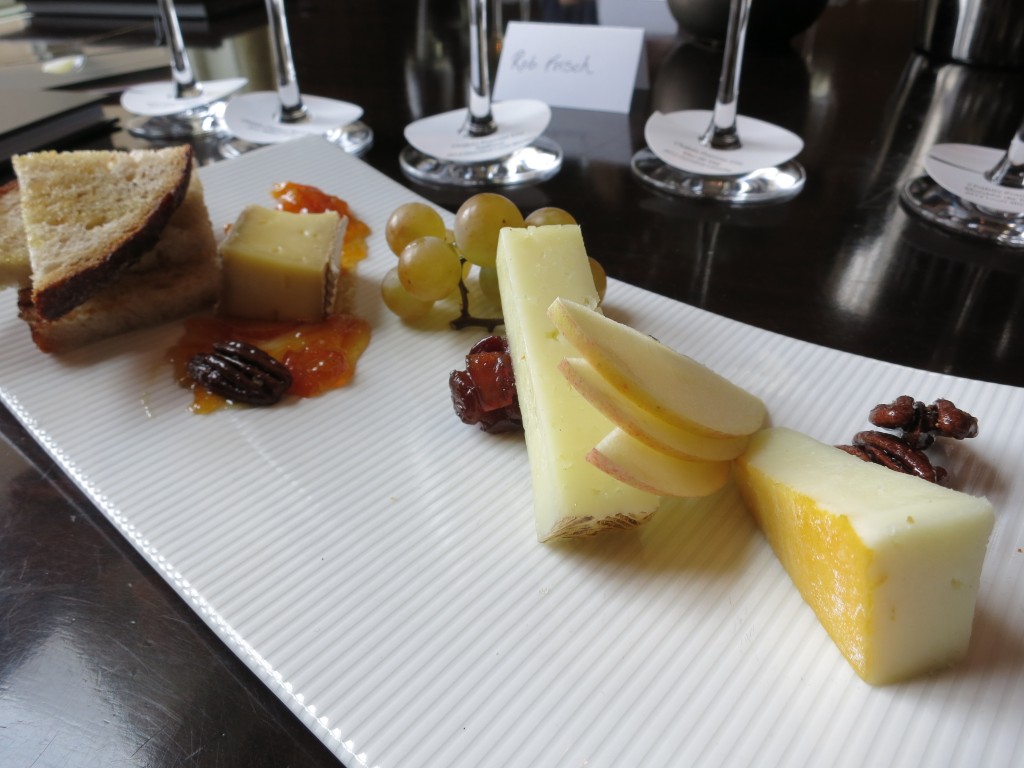 That these wines are so delicious is perhaps not especially surprising, but the prices for which they can be had are truly eye-popping. I checked Wine Searcher for prices on the Grand Cru described above, and I found retailers offering it for as little as $54 (though $65 is more representative). It's rare to be able to drink wine of this caliber for $65, and it's an absolute steal when you compare it to the prices for Grand Cru wines from the Côte d'Or a little to the south. The hard-to-find Louis Moreau Premier Cru runs for about $60, the Domaine Laroche costs $42, and the Louis Michel can be had for $35. Excellent values, all.
Some of my sources, notably the curmudgeonly Sotheby's Wine Encyclopedia, complain that Chablis can be inconsistent, and that may very well be. I recommend chatting with a trusted wine shop employee or sommelier in order to get a reliable recommendation, because different producers working with fruit from the same vineyard can handle it very differently, and vintages can vary significantly.
With that caveat in mind, I highly recommend giving Chablis a try. It's not necessarily an inexpensive wine, but the value for the money is hard to beat. As The World Atlas of Wine says, "For all its fame, Chablis is one of the wine world's most underestimated treasures."