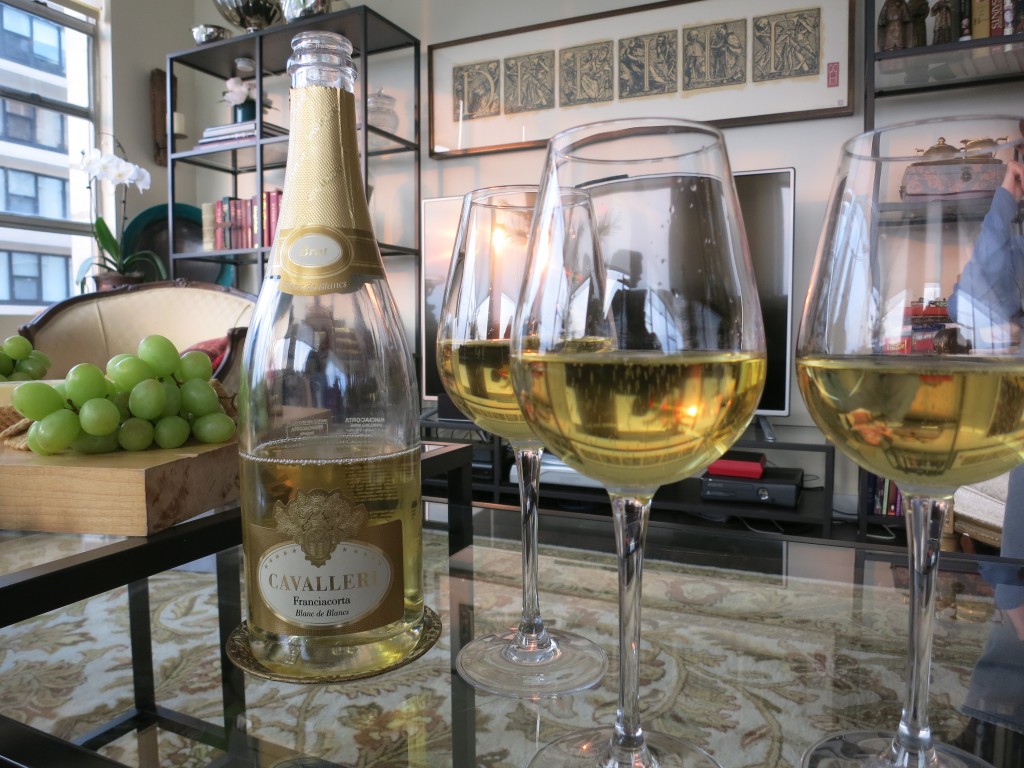 I love sparkling wine at any time of year, but it tastes especially good in summer. It's refreshing, it's light and it works well with everything from potato salad to ribs. Champagne continues to set the standard for sparkling wine, but because of its price, I more often reach for a nice Prosecco or Cava which can be had for as little as $12 a bottle (I tend to avoid those costing less). When I'm feeling a little fancier — but not quite ready to drop $35 on Champagne — I opt instead for a Franciacorta.
Few people outside Italy had heard of this region bordering Lake Iseo in north-central Italy until the 1970s. That's when, as The World Atlas of Wine explains, the Berlucchi family started to directly imitate the methods of Champagne, methods "subsequently taken up by farm after farm" in the area. The Berlucchis sparked a sparkling wine revolution, bottle fermentation became the norm, and now, as The Sotheby's Wine Encyclopedia asserts, "Franciacorta is currently the only Italian dry sparkling-wine appellation that can demand respect from the rest of the world."
What about Prosecco, you may reasonably wonder. Never one to mince words, Sotheby's complains that most Prosecco is "boring." The Oxford Companion to Wine goes even further, arguing that "The finished wines are light and frothing, their neutrality and defects too often masked by over-generous additions of sugar." Ouch.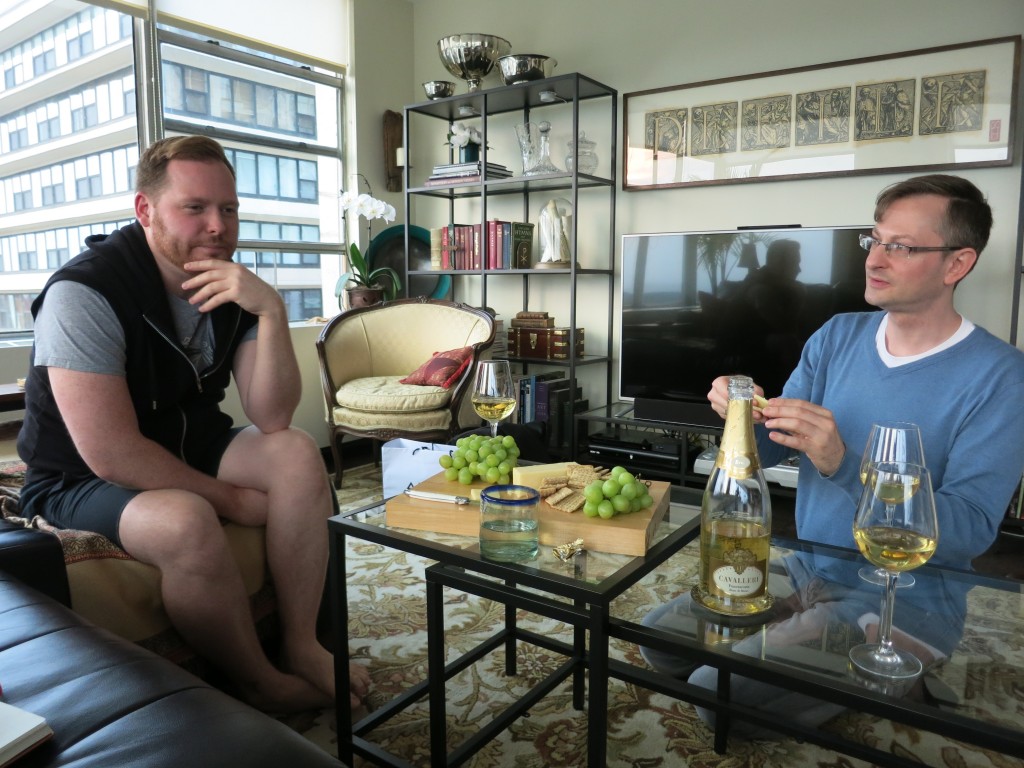 Well, I have no problem with Prosecco. Its price doesn't lead me to expect too much of it, and despite its lack of bottle fermentation, it usually has small bubbles and enough flavor to be fun, if not truly interesting. And if you just need something for mimosas, Prosecco won't let you down.
Franciacorta, on the other hand, aspires to some elegance, as indicated by price tags ranging from about $20 to $40, and occasionally more. Not inexpensive, but certainly not reaching into the lofty heights of Champagne prices, either. That makes it a perfect wine to open over a casual weekend dinner with your loved one. It's exactly the sort of thing I might bring to my parents' house to drink at a family barbecue before the rest of the family arrives.
I recently received three free sample bottles of Franciacorta to try, and I managed to twist a few friends' arms into trying them with me: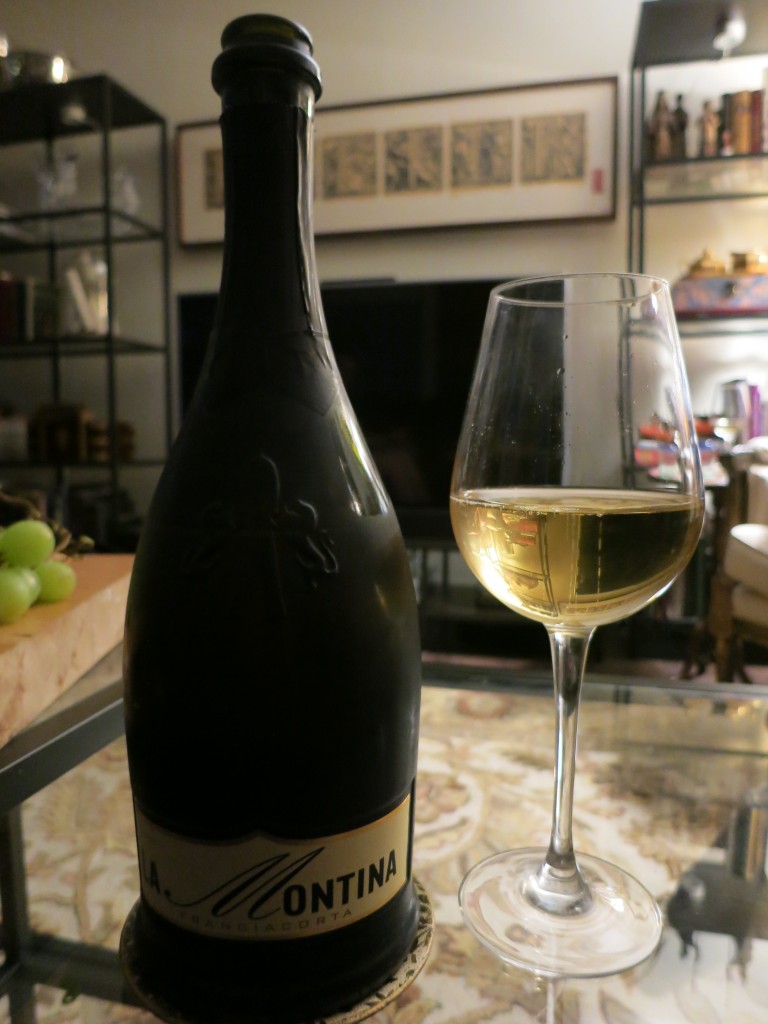 Cavalleri Blanc de Blancs: This 100% Chardonnay tasted fine, with notes of wood, round fruit and lemony acids. Unfortunately, the aroma smelled distinctly of varnish (one friend described it as "rancid plastic"). I suspect something happened to this bottle. A notable varnish odor indicates an overabundance of ethyl acetate, which, as Wikipedia describes, can smell sweet in small quantities but like nail polish remover in larger amounts. Average Retail: $20
Ronco Calino Brut: A blend of 80% Chardonnay and 20% Pinot Noir, the Ronco Calino smelled ever so much better than the Cavalleri: like green apples with a touch of minerality. The bubbles felt small, fizzy and very prickly, ensuring that this wine would pair with all sorts of foods. I liked its rather heady flavors of fermented apples and honeysuckle. It would surely be a hit at a party. Average Retail: $27
La Montina Brut: This Franciacorta exuded elegance. It smelled very enticing with notes of red apple and dusky orange, and even a touch of caramel. The tiny bubbles were very classy. It felt fruity, zesty and rich all at once, making for quite a bright and beautiful bubbly, and my favorite Franciacorta of the evening. Average Retail: $25