"Where are you off to now?" a car valet in Napa Valley asked. I told him. "Lodi? Ah yes," he said. "They have the quantity, but we have the quality," he replied, with palpable hauteur. Ever since a Napa wine won the Judgment of Paris in 1976, Napites have just been insufferable.
I jest. Sort of. And, unfortunately, the valet has a point: Lodi is the biggest grape-growing region in the U.S., with some 100,000 acres of vineyards. That's more than Washington and Oregon combined. And, unfortunately, the valet is also correct that much of that production does not go into fine wine.
That does not mean, however, that fine wine is absent in Lodi. I've been here just a couple of days, and already it couldn't be clearer that Lodi has immense potential. Indeed, numerous wineries here are already fully exploiting that potential, producing richly ripe, balanced bottlings with real class.
If you have had a fine wine from Lodi, there's a good chance it was a red Zinfandel, the grape for which the region is most famous. I like to think of myself as a very in-the-know, anti-Parker kind of guy, who prefers earthy, austere Old World wines. But in those rare moments I'm honest with myself, I have to admit that I'm a sucker for rich fruit. The Zinfandels here have that in spades.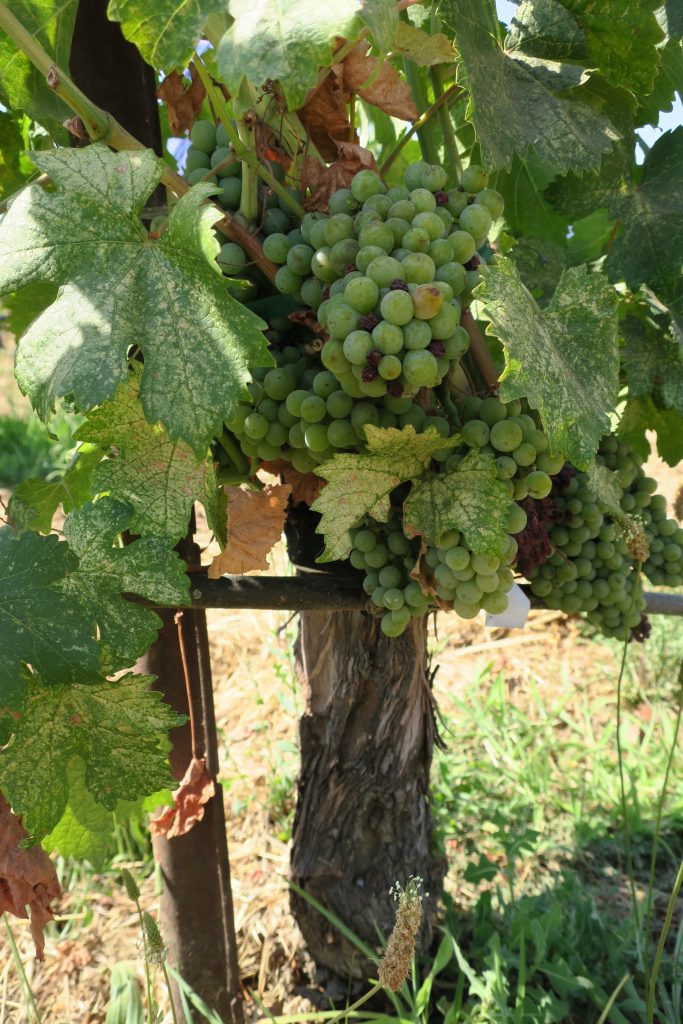 But they're not the only wines that do. The whites have been a revelation. The best have ripe and lush fruit, elegant acids and spice, and a mineral finish, which sometimes feels like dustiness (which makes sense — after walking through the vineyards, I practically needed a vacuum to clean myself up).
The recent speed blogging event hosted by this year's Wine Bloggers Conference confirmed that Lodi is capable of producing truly world-class white wines, not just Zinfandel fruit bombs. Speed blogging is always one of my favorite conference activities. Here's how it works: Winery representatives move from table to table around the room, spending five minutes at each pouring and describing their wines.
It's wild and wooly, and I always discover some fascinating stuff:
2015 Klinker Brick Rosé: According to pourer Farah, this Rhône-style blend of Carignane, Grenache, Syrah and Mourvedre — only Klinker's third rosé vintage — is vinified in a more "French" style with plenty of acids. It's a lovely pale peach, and indeed, the acids are there. It's not just strawberry candy. There's light strawberry fruit, some juicy and tart orangey acids, and a bit of minerality and spice on a finish. A very fine deal for $15.
2015 Oak Ridge "Old Soul" Chardonnay: The oldest operating winery in Lodi, with Tasting Permit #1, touches this Chardonnay "lightly with French and American oak." There's plenty of stone fruit like apricot in the nose, with a hint of cream from that oak, I dare say. It starts well, with some ripe apple and peach fruit, with almost enough orangey acids to balance, and some vanilla and just a bit of wood on the finish. Not my ideal Chardonnay, but at $12, it feels churlish to complain too much.
Jardesca: This aperitif is a blend of three different white wines, notably Viognier (the founder Marcus wouldn't name the other two). Then they add alcohol and botanicals like pink grapefruit, pink peppercorns. Served on ice, it has a rather voluptuous flavor with lots of fruit, and the pink peppercorn spiciness comes through loud and clear. Marcus tossed a peach chuck in my glass, which added a lovely aroma to it, and he came around again to clap some mint in as well. Against my better judgement, I kind of like it. But I don't $30-a-bottle like it.
J Winery Brut Rosé: This peachy-colored sparkler from the Russian River Valley is a traditional Champagne-style blend of 66% Pinot Noir, 33% Chardonnay and 1% Pinot Meunier. I liked the rich aroma of orange peel and strawberries, and it has an interesting savory quality. Prickly, teeny bubbles; bright orangey acids (tangerine, if you'll allow it), and a surprisingly long finish. Very tasty.
2014 Concannon Vineyard Assemblage Blanc: This Livermore winery made it through the horrors of Prohibition, and I'm glad it did. I had a glass of its ripe Petit Sirah earlier, which I enjoyed, but this wine, a blend of 60% Sauvignon Blanc and 40% Semillon is quite the opposite: the aroma is light and mineral, with a bit of swimming pool to it. It starts a touch flabby, but it tightens up into white pepper spice and some chalk. It's $22 a bottle, which I don't think I'll be paying.
2014 Peirano Estate "The Other" White Blend: The grandfather of Lance, who poured this wine, started the vineyard in 1879, and Lance is a fourth-generation grape grower. He knows what he's doing — the wine has a pleasant aroma of dried herbs and apple/pear fruit, lush white fruit flavor, just enough acids and spice to keep things balanced, and some appealing oak on the finish. I wish there had been a bit more acid and spice to balance the fruit and oak, but again, at $13, I don't feel I can complain too vociferously.
2014 Kenefick Ranch Pickett Road White: Chris Kenefick's father started this vineyard in 1981, and like many grape growers, he sold all his fruit, but they now make their own estate wines. The Pickett Road is another Rhône-style blend, composed of 75% Grenache Blanc, 20% Marsanne and 5% Viognier. It's a lovely rich green-gold color, and it has a taut, spicy aroma. The fruit is fresh, clear and cool on the palate, followed by some light limey acids and a little honey on the finish. There's a flabby quality in the midsection, though, so I don't much feel like paying the $24 price tag.
2015 Left Coast Cellars White Pinot Noir: The ownership is mostly left-handed, which influenced the name, but of course the name also references the politics of this misguided section of the country. The juice sees no skin contact, and because the flesh of the Pinot Noir grape is light in color, the wine has a surprisingly pale straw color. It has a nose of spice and dried herbs, not the usual cherry fruit and earth of a Pinot, and an attack of apple and pear flavors. It moves quickly to some lively spice and a mineral, almost chalky finish. It's quite delicious, and in an extravagant mood, I might well buy it for $24.
And… Table 1 has no wine. This is, unfortunately, a typical problem of speed blogging in recent years. Whatever is coming next, it better be good. Ah, the pourer, Craig Camp, just found us. Ah, and he's walking away. And he's coming back. Slowly. Argh.
2015 Troon Vineyard Blue Label "Longue Carabine" Applegate Valley: This Willamette wine is quite good, with ample fruit and spice, and Craig said something about natural winemaking. It must make a difference — this wine had excellent balance. I wish we'd had more than 30 seconds with it.
2015 Corner 103 Sauvignon Blanc:  Corner 103 has been in business for just 16 months! I'm amazed, considering the quality and finesse of this Sauvignon Blanc. It has a pretty grapefruity aroma with an overtone of grass, and flavors of bright citrus, apple, pear, and a little minerality on the finish. It's not big, but it's quite graceful. Its hillside vineyard in the Kenwood section of Sonoma is obviously a great location — I would certainly pay $25 for this one. Good to end on a high note!
Read about the sensational reds I tried in Speed Blogging session #2 here, or if you prefer more whites and rosés, check out last year's Speed Blogging report here.
These wine tastes were provided free of charge.