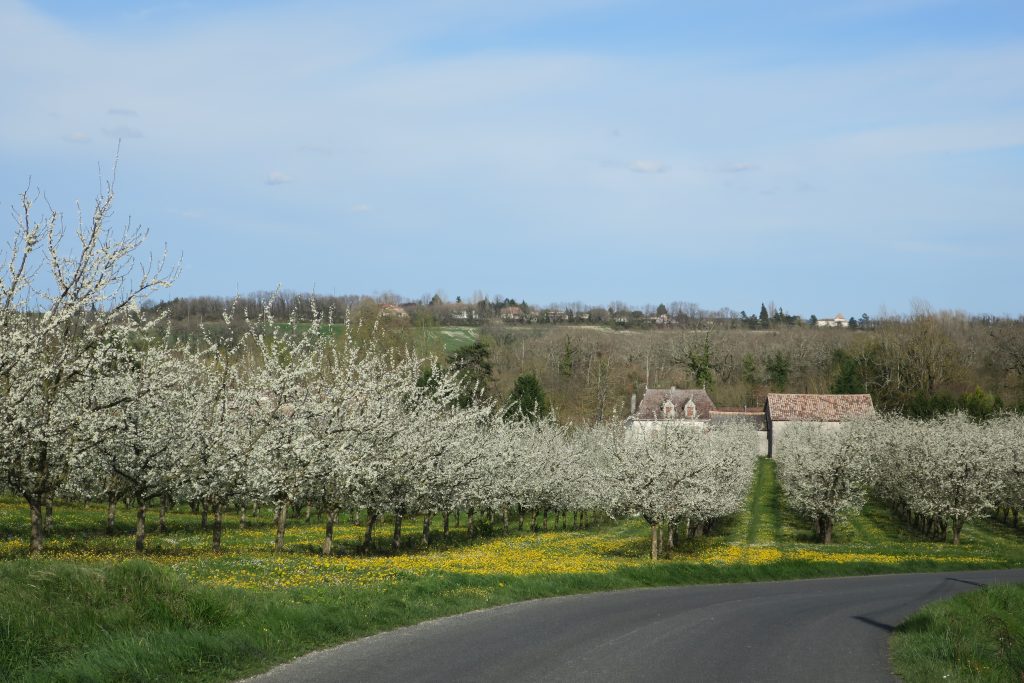 This post is my first of hopefully many as part of the #Winophiles wine-writing group. Southwest France is the focus this month, and you can find links to articles about the region's fascinating wines and memorable food at the end of this article.
I gripped the steering wheel more tightly, attempting to focus on the road, and not on the names of the Saint-Emilion vineyards I was driving past all too quickly. It was all I could do not to toss my itinerary out the window and stop at ever sign that said "Dégustation." And therein lies the biggest problem of Bergerac. Neighboring Bordeaux, just down the Dordogne River, is a great black hole of wine, sucking up all the attention. Even I nearly succumbed to its temptations. But I had an appointment.
I turned south off the main road and descended into gorgeously unspoiled French countryside. The pavement narrowed, winding through an exquisite mosaic of vineyards, forests and walnut orchards in full bloom. Near the top of one of the highest hills stood my goal, perhaps the most important winery in Bergerac: Château Tour des Gendres.
According to The World Atlas of Wine, "…there is now a critical mass of [Bergerac] producers who produce far more serious wines of all three hues, and in whites, all sweetness levels. Luc de Conti of Château Tour de Gendres, a biodynamic convert, deserves considerable, although not exclusive, credit." My Oxford Companion to Wine agrees, noting that "…thanks to much more sophisticated use of oak, pioneering producers such as Luc de Conti of Château Tour des Gendres and David Fourtout of Vignobles des Verdots as well as a handful of sweet winemakers, some truly fine wine is being made." The Sotheby's Wine Encyclopedia also recommends the winery.
I ascended the driveway of Château Tour de Gendres to discover an ensemble of low stone tile-roofed buildings, interspersed with Aleppo pines and cypresses. There was no grand palace, à la Bordeaux, though there certainly was a pretty tour (tower). I was the only visitor on that cool, sunny March afternoon, and Martine de Conti, Luc's wife, walked out to meet me.
She dressed simply and sensibly, but she wore her pink scarf, green puffer jacket and blue pants with elegance. Her English was limited, and my French isn't exactly parfait, which meant our conversation was halting at first. But as she poured me samples of the wines made by her and her husband, and my enthusiasm for them became clear, we started to connect.
This is a classic cliché of wine writing, the wine transcending the language barrier. It's almost embarrassing to relate the experience. But I can't deny that connecting with Martine and Luc over their wines left me feeling rather elated.
I tried 11 wines at Château Tour des Gendres, all of which I enjoyed, but for brevity's sake, I'll describe only the ones that really knocked my socks off. These give you an idea of the great potential of Bergerac:
2015 Conti-ne Périgourdine: What a joy. This Muscadelle had a round aroma of apple and stone fruit, and flavors of apricot, elegant spice and a subtle note of buttered popcorn. Luc later told me that this wine was his favorite, and I can understand why. At the end of the tasting, I tried to buy two bottles, but Martine insisted I take them as a gift. If any importers are reading this, I'll happily pay for a couple of cases!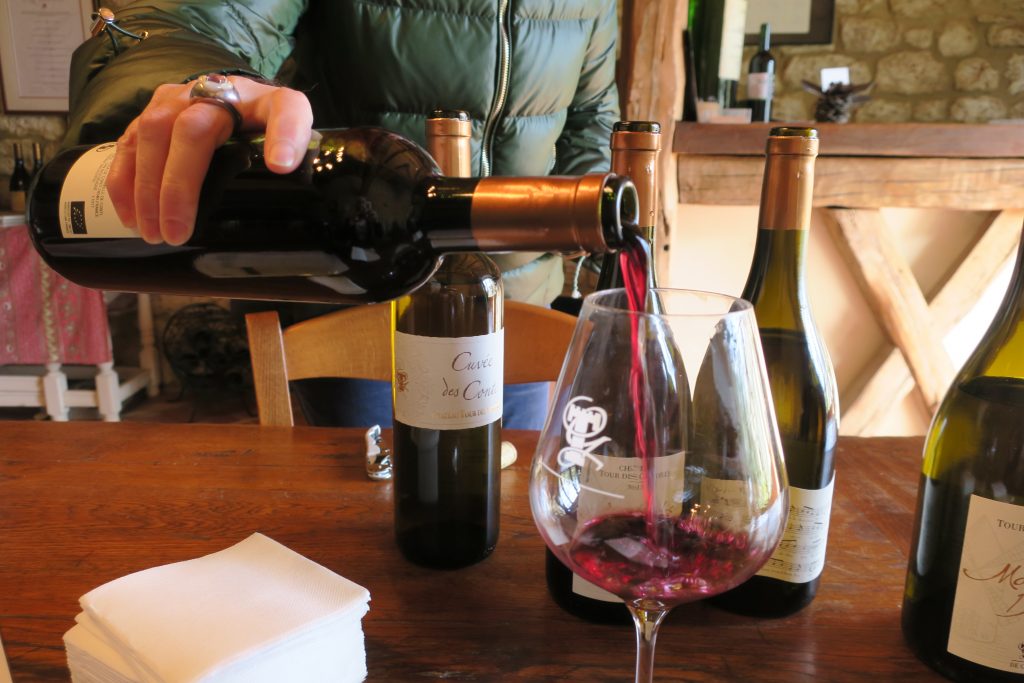 2014 Anthologia: The grapes for this Sauvignon Blanc come only from Monbazillac, and the wine is produced only in exceptional vintages. The 2014 had an aroma of honeydew and a bit of popcorn kernel — very enticing — and the flavor development was magnificent. I can think of few more elegant expressions of Sauvignon Blanc. Perfectly calibrated and focused acids balanced out the rich, ripe fruit, and the finish lasted long after I expected it to stop. The minerality of this wine positively rang.
2014 La Gloire de Mon Père: "The Glory of My Father" blends 53% Merlot, 35% Cabernet Sauvignon and 12% Cabernet Franc, with half the wine aged in barriques (small barrels) and half aged in foudre (large casks). This wine was deep and gorgeous, with an aroma of ripe cherry and vanilla, marked with a touch of something savory. On the palate, a pop of acids quickly overtook the fresh, plummy fruit, followed by refined white pepper spice and a deliciously salty/buttery note. La Gloire indeed.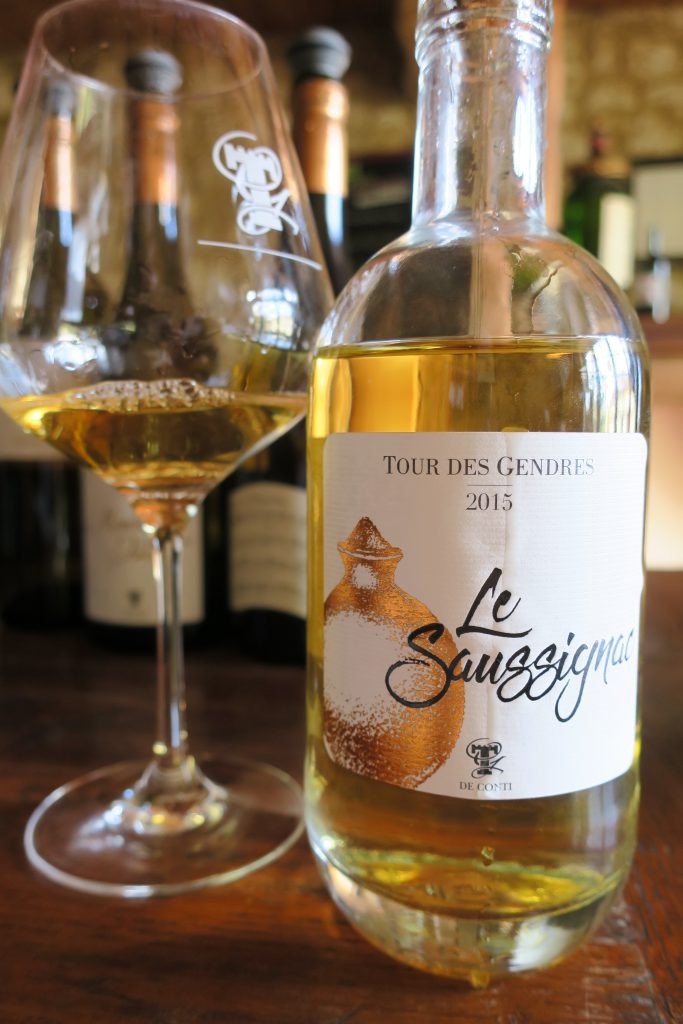 2008 Parcelle Les Gendres: This wine comes from a single parcel of Merlot aged in large casks, and that must be one heck of a parcel. A transparent brick red, this wine had a big, wonderful aroma of raspberry jam. And the flavor! The clean, clear red fruit exploded in my mouth. Ample white pepper spice kicked in, followed by obvious but supple tannins, and a note of mocha on the finish. I defy anyone to declare that they don't like Merlot after trying this beauty.
2015 Le Saussignac: Like Sauternes or Monbazillac, Saussignac is a sweet wine appellation, but as the World Atlas says, the "distinctive" and "glamorous" wines there are "made in dispiritingly small quantities." The de Contis don't make Le Saussignac every year — it depends on whether botrytis (noble rot) affects the grapes. If you can find a bottle, snap it up. This wine completely seduced me. Honeysuckle, exotic spice, bright orangey acids, and a finish that felt quite dry, almost tannic. Magnificent.
Tasting that last wine made me wish I had some foie gras to pair with it. Foie gras is a classic match with Sauternes and Sauternes-like wines, but few foods cause as much controversy as foie gras, the fattened liver of a goose or duck. Residents of California, where the product is currently banned, may find it something of a shock to visit the Dordogne, where foie gras appears on almost every menu, often in multiple dishes. At its best, it's sensationally rich but also somehow light and airy. I adore foie gras, but I decided that if I were to continue eating it, and recommend pairing it with wine on this blog, I should see for myself what its production was like.
My hotel in the Dordogne arranged for a tour of Domaine de Barbe, a foie gras farm nearby. Its 100 acres support about 1,300 geese and 5,500 ducks, as my tour guide, Noemie, explained. The animals spend four or five months "free range" in grassland pastures, grazing and growing, before moving into group cages for the gavage (force-feeding). Individual cages are now illegal.
Force-feeding enhances a natural fattening of the liver in fall, when the birds gorge in order to have enough reserves for migration. Ducks and geese experience the gavage quite differently than a mammal would. The birds have esophagi prepared to accept large whole fish, and they can breathe when the feeding tube is inserted. Feeders do their best to avoid stressing the animals, because stress, according to Noemie, reduces the quality of the liver. After 15 days of force-feeding ducks or three weeks for geese, the animals are anesthetized and slaughtered.
The pastures looked tranquil and spacious, and the cages, while not paradise, didn't look to be causing the geese I observed any obvious distress. I can't say with any certainty what the animals feel about force-feeding, whether it's uncomfortable or just another meal. But the Domaine de Barbe clearly treats its animals better than an industrial farm in the United States. If you're comfortable eating meat in an average American restaurant, you need feel no qualms about eating foie gras in the Dordogne.
The only question is, do you pair it with Saussignac, Monbazillac or Sauternes?
For more about the wines of Southwest France, check out these other articles by my fellow #Winophiles:
–Jill at L'occasion shares "Périgord Wines: Bergerac and Duras"
–Wendy at A Day in the Life on the Farm shares "Southern France at a Midwest BBQ"
–Camilla from Culinary Adventures with Cam shares "Pistachio-Armagnac Sabayon with Strawberries and Meringues"
–Michelle from Rockin Red Blog shares "#Winophiles Showdown: Madiran vs Applegate Valley"
–Martin from Enofylz shares "Gros Manseng, Petit Manseng and Arrufiac? Oh My!"
–Olivier from In Taste Buds We Trust shares "If it makes you happy…"
–Nicole from Somm's Table shares "Cooking to the Wine: Paul Bertrand Crocus Malbec de Cahors with Lavender-Herb Ribeye and Grilled Veggies"
–Lynn from Savor the Harvest shares "Basque-ing in the Sud-Ouest: Wines of Irouléguy"
–Lauren from The Swirling Dervish shares "Toast #TDF2017 with Wines from the Côtes de Gascogne"
–Gwen from Wine Predator shares "Finding and Pairing Southwest France Wine Cheese & Spirits for French #Winophiles"
–Mardi from Eat.Live.Travel.Write. shares two posts (!) "Clafoutis, Southwest France style" and "Armagnac: A Primer"
–Jeff from Food Wine Click! shares "Exploring Madiran with Vignobles Brumont"
Join our chat on Saturday, July 15, at 10-11 a.m. CDT (11 a.m. EDT, 8 a.m. PDT, and 17.00 in France)! See what we think of Southwest France, and tell us about your experiences with the wine, food, or travel in the region. To join, log into Twitter, search for the #winophiles tag, and you're in!