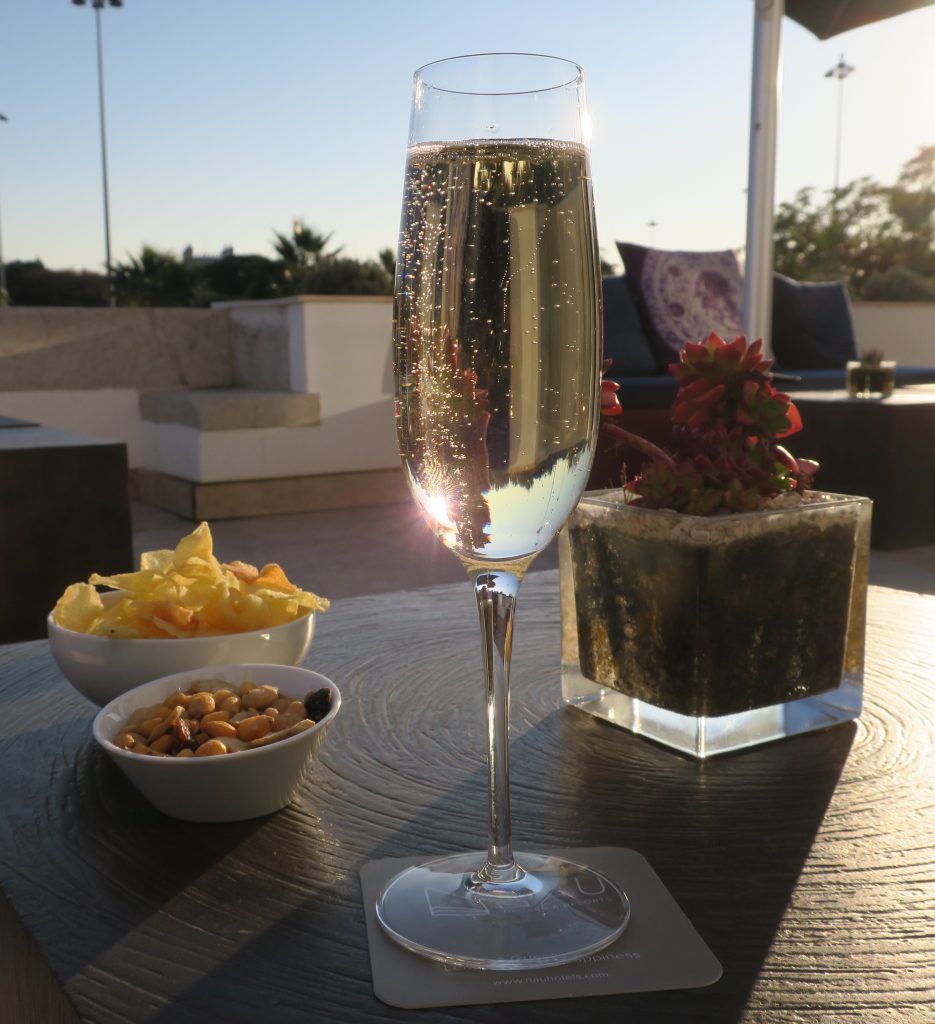 I adore my job, but even I would pause a moment if I suddenly had the opportunity to become a Champagne Specialist. I recently learned, through the wonder that is Facebook, that a former classmate of mine has become exactly that.
Davis Anderson III and I studied theater together at Florida State University some years ago, and though we both had (have?) the model-like good looks and movie-star charisma to take the entertainment world by storm, the world of wine seduced us instead.
After moving to New York, Davis worked as a sommelier at restaurants like Eleven Madison Park, New York Sushi Ko and Zuma before moving to Northern California, where he now resides.
When we were bright-eyed theater students, I doubt that either of us would have expected that we'd be doing what we do today. I was curious to learn what Davis's life was like now, and what it was about wine — and Champagne specifically — that led him to his current path. I decided an interview was in order.
Our mutual love of wine, it turns out, has a lot to do with a love of history. And, perhaps less surprisingly, I learned that we both have expensive taste.
*****
Me: You work as a Champagne Specialist for Strategic Group on behalf of the brands of Moët Hennessy in Northern California; that sounds like a dream job. What exactly does your work entail? What's an average day like?
Davis Anderson III: So, yes — it is a dream job (for me, at least). But there is no such thing as an average day. I cover roughly 50 accounts covering the areas south of San Francisco down to Carmel, so I spend a lot of time in my car. I don't work for Moët Hennessy directly and I don't work for the sales arm (Pacific Wine and Spirits here in NorCal). My job is to help both teams by providing education (to the sales teams, to the restaurant buyers and their staffs, as well as to consumers at events).
I also try to plan events to then help drive sales once products have been brought into an account. An example might be a poolside event featuring one of our newer products, such as Moët & Chandon Ice, a Champagne meant to poured over ice, where we bring in a bunch of Moët swag and create a party atmosphere.
Another might be an exclusive dinner working with one of our restaurants to feature a producer like Krug, with many different Champagnes from them paired with different courses through out the night, while having our ambassador from Krug on hand to discuss the wines and the differences between them.
And then, of course, like any job – there's the administrative part which is nowhere near as sexy, but equally as important.
Me: How did you end up focusing on Champagne?
D.A.: Good question. So, unlike almost every other sommelier I know, Champagne was never truly an obsession of mine. Don't get me wrong — I love Champagne and always have — but I didn't have quite the same relationship to it that everyone else I know seems to have. But these Champagne houses are special. Not only are they all delicious, they're all innovative, and they're all very important to the history of Champagne. Champagne simply would not exist without Dom Pérignon, Dom Ruinart and the Widow Clicquot (that's three of our five houses).
And Champagne most likely wouldn't have survived World War II without the help of the head of Moët & Chandon, Count Robert-Jean de Vogüé. That brings us to four.
Then there's Krug. Krug is unlike any other Champagne house, and is a house that I believe inspires all other Champagne houses. So that's how I wound up putting my focus here: the wines are too good, too important, and have such rich history that it's impossible not to love them.
Me: Have you been to the region itself? Any particularly memorable experiences? 
D.A.: I was lucky enough to have my company send me to Champagne to study at the house of Krug for three days back in May of this year. They then extended the trip a few days so that we could visit the other houses in our portfolio. The whole trip was memorable — getting to visit Clos d'Ambonnay and Clos du Mesnil (where we had lunch in the vineyard while drinking Krug's Clos du Mesnil), as well as visiting Hautvillers, the abbey where Dom Pérignon did all of his research… These experiences were amazing.
But one of my favorites was the emphasis on none of our brands being pretentious, and engaging what can be most fun about all of our brands. On our first night at Krug, we played ping-pong while a jazz duo played Django Reinhardt, and then we had Krug Rosé with burgers and fries in Krug's beautiful newly renovated space.
Me: I love all sorts of sparkling wines, but Champagne does seem to be something special. Few other bubblies that I've tried can quite match it. Why do you think that is?
D.A.: Champagne is a unique place. You don't find that soil everywhere in the world (the chalk and limestone). It's an extreme climate, being about as far north as you can go and still get grapes to make wine. It rains 200 days a year on average. There's nowhere else in the world quite like it. Even Champagne houses that make sparkling in other parts of the world are proud of them and work hard at them, but none is Champagne. Rightly, they are a reflection of the areas which they are from, which have their own unique terroir.
Me: If I'm in a store and faced with the Moët Hennessy Champagne brands, Moët & Chandon, Veuve Clicquot, Ruinart, Dom Pérignon and Krug, how do I know which one is right for me? What are the differences?
D.A.: Okay, I'm going to simplify this, and focus on the signature wine from each house.
Moët & Chandon is more focused on being bright and young and fresh and is often the most affordable of our houses. It is the #1 Champagne brand in the world, but is the #2 brand here in the U.S.
Veuve Clicquot is a much richer style, using older reserve wines (typically up to 7-10 years old on average), and a higher proportion of Pinot Noir in their blends. This is the #2 Champagne in the world, but it is #1 here. It is typically a bit more expensive than Moët & Chandon.
Ruinart is the oldest Champagne house in existence, founded in 1729, and the focus on Blanc de Blancs (100% Chardonnay) as their house style. This Champagne is a laser beam. Bright and racy with zippy mineral backbone.
Dom Pérignon, once the tête de cuvée from Moët & Chandon, is now its own house, and it will always be a vintage Champagne. The blend is roughly 50/50 Pinot Noir and Chardonnay, and it focuses on the tension between the two grapes. It's also known for its signature pin-prick like sensation from the bubbles, which comes from its extended lees aging.
Krug Grand Cuvée takes a minimum of 20 years to make. Even though it is not a vintage Champagne, I believe it rivals all vintage Champagnes in terms of quality. Krug is a truly unique offering in all of Champagne.
Me: Champagne, of course, tends to be expensive. What kinds of sparkling wines do you think give us the best value for the money right now?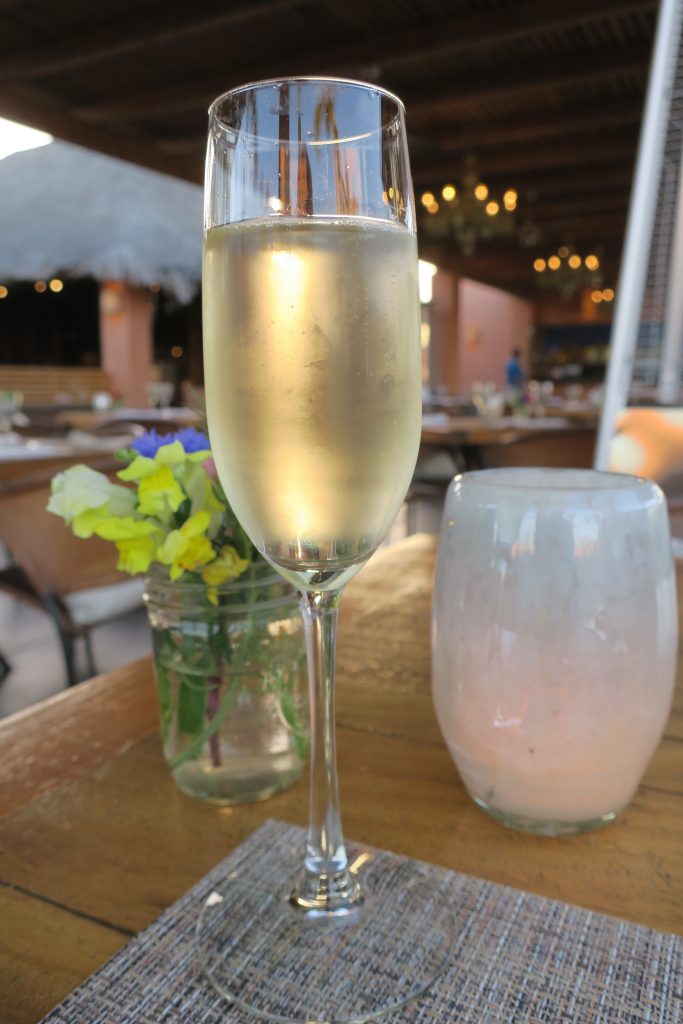 D.A.: Value is a great word to use, as it regards one's opinion of what is most important in life. I personally love Champagne because I really think it is an amazing value, even if it is not the least expensive in the bunch. The process that Champagne goes through, the time it requires to make even a simple bottle of NV Champagne is so much more than any other wine region. And when you see a bottle of Moët & Chandon Imperial Brut for about $50, knowing that it took three years to reach that shelf, and then you see the 2015 Caymus on the shelf for $80… I don't understand how people think that Champagne is comparatively expensive.
To not be totally tone-deaf, I know that $50 is not an affordable every day item for most people, but it should be an affordable luxury that you can indulge in more than just once or twice a year. But it's also worth exploring the sparkling wines these Champagne houses are making in other parts of the world as well, which are frequently less expensive.
Me: I agree that at $50, Champagne can be a good value, and I also agree that at $80, Caymus is overpriced. But both are expensive. As you say, most people can't spend that kind of money on wine frequently. What other sparkling wines do you think are great values right now, and can be had for less than $20?
D.A. It's hard to do under $20… but probably Jansz from Tasmania. It's usually closer to $20-25 depending on your retailer, but so worth it. The sparkling wine being made in Australia may be my favorite sparkling being made outside of Champagne. It's an area that's highly misunderstood, as people only think of Shiraz when they hear Australia, but it's a huge country making many great and unique styles of wine, from Riesling to Cabernet. And very few of the sparkling actually reach our shores, so if you get the opportunity, I highly recommend checking it out!
Me: I am definitely putting a Tasmanian sparkler on my list! Do you have a favorite Champagne food pairing?
D.A.: People always mention caviar and oysters, which are great. But for me — it's gotta be french fries!
Me: Sounds good to me! And long before you were pairing food and wine as a sommelier, we studied theater together. How did you end up moving from theater into wine?
D.A.: When I studied theater, I came at it from the perspective of wanting to be a writer more than an actor, and this was because I loved stories so much. I had a mild affinity for wine from a young age thanks to my father, who wanted someone to share it with, and my mother preferred (and still does) bourbon.
When I was waiting tables, as all theater majors do at some point, we would receive lots of education on the wines we were supposed to be selling, and I loved the stories of the wineries. I also noticed that people who were buying the wines cared much more about the stories and the histories than they did descriptors like "cherry, bright, apple, smoky, rich, etc." The more I tasted and learned, the more in love with it I fell.
Wine to me is an amazing art form. It's one in which man has to work with Mother Nature to extract the greatest expression of that grape, that area, that year, and their vision. And it's alive and constantly evolving — having a bottle of any given wine today, it won't be the same tomorrow. Not just because of the difference in education, but because of all the outside factors that shape the experience while you're having the bottle: the people you're with, the food you're eating, the music you're listening to, and the environment in which you're enjoying it. I don't know how someone who loves or appreciates art doesn't love wine.
Me: Aside from Champagne, is there a wine region you've visited that you particularly connected with? And/or one that you would particularly recommend that people visit themselves?
D.A.: I've been fortunate to visit many wine regions in Oregon, California, New York, Italy and Australia. They're all beautiful, magical places in their own way. I highly encourage everyone to find if there's any wine being made near them, and to go and learn about it. Wine is a constant learning experience, and there are valuable lessons to be learned from every region.
Me: And what will you be drinking with dinner tonight?
D.A.: Well, tonight will actually most likely be beer, as I'm meeting up with my extended family (my in-laws) to go and enjoy Filipino food. My wife is Filipino, and we've found a great restaurant not far from our house that makes authentic Filipino cuisine. While I could definitely enjoy some Champagne with it, even I like to take a break every now and then. So a nice cold beer tonight sounds good.