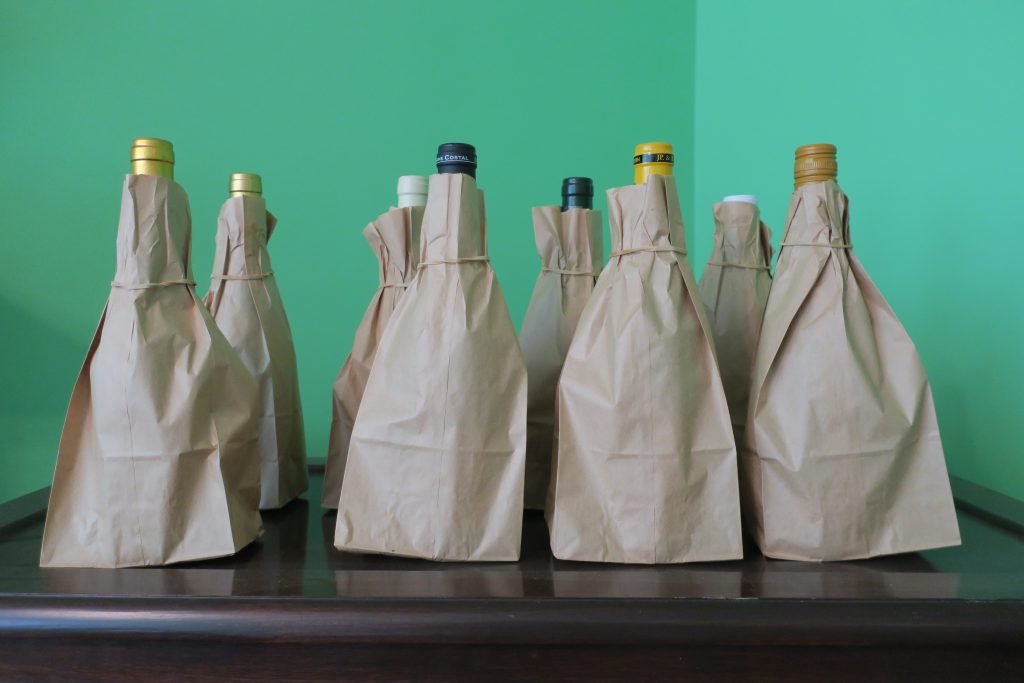 Someone recently asked me if I could drink wine made from only one grape variety for the rest of my life, what would it be? My first instinct was Chardonnay. It can be everything from steel-spined Chablis to rich California butterballs, and — no less important — some of the best Champagne. But those over-oaked, over-extracted California butterballs ruined Chardonnay for a generation of wine drinkers, and many people, quite understandably, avoid the grape entirely (try Googling "Anything But Chardonnay").
Even those who like Chardonnay often have misconceptions about the grape, as evidenced by a recent blind tasting I held, in which a Master of Wine took a sip of a New Zealand Chardonnay and exclaimed, "France!" I did no better than she, even though I had purchased the wines. Blind tastings are a wonderful way to keep one's ego in check.
A bottle of Chablis inspired the blind tasting. I had agreed to sample a 2015 William Fèvre "Champs Royaux" Chablis, because how could I resist a free bottle of one of my favorite wines? The marketer who sent it wanted me to evaluate it as an example of the vintage. I decided the best way to do that was to compare it to some other 2015 Chablis.
But then, why not also compare it to some Chardonnays from elsewhere in the world, in a modified Judgment of Paris tasting? I assembled seven other 2015 wines ranging in price from $8.50 to $57, produced in Chablis (France), New Zealand, Argentina and California. In order for me to also participate in the blind tasting, I bagged the bottles, mixed up the bags and numbered them. My husband then presented the wines to the group, so that I wouldn't be able to cheat by looking at their necks.
The results were absolutely fascinating. The $57 wine was rather unpopular, and the $8.50 wine tasted better than expected. There was broad consensus in our group of nine tasters about the best and the worst of the bunch, but not such broad consensus regarding the grape variety we were tasting. A few people guessed that we were sipping Chardonnay, but just as many thought the wines were Sauvignon Blanc, and another guessed Viognier. Chardonnay can take many forms!
Here is what we tasted:
WINE #1
This wine proved immensely popular, garnering seven Loves and two Likes on my rating scale of Love, Like, Meh and Dislike. All but one of us guessed correctly that it came from France, an indication of France's enduring reputation for quality. People praised its creamy mouthfeel and long finish, as well as its zesty and sharply focused acids. No one thought that it cost less than $18 a bottle, and two of us (including me) guessed that it cost $57.
In fact, it was the sample bottle I'd received, the 2015 William Fèvre "Champs Royaux" from Chablis! It costs just $18 at Binny's, where I purchased the other wines for the tasting. At that price, it's a screaming steal. It was the hit of the tasting.
WINE #2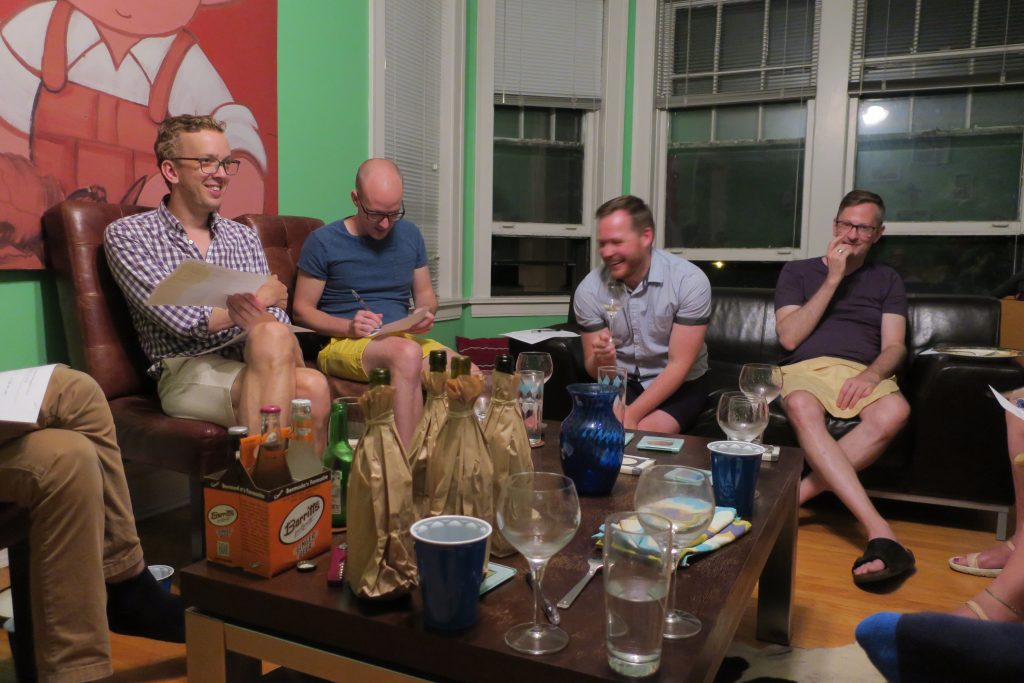 Wine #2 was less popular. One taster asked, "Why does this taste cheaper to me?" I noted that it smelled richer than #1 but that it didn't taste as complex. It felt hotter, more alcoholic, and rougher around the edges. Others liked its lightly buttery quality, and only two tasters rated it as low as Meh. One gave it a Love, and everyone else rated it as Like. Guesses as to its origin ranged across the map, though three people correctly labeled it as an Argentinian wine. A couple of people thought it cost $22 a bottle, but most wrote down the actual price.
In fact, it was the 2015 Salentein Reserve Chardonnay from Argentina's Uco Valley, a high-quality region just to the south of Mendoza. It cost me $15 a bottle, and judging by its reception, it seems fairly priced.
WINE #3
Our third bottle fared worse, earning only two Likes and a bunch of Mehs. I liked its creamy and citrusy aroma and bright acids, but another taster remarked, "It's acid that I don't love." Another commented that it was "oak city," and a third complained that its "finish is like a teenage boy" (i.e. too fast). Others approved of its white pepper spice, however. As to its origin, the guesses divided among Argentina and New Zealand, and most people thought it cost between $16 and $18.
In fact, it was the 2015 Domaine Costal Premier Cru Vaillons Chablis, which cost me $32.29 at Binny's. Yikes! A Premier Cru Chablis comes from one of the region's best vineyard sites, and it should in theory be better than a standard Chablis. I think this one might need a little more time in the bottle to settle down.
WINE #4
People enjoyed this wine much more, with only one person giving it a Meh — everyone else gave it a solid Like. And again, almost everyone assumed it was French. "It's more expensive and it's France for sure," one taster asserted. Only one of us guessed its true country of origin. I certainly liked it, with its citrusy and mineral aroma, bright lemon-orange acids and finish of focused spice. Almost everyone thought it cost $22.
In fact, it was the 2015 Kim Crawford Unoaked Chardonnay from New Zealand's East Coast, which cost just $16. If you prefer your wines bright, fruity and juicy, this Chardonnay is ideal for you. And considering that most people thought it cost $6 or more than its actual price, it's a fine value as well.
WINE #5
This wine divided the group more than any other. Reactions ranged from "Dislike from me" to "It was OK" to "I like it!" One taster complained that it was something of an oak bomb, but I found it more balanced. I was one of the three people in the room who actually liked this wine for its creamy/buttery start and cleansing shaft of sharp spice. I wrote "Rich and zesty, but disjointed." It earned three Love ratings, two Likes, three Mehs and one Dislike, and people priced it anywhere between $15 and $57, with most clustered around $18. Almost everyone thought it came from California or Argentina. Tellingly, the only people who correctly guessed its true country of origin, France, were two of the people who enjoyed it the most.
In fact, it was the wine that should have been the star of the tasting, the 2015 Jean-Paul & Benoît Droin Grand Cru Valmur Chablis (Valmur is one of Chablis' Grand Cru vineyards). It cost a healthy $57. The problem with this wine, I suspect, is that we drank it far too young. Its components hadn't yet integrated, and so the oak stuck out like a sore thumb. Give this wine five years in the bottle, and I have no doubt that it will be gorgeous.
WINE #6
Wine #6 was a great big Meh. Only one person rated it as Like. Everyone else rated it as Meh, aside from two Dislikes. I wrote that it was pointy — "maybe too pointy" — and others noted its spicy aroma and general roughness. Even so, people generally guessed that it cost around $15. Only two people guessed its true price.
In fact, this was the 2015 Alamos Chardonnay by Catena from Mendoza, which cost just $8.50. Four people guessed that it came from Argentina, which means either that they're very good at blind tastings, or that they assume that a cheap-tasting wine is an Argentine wine (only one person guessed France).
WINE #7
I quite liked the balance on this wine, and others complimented it as well, saying, "I don't want to spit this one out," and "It's crisp and well-structured." Our Master of Wine in the group remarked on its lemony character, exclaiming, "It's like lemon meringue pie!" But others complained of a "funk aroma" redolent of "dirty feet." This wine earned one Dislike, one Meh, three Likes and three Loves, making it the second-most popular wine of the tasting, after the William Fevre "Champs Royeaux." People thought it was expensive, too. One taster thought it cost $18 and another $22, but the rest thought it cost either $32 or $57, and came either from France or (to a lesser extent) the USA.
In fact, this was the 2015 Etienne Boileau Chablis, theoretically a step down in terms of quality from the Premier Cru and two steps down from the Grand Cru. It cost me $19, which is quite a bargain, considering that most of the group thought it cost much more.
WINE #8
And then we came to the real disaster of the tasting, Wine #8. Only one person liked it. The entire rest of the group rated it as Dislike. As people tasted it, I heard things like, "Oh God, it's horrible," and "It smells like Mott's apple juice in a box." There was a touch of pétillance, which was surely unintentional, and an odd olive brininess. No one thought it came from France — most people assumed it was from Argentina or the U.S., aside from a couple of New Zealand guesses.
In fact, this was the 2015 Mer Soleil "Silver" Unoaked Chardonnay from Monterey in California, and it cost $18. Most people assumed it cost $8.50, but I wouldn't pay even that for this wine. Ugh. Interestingly, Binny's no longer seems to carry this wine.
CONCLUSION
If this tasting is any indication, the notion that French wines are quality and Argentine wines are not persists unabated. When people liked a wine, they almost always guessed it came from France. Few of us guessed that a high-quality Chardonnay could come from New Zealand. The versatility of Chardonnay is also still a surprise, as evidenced by the number of people guessing that we tasted Sauvignon Blancs. And we learned that whites aren't necessarily at their best right out of the gate. Some of them, such as the Grand Cru Chablis, clearly need more time in the bottle to settle down.
Others, such as the William Fèvre "Champs Royeaux," are drinking beautifully right now. That wine is relatively easy to find — I've seen it on a number of restaurant wine lists — and it's an incredible value for the money. Seek it out, along with the delicious Kim Crawford Chardonnay from New Zealand.
You can read a another post about the delights of Chablis here.
Argentina, California, Chardonnay, France - Burgundy, New Zealand