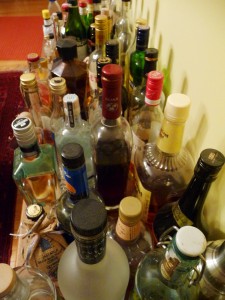 When traveling, I frequently buy a few bottles of the local wines and/or spirits, seduced by their unavailability in Chicago. Especially when the dollar was stronger, vinous ballast would accumulate in my suitcases until the handles buckled and the seams began to unravel.
My greatest triumph was to return from Italy with no fewer than 13 bottles of hooch divided between my checked bag and carry-on. It was January 2002 — a dollar bought 1.15 euros, and you could bring as much liquid as you damn well pleased onto the plane. Blessed memory.
Since then I've managed to bring my booze-buying addiction under control, partially through self-restraint but mostly through the depredations visited upon the U.S. dollar by noted economists George W. Bush and Barack Obama.  I memorably escaped from Burgundy — Burgundy — with just six bottles, and more recently, I returned from Vietnam with one lonely bottle of snake wine.
(To pack wine safely in your suitcase, I recommend slipping each bottle into three or four medium-thick socks. With my hard-sided luggage, I have yet to lose a bottle. …Knock on wood.)