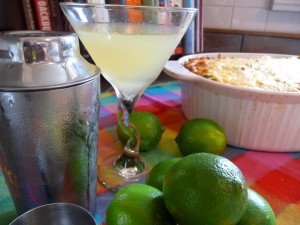 As I put the finishing touches on a giant pile of enchiladas, I mentally catalogued my wine inventory, trying to decide what might make a good pairing.
The enchiladas were a little complicated. I stuffed corn tortillas with brown rice, red peppers, caramelized onions and chorizo, and topped them with Chihuahua cheese and a homemade salsa of tomatillos, toasted pepitos, garlic, jalapeño and fresh epazote.
I'm sure I could have come up with something that would have worked, but as I stuffed my 14th tortilla, I decided the heck with it. I'm making a margarita.
A margarita, of course, could hardly be considered unusual or obscure, especially when made with distressingly fluorescent "sour mix," a chemical concoction of corn syrup and alien-green food dye. What, then, would make for an Odd Bacchus-worthy version of the cocktail?