5 January 2013
Comments Off

on Unusual Pairings At Urban Union – Part 2
We drank so many tasty and unusual things at our dinner at Urban Union, I couldn't possibly fit them all into one post. To read about some fine unfiltered/unpasteurized sake, a bright wine from France's Savoie and a truly odd selection from Macedonia, follow this link.
To venture yet further into the obscure, read on!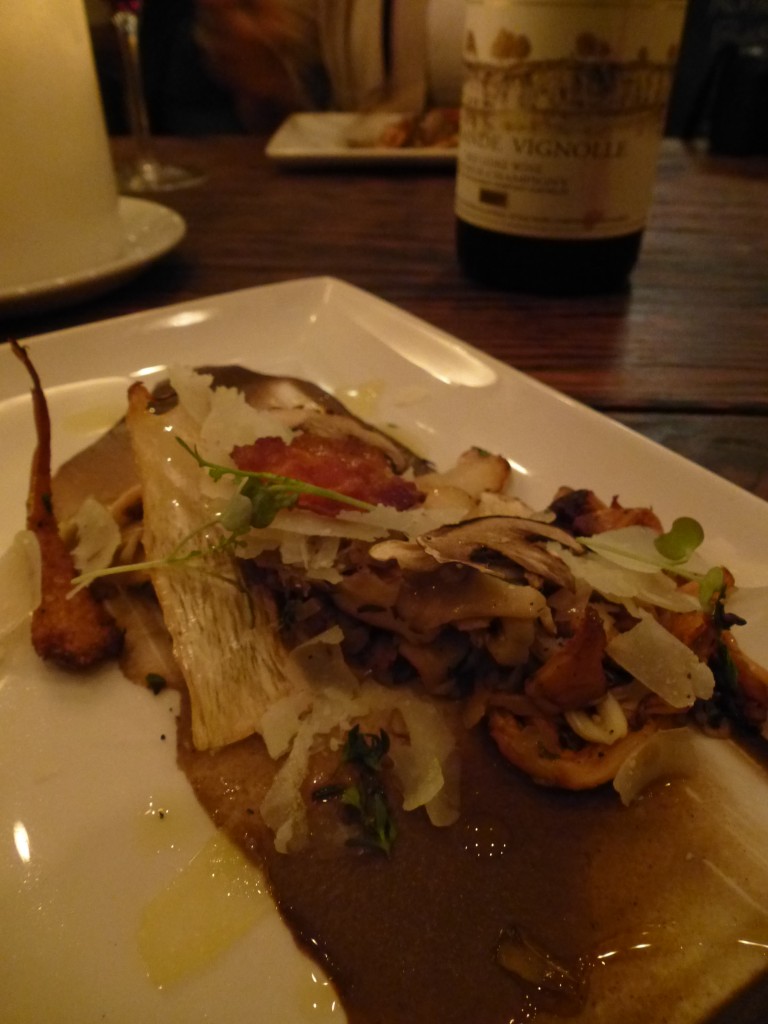 When most people think of wines from France's Loire Valley — if they think of them at all — they think of crisp, minerally whites like Sancerre. But the Loire produces robust reds as well, most notably from the Cabernet Franc variety. Ex-Sommelier Andrew Algren (he left Urban Union just days after our dinner) selected a wine from the Saumur-Champigny section of the Loire, which produces "one of Cabernet Franc's most refreshing expressions," according to The World Atlas to Wine. According to Algren, it's "like grabbing a handful of French forest floor and chowing down." I was intrigued.
To me, the 2010 Domaine Filliatreau "La Grande Vignolle" tasted eye-poppingly tight, especially after smelling its deep, enticing, meaty aroma. It was very acidic and tannic, with a finish of black pepper. It screamed for food. In keeping with the French forest floor theme, Chef de Cuisine Joshua Marrell presented a course of trumpet, chanterelle and maitake mushrooms foraged, reportedly, by a local comedian. This rather daringly simple dish smelled appealingly like mushroom-topped pizza. Its earthy flavors tamed the punchy acids in the wine, resulting in positively delightful combination.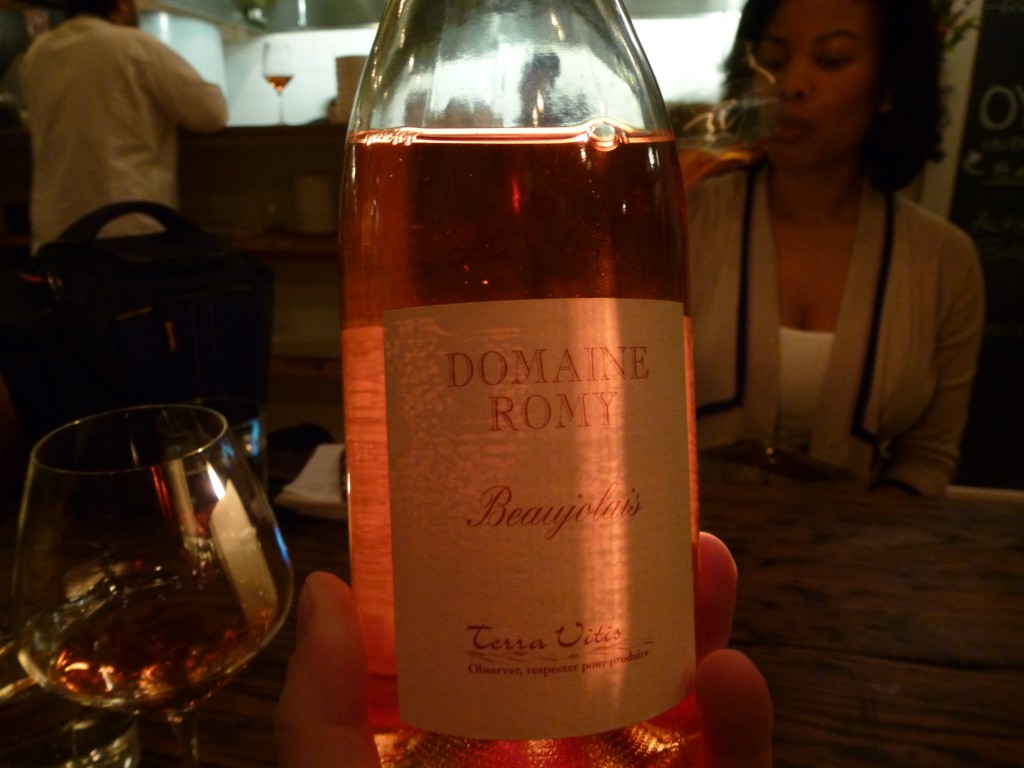 Bucking convention, Algren moved from a red to pink, pouring a highly unusual Beaujolais rosé (not to be confused with Beaujolais Nouveau, that fruity but usually over-sweet red released around Thanksgiving). Made from Gamay, the variety used in all red Beaujolais wines, the orangey-pink 2010 Domaine Romy Beaujolais Rosé tasted of juicy strawberries, with a firm structure and ample minerals and acids. Delicious. Served with a wonderfully garlicky dish of tender charred octopus, confit of potatoes in beef fat and scallion purée, the wine's flavor didn't seem to change all that much. Instead, the wine enhanced the flavor of the food, bringing its savory richness to new heights.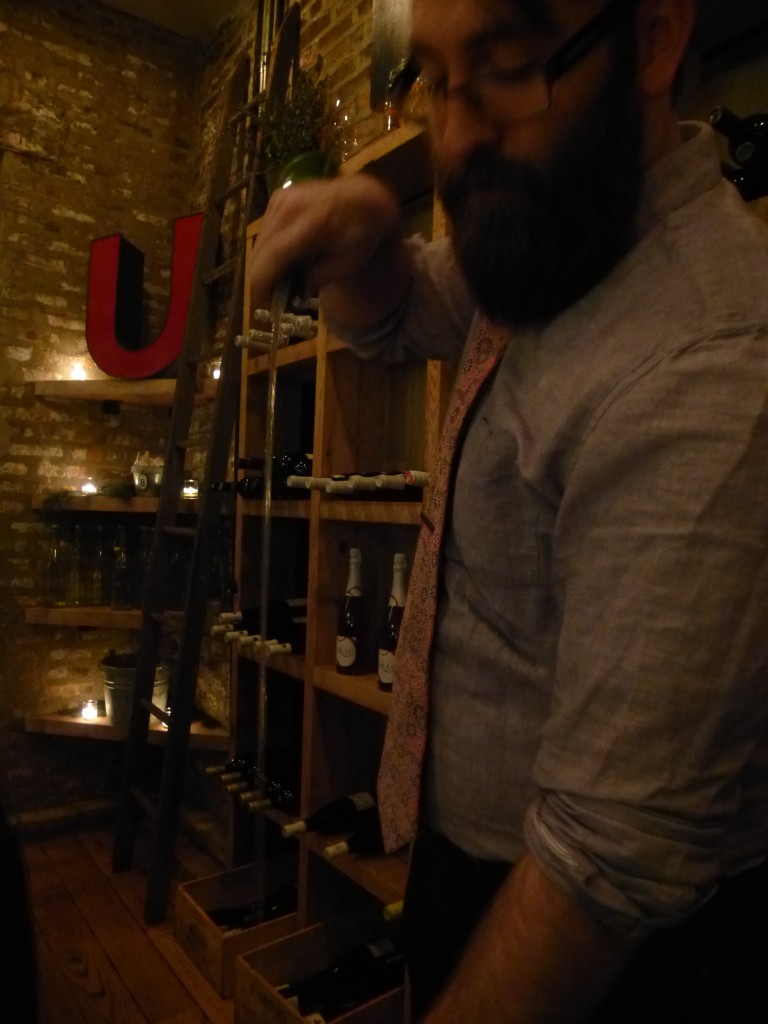 And then we were back, oddly enough, to a white. Poured theatrically from overhead, as is traditional in Spain's Basque country, Algren presented a 2011 Ulacia Getariako Txakolina. This tart, apply, slightly fizzy wine comes from near the town of Getaria, a region of cool, rainy summers which The Oxford Companion to Wine calls "hardly ideal grape-growing country." Nevertheless, the whites, mostly made from the Hondarribi Zuri variety, have "noticeably improved" in the last couple of decades. (Incidentally, there's a nasty rumor going around that Hondarribi Zuri is a hybrid of a Vitis vinifera variety and some other species of Vitis. Scandal!)
Algren paired the Ulacia with a dish of prosciutto from black-skinned pigs, pickled mustard seeds and crunchy celery root, to marvelous effect. The tart wine cut right through the fat of the prosciutto and became a bit sweeter in the process. A hearty, zesty combination I wouldn't hesitate to order again. (Marrell graciously credited the inspiration for this dish to Marco Pierre White's cookbook "White Heat.")
Good heavens, there's yet more to come? Loosen your belts, ladies and gentlemen; we've got three courses left to go.
Up Next: A stellar cru Beaujolais, a Lagrein from Italy, and for dessert… vermouth. Hey, this is Odd Bacchus, folks. Were you expecting Port?