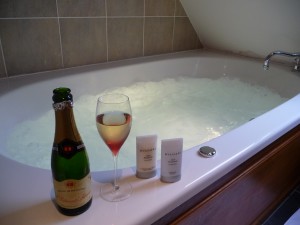 A few marketing companies have discovered that Odd Bacchus attracts literally dozens of readers, and in the past couple of weeks I've been inundated with e-mails recommending Valentine's Day cocktails or wines to feature on my blog.
Some of the recommendations are sound, but some are simply ridiculous. Who is going to make "Gypsy Rose Tea Punch," which requires two bottles of blood orange liqueur, among other ingredients, and why would they make it on Valentine's Day? How many people are they expecting to come over on this most romantic of holidays?
With these sorts of recommendations floating around the blogosphere, I felt compelled to make a list of my own. Here are some of my favorite romantic (and sensible) cocktails and wines, covering a range of tastes and budgets:
1. KIR ROYALE: This classic French aperitif gets my #1 vote because it's simple, elegant, delicious and inexpensive. And pink! Pour some dry sparkling wine into a champagne flute (a good Prosecco works well, or a Crémant), and add about a teaspoon of Crème de Cassis, a blackcurrant liqueur. Chambord can work in a pinch, but Crème de Cassis is better. Gently stir to incorporate, or simply present as-is for that layered look. Serve the rest of the sparkling wine with dinner.