7 August 2013
Comments Off

on Unusual Reds At Tangley Oaks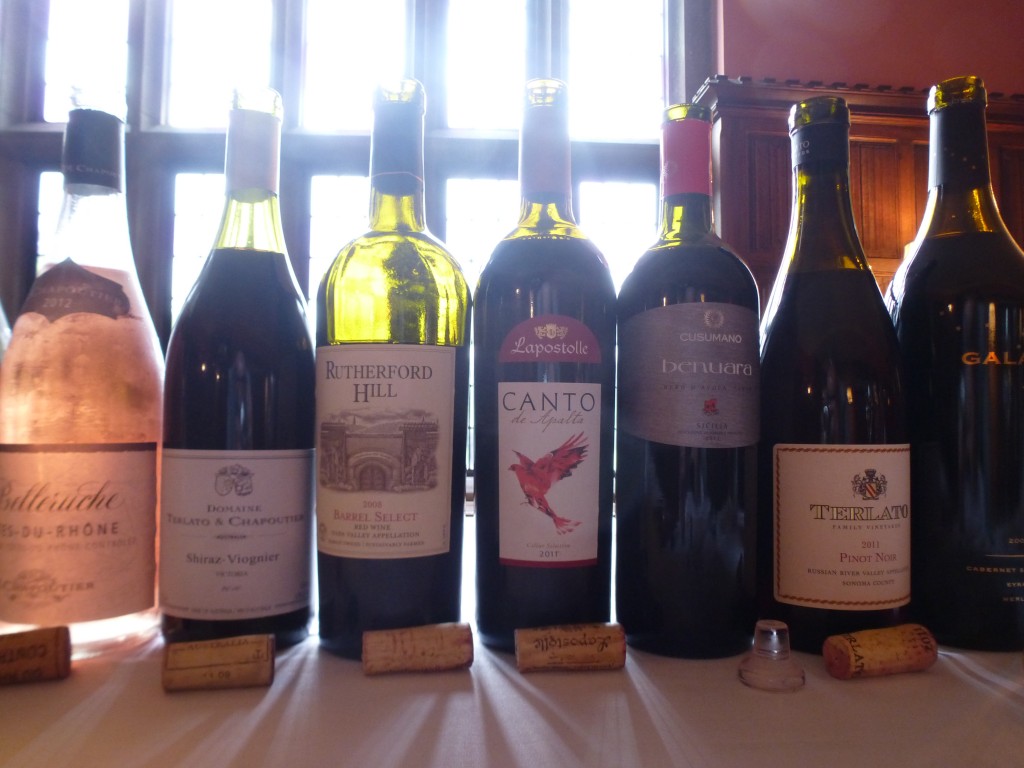 Of course, the tasting at Tangley Oaks with Anthony Terlato didn't stop with the white wines. We tasted quite a few delicious reds as well, including an earthy and richly fruity Rutherford Hill Bordeaux-style blend from Napa, an elegant and forcefully focused Terlato Pinot Noir from the Russian River Valley, and a powerful Chimney Rock Cabernet Sauvignon from Stags Leap in Napa.
But you don't need me to tell you how good a Napa Valley Cabernet can be. If you're reading this blog, you're likely looking for some new discoveries, and I certainly made some. These are the reds we tried that were not only delicious but unusual:
2012 Cusumano "Benuara": This Sicilian blend of 70% Nero d'Avola and 30% Syrah comes from Presti e Pegni, a set of hilly vineyards west of Palermo near the town of Alcamo (see a beautiful photo of the vineyards here). Nero d'Avola is an "increasingly reputable red grape," according to The Oxford Companion to Wine, never a book to shy away from a back-handed compliment. This variety indigenous to southern Italy (originating centuries ago in either southeastern Sicily or Calabria — its history is murky) has taken Sicily by storm, and it is now the island's most widely planted red grape. I love it — I think Nero d'Avola tends to be an excellent value for the money.
Readers of The Sotheby's Wine Encyclopedia might shy away from a Nero d'Avola from Alcamo, a region it dismisses as unable to produce wines "of any real quality or character" due to fertile soils and high yields. But the Cusumano "Benuara" blend proves that assertion false. It had a mysterious aroma of dark fruit along with something aromatic — fellow taster Liz Barrett (Terlato's Vice President of Corporate Communications and PR) detected an underlying salinity in the nose. It tasted big and beefy, with plenty of ripe, dark fruit and big spice, yet it managed to not overheat, avoiding a problem I've noticed with the occasional Sicilian. I can see why Mr. Terlato called Cusumano "the most important producer of quality wines of Sicily right now."
2011 Lapostolle "Canto de Apalta": Founded in 1994 by the well-funded owners of Grand Marnier, Lapostolle has rapidly become one of Chile's top wineries. Admirably, all of its vineyards have been certified as organic and biodynamic since 2011, making Lapostolle wines a good choice for eco-conscious drinkers. The Oxford Companion notes that Apalta "has a reputation for fine Merlot, Carmenère and Syrah" due in large part to the efforts of Casa Lapostolle. And wouldn't you know it, the Canto de Apalta is a blend of all three, with the addition of some Cabernet Sauvignon. As such, this wine resembles the much sought-after "hermitaged" Bordeaux wines of the 19th century, which blended local varieties (such as Merlot, Cabernet Sauvignon and Carmenère) with powerful Syrah from Hermitage in the northern Rhône. It's still a winning combination. This wine from the Rapel Valley had gorgeous color and a subtle, deep red-fruit aroma. With big fruit, big tannins and spicy acids, it struck me as a fantastic value for a $20 wine.
2012 Domaine Terlato & Chapoutier Shiraz-Viognier: Another appellation of the northern Rhône which quickens my heart is Côte Rôtie, a 555-acre region producing some of the world's most coveted Syrah-based wines. These generally unaffordable wines were the inspiration for this Australian collaboration between Anthony Terlato and Rhône-based winemaker Michel Chapoutier. Together, they purchased some land north of Melbourne in the Pyrenees Hills, which is about as far from the Rhône as you can get. Nevertheless, the terroir must be similar, because this Côte Rôtie-style blend of 95% Shiraz (Syrah) and 5% Viognier is an absolute delight to drink. Shiraz, of course, is known to do very well in Australia, and it only makes sense that aromatic Viognier, another variety from the Rhône, would also flourish. This wine had a startlingly beautiful aroma — jammy and redolent of violets. I loved its rich texture, extravagant fruit, and perfectly balanced spice and tannins. Gorgeously lush, without becoming overblown. Averaging about $17 according to Wine Searcher, this is one of the best red-wine values I've tasted all year.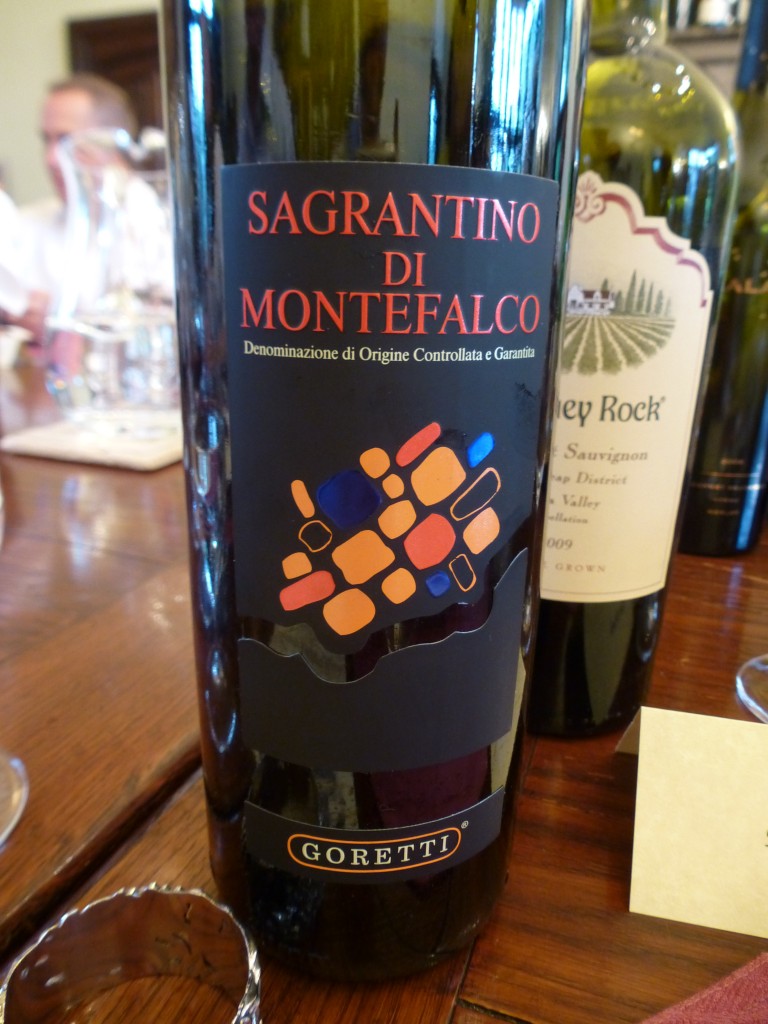 2007 Goretti Sagrantino di Montefalco: Indigenous to Umbria, Italy, the Sagrantino variety almost died out at one point, but it's gained ground in recent years, especially since Sagrantino di Montefalco gained DOCG status in the 1990s (Montefalco is an Umbrian hill town). Now, I wouldn't buy just any Sagrantino di Montefalco — the Oxford Companion complains that "the overall level of viticultural and oenological sophistication in the production zone is not high…" But the family-owned Goretti winery proves to be a notable exception, if this wine is any indication. It tasted darkly fruity, with a rustic texture, a fun zing of spice and a satisfyingly raisiny finish. It had no trouble standing up to a plate of Piave, English Cheddar and aged Gouda.
2009 GALAXY: At first glance, it doesn't seem there's anything all that unusual about this blend of 50% Cabernet Sauvignon, 35% Syrah and 15% Merlot from California. But the process used to arrive at this combination is unorthodox indeed. Each component of the blend is produced by a different winemaker (Elizabeth Vianna, Bryan Parker and Marisa Huffaker, respectively). The three of them gather each year in a hotel room, where essentially they're locked in until they agree on a blend. It would be fun to be a fly on that wall, I have to think! Whatever happened in that hotel room, this year's blend tastes huge. It's a big, spicy wine with dark fruit and some meaty notes. Lusty, gutsy, and altogether delicious.
Note: These wines were sampled free of charge as part of a complimentary tasting organized by Terlato Wines.