27 August 2011
Comments Off

on The Desert Vineyards Of Washington State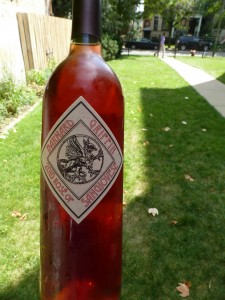 A hurricane may be raging along the East Coast, but in Chicago we're having some of the loveliest weather we've had all year. It was a perfect chance to relax outside with a glass of rosé, my favorite fun summer wine.
Although my wine rack currently overflows with bottles, only one rosé was left — a 2010 Barnard Griffin Rosé of Sangiovese. I couldn't remember ever tasting a Sangiovese rosé, much less one from Washington State. It was an ideal choice (of course, the total lack of other options also contributed to the selection process).
Before settling down with a glass, I researched Sangiovese a bit, wondering what this common Italian varietal might be doing up in Washington State. It came as a surprise to read in The Oxford Companion to Wine that "Sangiovese's principal characteristic in the vineyard is its slow and late ripening…" Washington isn't known as the sunniest of states, leading me to wonder how this grape might get enough sun to fully develop.
I really became curious how on earth anyone could grow this varietal in Washington when I went on to read that "The grape's rather thin skin creates a certain susceptibility to rot in cool and damp years…" Washington State would seem to be the epitome of cool and damp — who would be crazy enough to grow Sangiovese there, and how did they possibly make it work?
And here my lack of knowledge about the Columbia River Valley's terroir became all too apparent. (more…)