11 August 2012
Comments Off

on Albemarle County's Celebrity Wineries
The wines of Virginia blew me away at the Wine Bloggers Conference, held last year in Charlottesville. I had no idea such great things were happening down there; after all, I'd never even sampled a Virginia wine before the conference. They're not available in every corner grocery. And because of the rarity of these wines up north, I was excited to have the opportunity to return to Albemarle County and get my palate around a few more of these beauties.
Two wineries I put at the top of my list were Trump and Blenheim, owned by Donald Trump and Dave Matthews, respectively. I missed their wines entirely on last year's visit, and I was curious how these celebrity wineries, set less than a mile apart from each other, would perform. Would Trump wines be overblown, lacking restraint and finesse? Would Blenheim's be, as iTunes describes the Dave Matthews Band's debut album, "long-winded" and "unfocused"? I was determined to find out.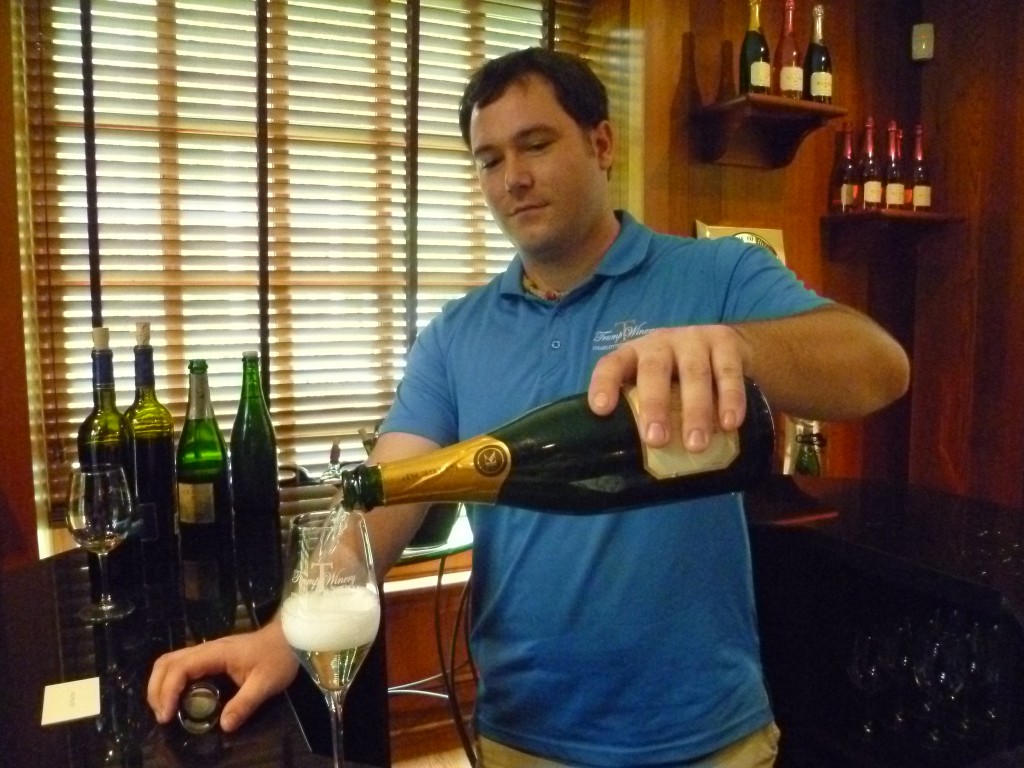 The Trump Winery, as you might imagine, comes with quite a story. Trump purchased the winery from Patricia Kluge, a figure who is not beloved in the Virginia wine scene. She engaged in some major real estate bets and winery expansions just as the economy tanked in 2008, and lost much of her fortune, including her winery. A certain sommelier told me that he engaged in a little Schadenfreude, attending the auctions of her furniture, jewelry and wine, managing to purchase hundreds of cases for as little as $2.00 each (most cases of wine went for $14). But an assistant winemaker I spoke with said that Kluge was actually great for the Virginia wine industry. She brought in major winemaking talent, but no one could stand to work for her longer than a year or two. They would then quit, and go off to start their own wineries or find employment at existing ones.
Donald Trump purchased Kluge's winery, as well as the front lawn of her palatial mansion (he's waiting for the price on the house itself to go down, as it surely will, since Trump owns all the land right up to the front door). Amid all these shenanigans, Kluge Estate (now the Trump Winery) continued to produce acclaimed wines, and I wanted to try some myself. After a drive through some beautifully rolling countryside past notable landmarks such as Monticello, I found my way to the glossy tasting room.
Some Trump wines worked better than others. Calling the rather tart Chardonnay "Chablis-style" was a bit of an exaggeration; it lacked Chablis' steely, minerally, focused vigor. The Sauvignon Blanc, rosé, and Bordeaux-style blends were all pleasant enough, but it was the sparkling wines, produced in the traditional Champenoise method, that really caught my attention. The Blanc de Blanc (100% Chardonnay) had a strawberry and honey nose, a touch of sweet apples on the palate, and ample but elegantly small bubbles. Berry notes marked the aromas of the Rosé as well. This blend of Chardonnay and Pinot Noir had some currants and yeast to it, along with those same delightful bubbles. The Blanc de Noir (100% Pinot Noir) had an almost jammy nose, but lemony acids, some yeastiness and a dry finish kept it balanced. Well, I suppose it makes sense that Trump's Champagne-style wines were the most successful!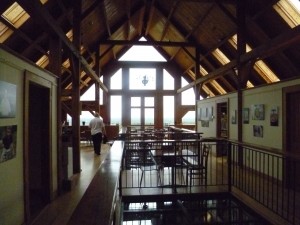 A two-minute drive away, Blenheim Vineyards has a dramatic vaulted tasting room overlooking a wide tract of vineyards. The space alone makes a visit worthwhile, particularly since you can bring your own picnic to enjoy with some Blenheim wine on the terrace. All of Blenheim's wines had very prominent, food-friendly acids, and they would surely be fun with some picnic fare. But tasted without food, most of the wines were a little over-acidic for my taste. I did enjoy the Viognier, with its honeysuckle nose, tropical fruit flavors and limey acids, and the light-bodied Cabernet Franc, with surprising aromas of vanilla, dark fruit flavors and very bright acids. I wish I could have tasted these wines with food, because I suspect the acids would have felt more in balance.
Next Up: The four wineries you absolutely shouldn't miss in Virginia.