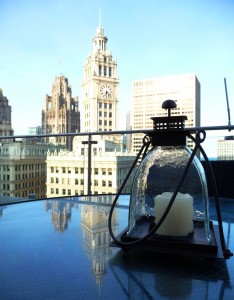 The Terrace at the Trump boasts arguably the best views in Chicago, with a 16th-floor panorama encompassing architectural icons such as the Wrigley Building, the Tribune Tower and the Jewelers Building. It features a "Polynesian Chic" theme, expressed with attractive black patio furniture, some colorful pillows, a few stalks of bamboo and a handful of windblown palm trees.
What it does not feature, unfortunately, is an exciting by-the-glass wine list. A rosé cava briefly caught my attention, but one could buy almost two bottles of the stuff for the $18 the Trump charges for a glass. Similarly off-putting price tags weighed down the other choices. Enjoy that glorious view, because you're paying for it.
Finding little on the wine list to tempt our palates, we opted for two "Divine Nectars" (otherwise known as cocktails), the Huahine Basil ($18) and the Coconut Castaway ($23). The former, an attention-grabbing mix of Hum Botanical Spirit, ginger beer, fresh ginger and basil, tasted delicious. An unusual, locally made 70-proof liquor, Hum is composed of pot-still rhum infused with hibiscus, ginger root, green cardamom and kaffir lime (pot stills produce more robust flavors). I taste the cardamom and ginger most strongly in this spicy liquor.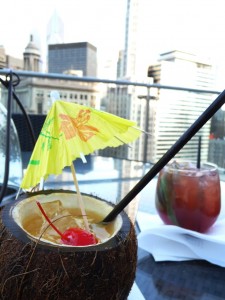 In the Huahine Basil, perhaps a riff on the classic Moscow Mule, the Hum really took over, and I could taste little else. Nevertheless, the spirit's flavors are complex enough on their own, and I didn't really mind. Huahine, incidentally, is an island in French Polynesia, the name of which apparently translates as "women's sexual organ," according to the "Legends" section of Pacific Blue Adventure's website. A cocktail name this classy could hardly be an accident.
I've now exhausted my positive comments about The Terrace at the Trump. If you plan to go and sip a delightful Huahine Basil cocktail as you gaze at some of the world's most beautiful architecture, captivatingly honey-colored in the early evening sun, stop reading. Those who enjoy reading tales of shockingly overpriced, uninspired cuisine should by all means continue.
First, let's get the Coconut Castaway out of the way. Billed as "Ciroc Coconut, pineapple juice and Kettle (sic) One Vanilla in a fresh hollowed coconut," this cocktail came highly recommended by our waitress as her favorite on the menu. But as you might guess from the poorly spelled list of ingredients, it was nothing but a $23 piña colada in a coconut, topped with a cheesy paper umbrella.
The food menu presented a selection of Thai, Japanese, Peruvian, Indian and New England options, but oddly very few Polynesian dishes. The closest they came was a $19 "Grilled Chicken Hawaiian Salad" with romaine, cranberries and honey-mustard dressing, made Hawaiian with the addition of some chopped pineapple. We ordered a Maine lobster maki ($31), the fried coconut shrimp ($23) and the sweet and sour Slagel Farm pork ($45), in ascending order of offensiveness.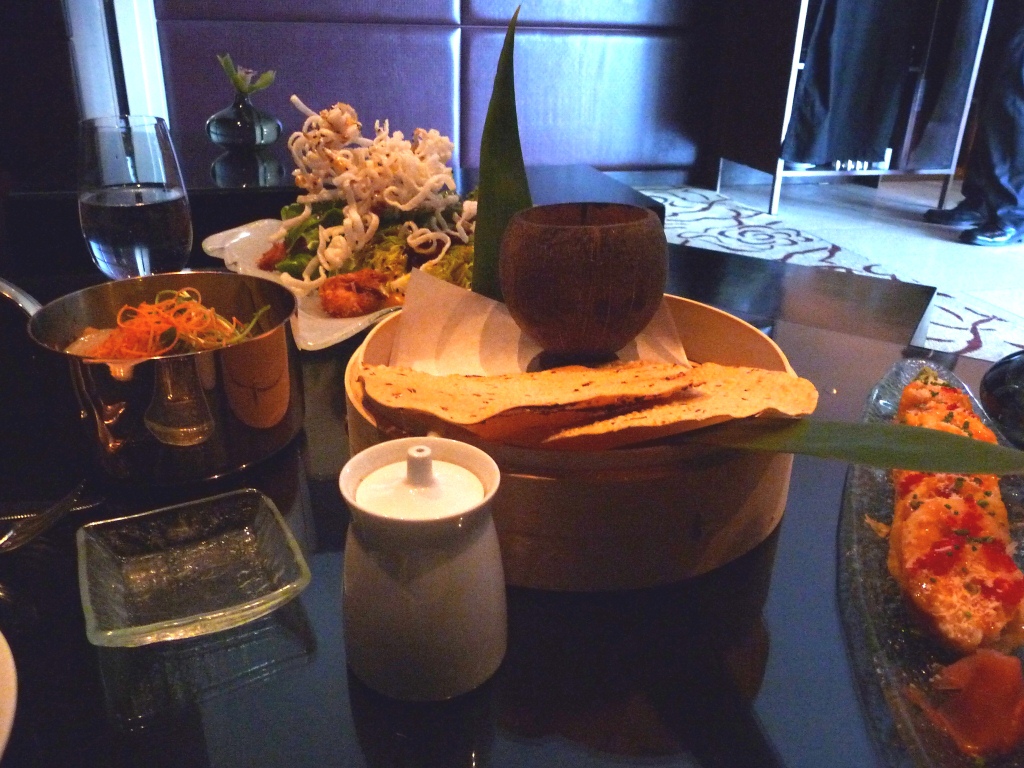 I rather enjoyed the lobster roll, which had a healthy portion of sweet, shredded lobster, sweet pineapple and a hint of spiciness. It's expensive, but it seemed in line with the ingredients and the setting.
I wish the same could be said about the coconut shrimp, which were a mere step or two above those of Bubba Gump at Navy Pier. More of a salad, this dated, poorly composed pile of pomposity offered about six medium-sized, undistinctive fried shrimp; unwieldy wedges of bibb lettuce and an absurdly tall nest of crunchy, flavorless rice noodles. The latter looked like some white, tentacled thing, sucking the life out of the salad below. A sesame ginger dressing provided some flavor at least.
And then there was the sweet and sour pork. Never, in my almost three years as a weekly restaurant critic, did I ever encounter such a shamelessly banal, scandalously overpriced pot of gloop as this. Even on the Trump's terrace, I would expect a $45 dish to taste better than its counterpart at Panda Express. The Slagel Farm pork may or may not have been high quality, but a thick layer of batter obscured it to such a degree that I was unable to assess its merits.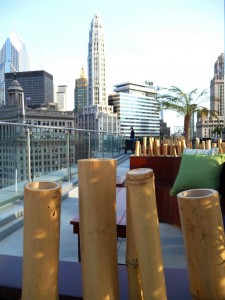 An inexcusably quotidian sweet and sour sauce masked the pork further. And couldn't anyone in the kitchen think of anything more creative to plunk in the sauce besides chunks of pineapple, onions and bell peppers? The presentation in a copper pot failed to class up a course which might as well have come from a suburban grocery store's frozen food aisle. At $45, this dish ranks as perhaps the most insulting thing I've ever eaten, with nothing to recommend it but the accompanying cumin-spiked pappadam bread. Unfortunately, the pappadam had nothing whatsoever to do with the pork.
A $13 round of frozen bananas impaled on skewers and dunked in chocolate tasted fine when dipped in the chilled "piña colada fondue," but it was hard to work up much enthusiasm for them. Difficult to eat — they were frozen, after all — it was almost impossible to consume the bananas in anything but the most vulgar manner, which no doubt is the intent.
In spite of all this, I still say go to The Terrace at the Trump. Order an expensive beer or pricey cocktail, and drink in one of the most magnificent urban views in the world. Just don't go expecting the food or drink to match the quality of the architecture surrounding you.
Cocktails, Restaurant Reviews, Spirits Hum Botanical Spirit, Terrace at the Trump, Trump Patio