While sitting at the bar of a neighborhood restaurant recently, I noticed the owners perusing a book of 300 cocktail recipes. I asked, indicating the book, if they were trying to expand their cocktail menu.
"Yes, we're trying to decide on a new cocktail to offer as a summer special."
A wonderful idea. I find it delightfully restorative to relax on a bar's patio, languidly sipping a glass of something cool and bright. I offered a couple of my own suggestions (see below), and returned to munching on my pork cutlet.
Then I overheard something a little startling:
"…whiskey colada."
I looked over, discovering a large glass of milky liquid being passed to the owners. "What did you say? I heard something about a whiskey colada."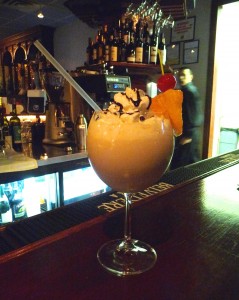 "That's right," the bartender replied, garnishing the glass with a cherry and a chunk of pineapple. "It's surprisingly good," she added, to her credit. At least she realized this cocktail was…unorthodox.
She proceeded to vigorously shake a can of whipping cream and coronate the colada with a healthy mound of the stuff. Still unsatisfied with her creation, she drizzled chocolate syrup all over the Reddi-wip tumulus.
Apparently thrilled with the whiskey-sundae colada, the owners insisted I take a photograph.
Far be it from me to judge a cocktail without sampling it first. It's possible that this drink tasted perfectly pleasant, rich as it was in sugar and fat.
But I tend to prefer my summer cocktails a bit lighter. Before you rush out to buy some whiskey and Hershey's syrup, consider trying one of my favorites instead:
Limoncello Cosmopolitan:
2 parts vodka (Sobieski is a good value)
1 part limoncello
1-2 parts cranberry juice (I like to use Ocean Spray 100% juice)
Juice of ½ fresh lime
Shake all ingredients in a cocktail shaker and strain into a martini glass.
Provençal Gin & Tonic:
1 part gin
2-3 parts tonic
Juice of 1/2 lime
Dash of Crème de Cassis
Pour the gin and lime juice over ice in a highball glass and top with tonic. Add the Crème de Cassis and gently stir, or let it form a layer at the bottom.
Moscow Mule:
1 oz. vodka
1 bottle of fine ginger ale or ginger beer (I like to use Reed's)
Juice of 1/2 fresh lime
Sprig of fresh mint
Toss a sprig of mint over some ice cubes in a large tumbler. Add the vodka followed by the bottle of ginger ale. Mix gently and serve. If you are particularly fond of mint, muddle it with the ice cubes before pouring in the other ingredients.
Cocktails, Gin, Spirits, Vodka, Whiskey Cosmopolitan, Creme de Cassis, Gin & Tonic, Ginger Ale, Limoncello, Moscow Mule, Pina Colada