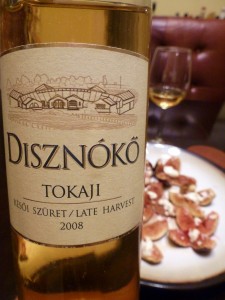 Before Bordeaux became the standard for quality wine, there was Tokaji. This Hungarian wine dazzled the royalty for hundreds of years, becoming known as "The king of wines and the wine of kings." Tokaj's vineyards were classified into first, second and third growths more than 100 years before their compatriots in eastern France (Tokaj is the place, Tokaji is the wine).
Sweet wines made from Furmint and Hárslevelű grapes rule here. These wines, like fine Sauternes, owe much of their flavor profile to the botrytis fungus, known more poetically as "noble rot." The renowned Tokaji Aszú, ranging in concentration from two to six puttonyos, is not inexpensive, but it's a wonderful splurge.
But this is not a post of puttonyos. It's been years, unfortunately, since I've allowed myself a bottle of Tokaji Aszú. Our ridiculously weak dollar has not helped its affordability.
I sampled a somewhat less royal cousin of Tokaji Aszú, a 2008 Disznókő Late-Harvest Tokaji Furmint. This wine, according to the Disznókő website, is aged but a few months in barrels, in order to preserve "intense, fruity flavours and aromas."
Since one doesn't run across a non-Aszú late-harvest Furmint every day, I was excited to give it a try.
Adding to my anticipation, The Oxford Companion to Wine, The Sotheby's Wine Encyclopedia and The World Atlas of Wine all cite Disznókő (Diz-no-coo) as a highly regarded winery.
I researched it a little further, and it turns out Disznókő is actually run by the wine division of a French insurance company called AXA, which counts among its holdings some impressive Bordeaux, Burgundy and Sauterne chateaux. After communism fell, AXA Millésimes purchased Disznókő, one of the first vineyards to be privatized, according to The World Atlas of Wine. It goes on to say that Disznókő "spectacularly restored" the vineyards and winery, building "the prettiest tractor garage in the world." (It is an undeniably lovely tractor garage — do have a look.)
But I can only do so much research about communisim and tractor garages before I just want to drink the darn stuff. It seemed right to try the late-harvest Tokaji with food, so I tossed together some roasted goat cheese-stuffed figs, drizzled with warm thyme honey. While they baked, we opened the wine.
It smelled of honey and something herbal — perhaps some dried flowers. At first, it felt too syrupy to me, with too few acids to balance out the sugar. But paired with the roasted figs, the wine became more lively, with sprightlier acids and a whisper of oak. It lacked the soul of a Tokaji Aszú, but then it lacks the price tag as well.
Perhaps if I'd never tasted Tokaji Aszú, I would have been perfectly happy with this late-harvest Furmint. But once you've sampled the wine of kings, it's hard to go back.
SUMMARY
2008 Disznókő Late Harvest Tokaji Furmint: Honeyed and lush (syrupy?), but livelier with food. It worked especially well with the goat cheese. Chill well, but remove from the refrigerator about 10 minutes before serving.
Grade: B-
Find It: Binny's carries 500 ml bottles of this wine for $23.