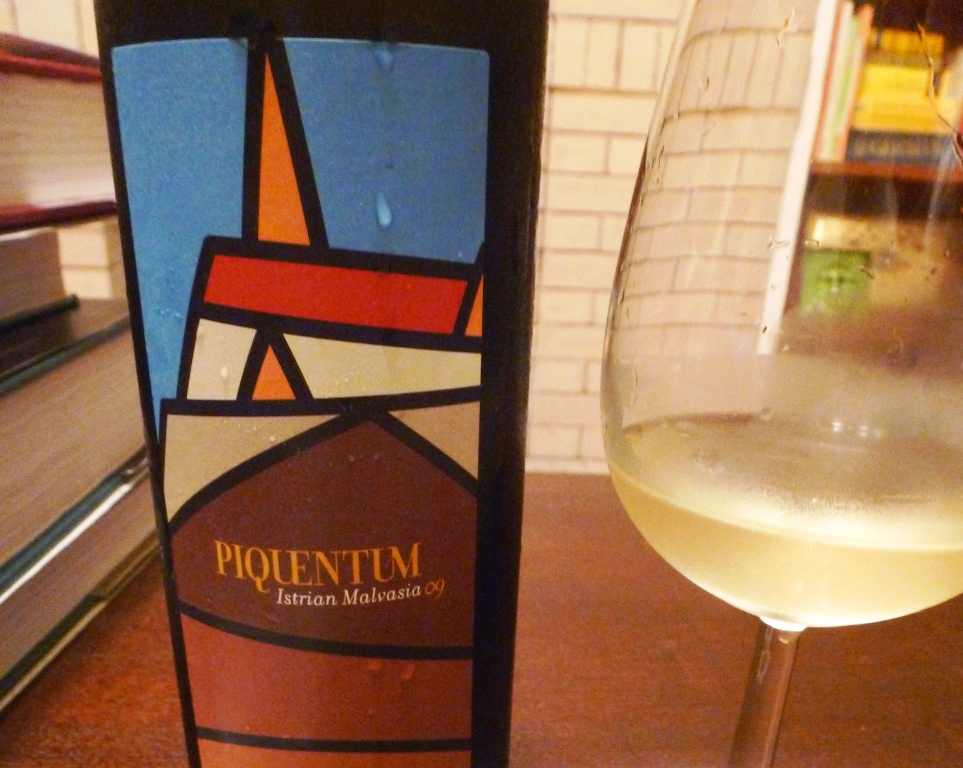 The World Atlas Of Wine asserts that Croatia is "a country full of original, if elusive, rewards…" It helps then, to have someone like Sasha of the distributor Tasty Wine Company separate the rubies from the garnets. He turned me on to an Istrian winery called Piquentum, which makes some fascinating stuff.
Back in May, I wrote about my experience with the Piquentum Teranum in this post. Though clearly well made, this wine simply wasn't to my taste (more an indication of a flaw in my palate than in the wine, surely). I let the other bottle of Piquentum wine, a 2009 Istrian Malvasia, languish on my shelf for months thereafter.
It was worth the wait. This wine was most certainly to my taste.
As I wrote before, Piquentum's winemaker, Dimitri Brečević, comes from the French Pyrenees and studied enology in Bordeaux, Burgundy and New Zealand. He returned to his father's native Istria to start his own winery in 2004, naming it "Piquentum" after the ancient Roman moniker for Buzet, the picturesque hill town that was now his home. (You can read an interview with the winemaker here.) He makes only Terans and Istrian Malvasias, dedicating himself to these two traditional Istrian varieties.
The wine looked light gold in the glass, and it smelled of crisp pears. It tasted rich but sprightly, with a slight prickle on the tongue and some stone in the finish. Paired with a light stir-fry of green beans, black beans, red peppers, preserved lemon and soy sauce, it became a bit spicier and more floral, with a note of honeycrisp apple. Not a bad choice at all for an early autumn dinner.
The World Atlas of Wine made a promise of "original, elusive rewards," and this wine most certainly fulfilled it.
SUMMARY
2009 Piquentum Istrian Malvasia: Light on its feet but with some richness. Notes of green pear, perfumed apples and stone. An excellent value. Chill well, and remove from the refrigerator five minutes before serving.
Grade: B+
Find It: This wine retails for approximately $16, and can be found in the Chicago area at A Vision, Miska's Liquors, Lush Wine & Spirits, Lincolnwood Produce, Vinic Wine Co. and The Bottle Shop.
Balkans, Malvasia Dimitri Brecevic, Istria, Piquentum, Tasty Wine Company