Over the course of the Cognac Summit, we visited three of the largest Cognac houses; houses no doubt familiar to most Americans: Rémy Martin, Courvoisier and Hennessy. These three are so well-branded in the U.S., many of us think of them only as their name. It's simply Hennessy, not the Cognac called Hennessy.
These three brands can be found just about everywhere, but should you be looking for their VS, VSOP, XO or something else entirely? (You can read an explanation of these age categories in this post. They're imprecise, because, as our Rémy Martin ambassadrice confided, "A Cognac is like a coquette — she never gives her age exactly.")
We had the fortune to taste a range of Cognacs from each of these three houses (the prices are from Binny's Beverage Depot unless otherwise noted):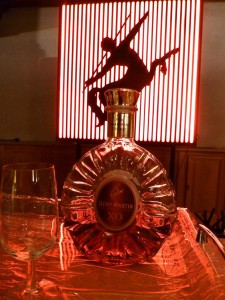 Rémy Martin VS: We sampled this with ice, so the aromas were harder to detect (room-temperature Cognac has a bigger bouquet). But I certainly enjoyed its fresh, smooth flavor profile. About $28.
Rémy Martin VSOP: This one came from a bottle straight from the freezer, so again, I didn't get much of an aroma. But I loved the texture at this temperature — it tasted surprisingly smooth for a VSOP, with caramel and cake flavors and a spicy finish. About $35. An excellent value.
Rémy Martin XO: I noted aromas of pear, orange and fig. Rich at first, this Cognac tasted a little sharp on the palate as well. About $140.
Courvoisier VS: The fruit for this Cognac, the most popular Courvoisier in the U.S., comes mostly from the Fin Bois region (this post explains the different regions of Cognac). Fresh and spicy, with some vanilla and caramel flavors. Fun to drink. About $26 – a very good value.
Courvoisier VSOP Exclusive: A pleasant aroma of ripe bananas. The flavors were deeper than those of the VS, but it was still quite lively on the palate. About $60.
Courvoisier XO Imperial: A very elegant liquor — rich and easy to drink. I wrote that it smelled of crème brûlée, oranges and violets. The Courvoisier representative called the Imperial "the most feminine Cognac we have." About $120.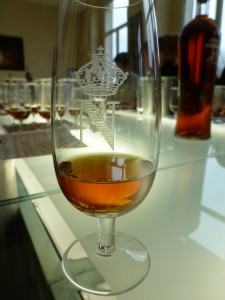 Courvoisier VSOP Fine Champagne: A Fine Champagne Cognac combines grapes from both Grande and Petite Champagne regions, though it must be at least 50% Grande Champagne (not to be confused with the sparkling wine region). Smooth but spicy, this Cognac had notes of orange, vanilla and ginger cookies. On sale for $37 at wineanthology.com. Another excellent value.
Courvoisier Napoleon Fine Champagne: This Cognac reportedly uses the same blend as when it was launched in 1909, with Cognacs averaging about 25 years old. A brilliant amber color, it had an aroma of cedar and oranges, a very smooth, rich flavor and a long finish. About $80, and a fine value.
Courvoisier Initiale Extra: A combination of Grande Champagne and Borderies (a small region just northwest of the town of Cognac), the Initiale Extra is a minimum of 45 years old. With a caramelized banana aroma, it really developed on my palate, taking me on a most delightful journey. It took a long time for the alcohol bite to kick in, and even then the Cognac felt luxuriously smooth. On sale for $253 at winechateau.com.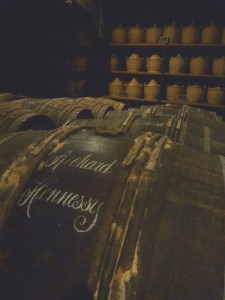 Hennessy Fine de Cognac (approximately VSOP): According to the Hennessy representative, this blend was launched in the European market in 2002, intended to appeal to ladies who had not yet discovered the joys of Cognac. I enjoyed the fruity nose, but it seemed a little sharp on the palate. (This can be difficult to find in the U.S.)
Hennessy XO: Again, it was hard to get much aroma because it was served on ice, but I very much enjoyed this easy-to-drink Cognac. It seemed more "feminine" to my mind than the Fine de Cognac. About $180.
Hennessy Paradis: At room temperature, I loved its rich, spicy caramel qualities. With dinner, we tried it straight from the freezer, which was really delicious. I got more brandied cherry flavors, and any bite was gone. A sumptuous pairing with our appetizer of foie gras. About $600.
We were also lucky enough to taste the extraordinary Hennessy Paradis Impérial, but this Cognac deserves a post all its own.