Let's cleanse the palate after that Melvyn's debacle, shall we? I had the fortune to sip a number of thoroughly delicious cocktails on my recent trip to southern California. Should you ever happen to find yourself in that chunk of the country — or more specifically, San Diego — here are three bars not to miss.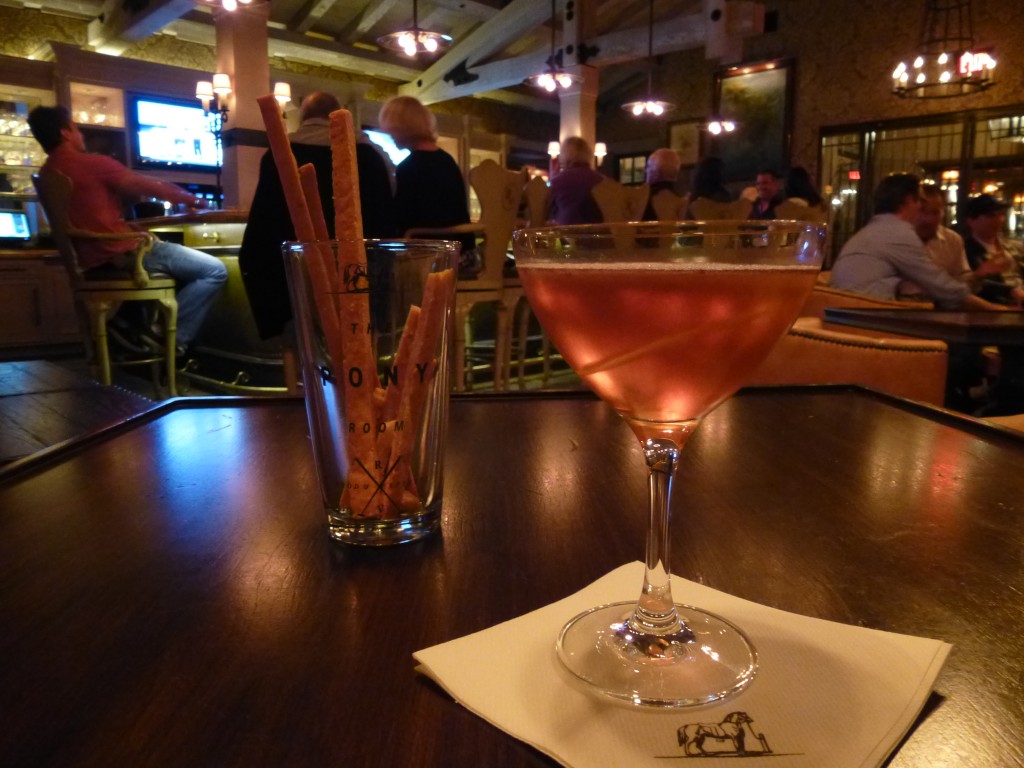 This bar in the Rancho Valencia resort draws a wealthy crowd, a fact made abundantly clear to me as I watched the valet park my rental Ford Focus among the Maseratis and Bentleys. Nevertheless, it's a friendly and lively place, and it has a relatively short but intriguing cocktail list including top-shelf spirits and house-made sodas.
I ordered a classic Martinez (above), which many hold up as the ur-martini. For a long time, it was very difficult to make this very old cocktail properly, because finding Old Tom Gin was nearly impossible. But this sweeter gin is back in fashion (at least somewhat), and well-stocked liquor stores now carry this relic from the 18th century.
The Pony Room uses Hayman's Old Tom Gin, Dolin Sweet Vermouth, Luxardo Maraschino Liqueur (not to be confused with fluorescent Maraschino cherry juice) and Angostura bitters. The result was strong but very smooth, with some bitterness and then sweetness, with a surprising note of citrus. My server said that The Pony Room doesn't sell many Martinez cocktails, which is a shame, because they're both historic and delicious.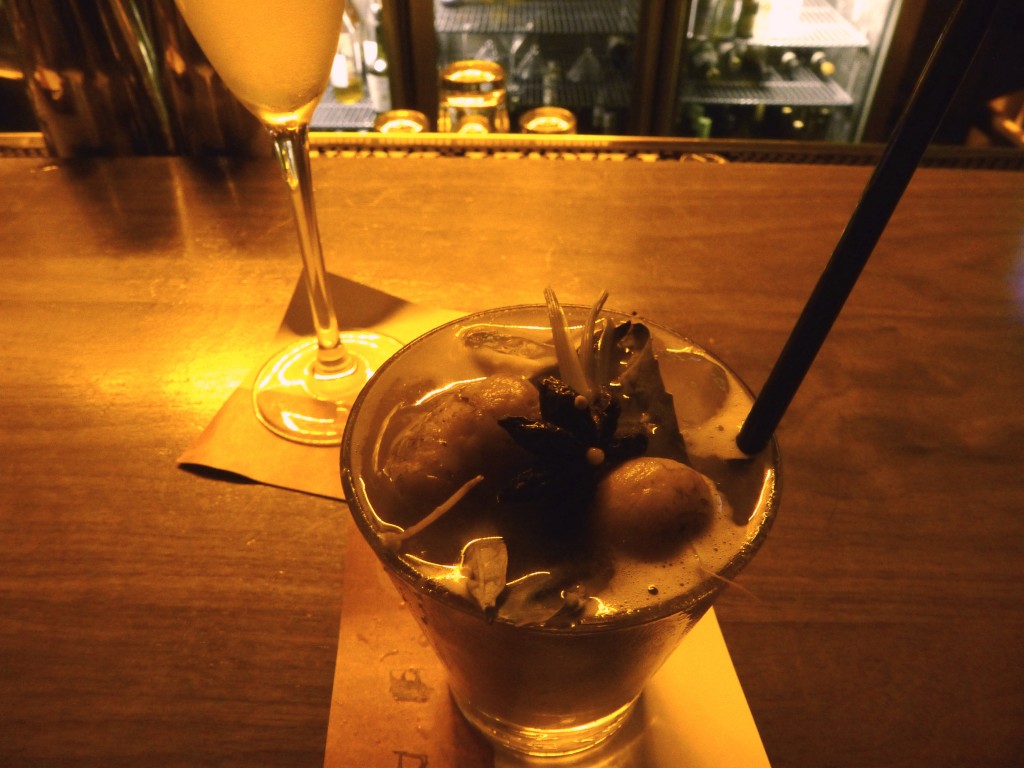 Just down the road from Rancho Valencia, in a rather unpromising-looking strip mall, is Burlap, a very happening restaurant and bar bursting with Asian exotica. A giant dragon dance costume hangs from the ceiling near the entrance, and an ornately carved wooden screen, perhaps from India, frames the back bar.
Here I tried a Rabbit, one of the dozen cocktails named after Chinese zodiac symbols. The menu describes it as "Pimm's #1, house-made basil lemonade, pickled globe carrot," and I have to admit it was the pickled carrot that sold me. Who wouldn't want to try that?
The drink actually was even more complicated than it sounds, with star anise and basil leaves supplementing the globe carrot garnish. It was wonderfully fragrant, as you might expect with the anise sitting on top, and it tasted marvelously refreshing. Basil, then lemon, then something green and herbaceous, and a touch of something medicinal in the underbelly. The carrots were a deliciously sour and sweet counterpoint.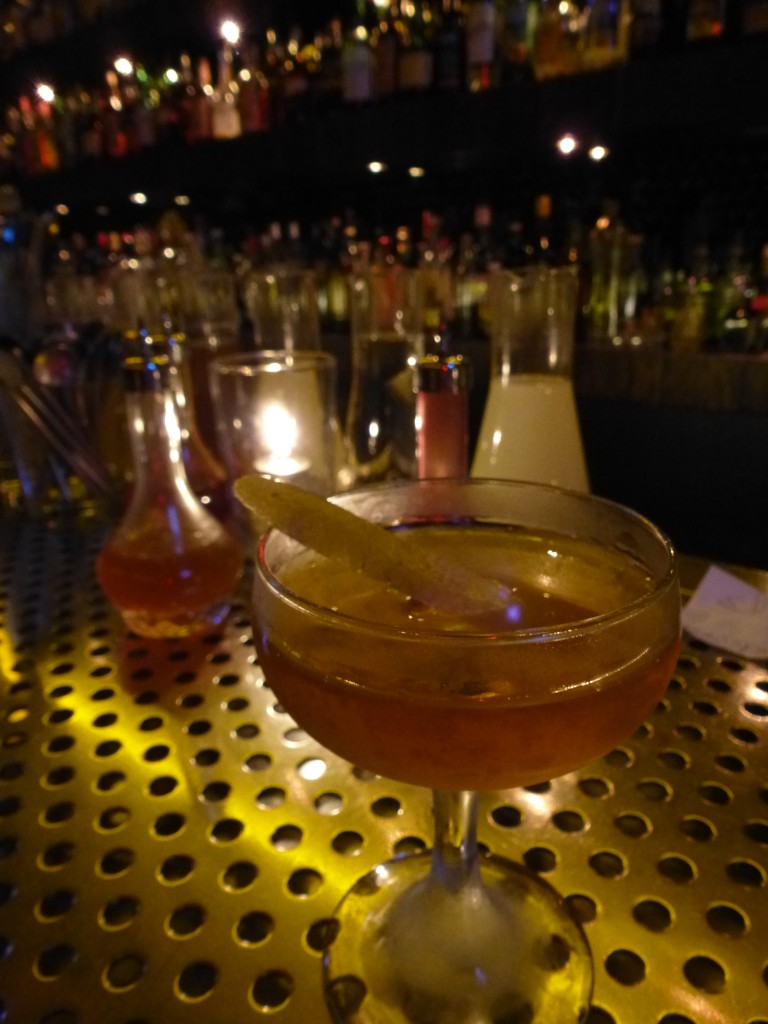 This speakeasy in downtown San Diego was my favorite bar of the trip. It's a little complicated to get in — you need to make a reservation in advance (ideally, a week in advance), and you can only make that reservation by sending a text message to 619-888-4713. Once your reservation is confirmed, go to a restaurant called The Neighborhood at 777 G Street. Go to the back by the bathrooms, and you'll see some beer kegs stacked up against the wall. Push on those, and you're in!
The decor of gilt-frame old-master reproductions and gilded skulls feels rather louche, and the cocktails here are made with extreme care, as in Philadelphia's Ranstead Room.
Bartender Anthony hand-cracked the ice for my Amber Dream (right), a classic cocktail that I must admit I'd never tried before. It contained Beefeater 24 (in which Beefeater steeps the botanicals for 24 hours, amping up the flavor), Carpano Antica (the sweet vermouth craft bars are going crazy for these days), Yellow Chartreuse (a French herbal liqueur), orange bitters and a strip of lemon zest.
This cocktail took a few minutes to make, and it was worth the wait. It started on a sweet note, but the flavor became more and more bitter. I love the smooth, round texture (achieved with lots of stirring) and the citrusy aroma from the zest. Delicious, complex, and positively delightful.
Also delightful, not incidentally, was the company. I had the pleasure of sitting next to a charming local couple, Ellana and Colin (below), and somehow we ended up chatting about everything from the difficulty of making friends to what it means to follow your dreams. The conversation proved surprisingly honest and open. Was it the drinks? The skulls? Who knows? Anyway, Noble Experiment — go there.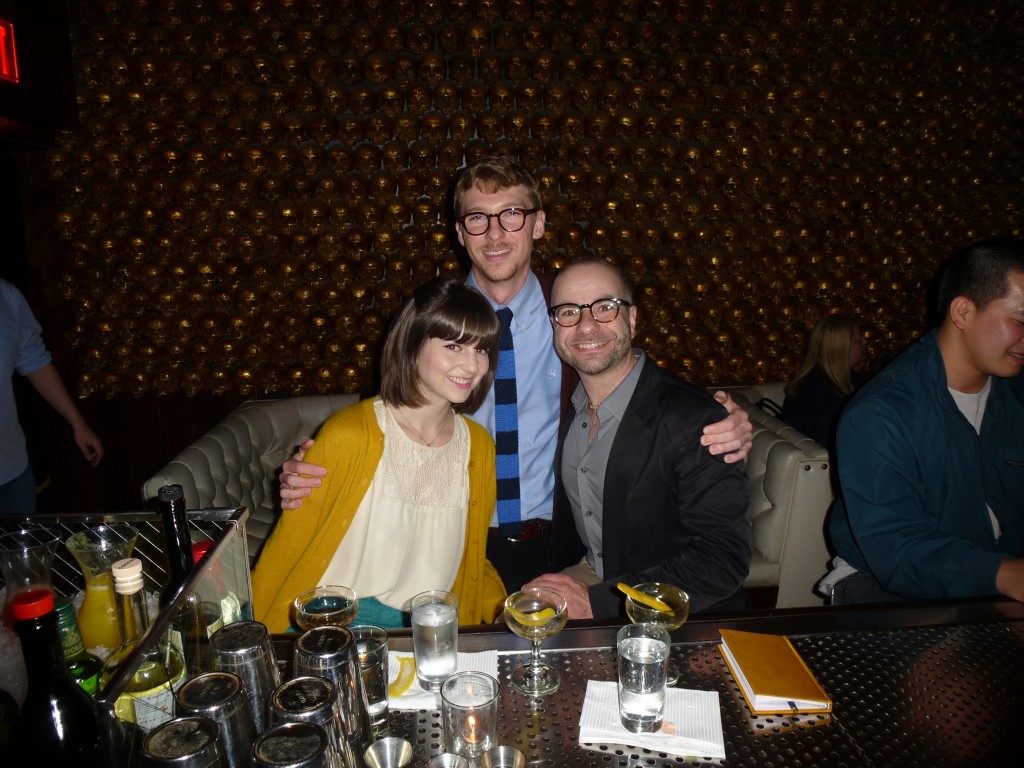 Cocktails Best San Diego Bars, Burlap, Craft Cocktails, Martinez, Noble Experiment, Old Tom Gin, Pony Room, San Diego, Top Three Bars, Yellow Chartreuse