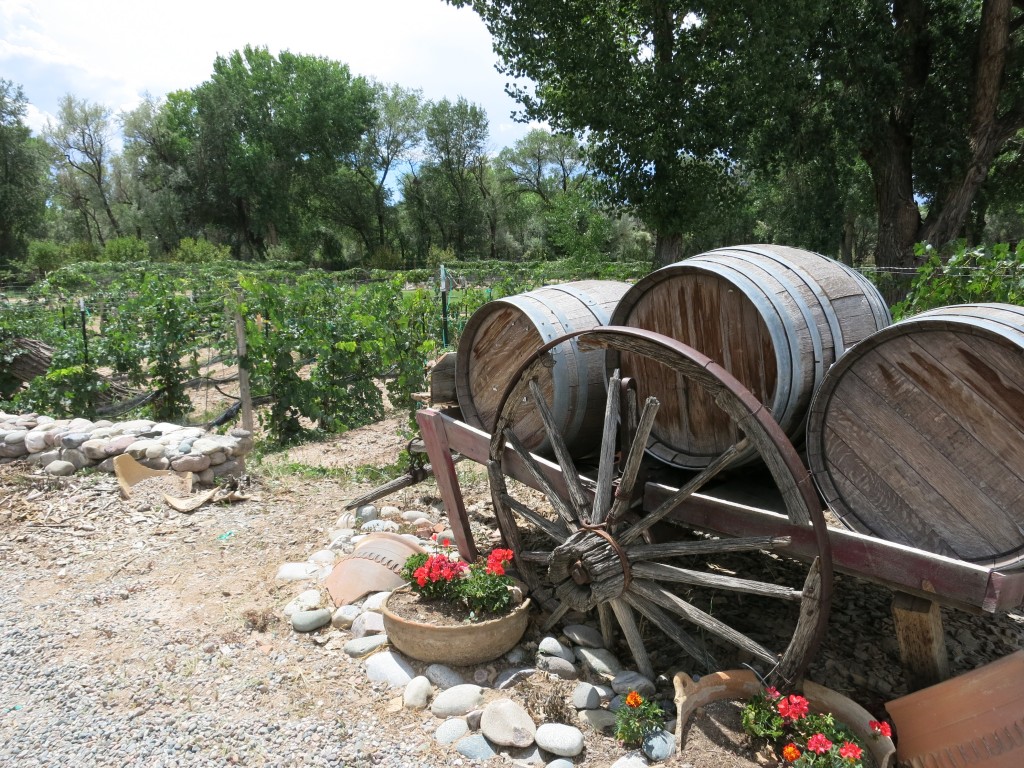 It's weeks now after my visit to New Mexico, and I still can't get over the quality of the wines that the state now produces. I recently wrote about how New Mexico could be an ideal home for Cabernet Franc here, but Cab Franc is hardly the only red variety which grows well in the state.
Many of the reds I tried had a brick-red color, perhaps due to the local soil composition, and many looked relatively transparent and light, like a typical Pinot Noir. But the color belied the ripe fruit flavors so often evident in New Mexican reds.
Here is a round-up of some of the best red wines I tasted while traveling through New Mexico (not including the Cabernet Francs). Most will be difficult to find outside of the state, making it all the more worthwhile to explore its extraordinarily beautiful landscapes yourself.
A very fine winery located southwest of Taos, Vivác also has a cheerful tasting room in Santa Fe at the Railroad District's twice-weekly farmers market, held Tuesdays and Saturdays (see the tasting room webpage for specific hours). Although Vivác makes some fine whites, it is better-known for its red wines, which I found to be generally delicious. It didn't hurt that the tasting room served them in Riedel crystal stemware. Any of the wines below would be a fine value for the money.
2011 Vivác Dolcetto: Very little of this early-ripening variety is planted outside Italy's Piemonte (Piedmont) region, and I most often see it in Dolcetto d'Alba. But here it was in the Southwest, with ripe up-front fruit, measured spice, well-balanced acids and a dry finish. A positively delightful Dolcetto — rich in fruit but light on its feet.
2009 Vivác Nebbiolo V. Series: Later-ripening Nebbiolo also traditionally grows in Piemonte, where it forms the base of famed (and expensive) wines such as Barolo and Barbaresco. This more affordable Nebbiolo is aged 12 months in used oak barrels, and the fruit comes from a single vineyard (hence the "V" designation). Despite the contact with oak, the aroma remained light and fresh, and the flavor was obviously fruity. Yet it felt dry, again with elegantly balanced acids, and some intriguing dried herbs underneath. I have a feeling it would have been easy to over-oak this wine, but by employing used barrels, the oaky notes were kept under firm control.
2009 Vivác Refosco: Yet another Italian variety, from the far eastern border with Slovenia, where it sometimes appears as Teran. With a handful of exceptions, most Slovenian Terans I've tried were mouthfuls of metal due to the iron-rich soil. Here the wine was free of metallic notes, offering instead an aroma of red fruit and fresh hay. I very much enjoyed the creamy texture and dark strawberry fruit, and the green undertones would surely make this wine a fine pairing with lamb or venison.
2011 Vivác Tempranillo: Vivác doesn't only make northern Italian varietals — Tempranillo (the base of Rioja) made a lovely wine with ripe and dusky fruit, something a little herbaceous and focused, restrained spice. Lively, with a lovely texture.
2010 Vivác Cabernet Sauvignon V. Series: This classic Bordeaux variety made for a surprisingly refreshing wine, with bright acids, darkly raisiny fruit and well-balanced tannins. Certainly a fine pairing with red meat of any kind.
2008 Vivác "Diavolo": An unusual blend of 40% Syrah, 30% Tempranillo, 25% Cabernet Sauvignon and 5% Merlot, this wine exhibited an herbaceous red-fruit aroma, a luxuriously rich mouthfeel, ripe red fruit and very bright white-pepper spice. Zesty and delicious. Bring me a steak.
2009 Vivác "Amante": I am a real sucker for a good port-style wine, and the Amante put a giant smile on my face. Made with Tempranillo and local Don Quixote brandy (port is a fortified wine), the Amante had a luscious raisiny aroma with overtones of violets. Rich, raisiny fruit gave way to an unusual (and not at all unpleasant) note of hay, with a delectable finish of mocha. The texture was almost syrupy, but the ample acids somehow managed to balance it out.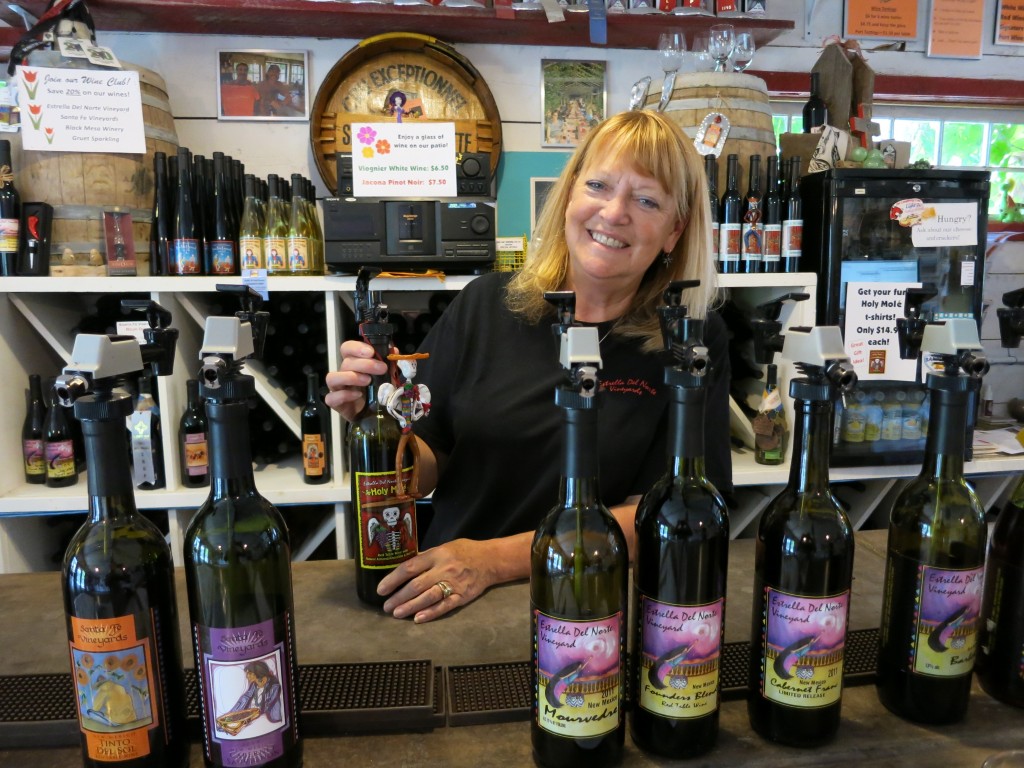 This winery lay derelict at the base of the High Road to Taos for years, its vineyards neglected and overgrown. The present owners did a magnificent job restoring the property, which now has a tasting room and a romantic outdoor event venue. The wines lived up to the idyllic setting.
2010 Estrella del Norte Barbera: Another northern Italian variety flourishing in New Mexico — I wouldn't have guessed that northern Italian vineyards had so much in common with the American Southwest! This Barbera would be an ideal barbeque wine, with soft fruit and zippy black-pepper spice. Dené, who poured the wines, told me that this was the first Estrella del Norte wine she fell in love with.
NV Santa Fe Vineyards Tinto del Sol: This unorthodox blend of Ruby Cabernet (a cross of Carignan and Cabernet Sauvignon) and Zinfandel had a very jammy aroma, and it tasted fun, soft and a little sweet. I've been on the hunt for a red wine to go with spicy red meat-based dishes, and I suspect this one would do the trick nicely.
2008 Santa Fe Vineyards Zinfandel Port: With bold, spicy, raisiny fruit, this was one racy port. Big and attention-grabbing.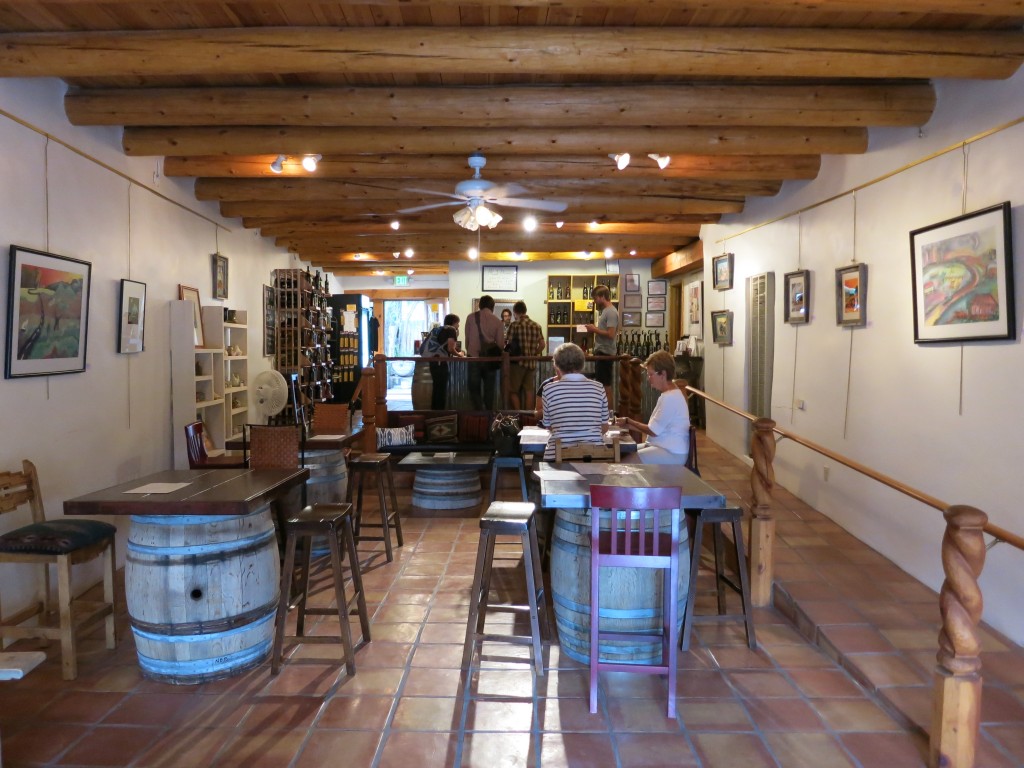 This winery is located in Velarde, about 30 miles southwest of Taos (Taos itself is too cold to grow grapes). Its tasting room in Taos is right between the Harwood Museum and the Blumenschein House, making it an ideal place for refreshment in the middle of an art-focused afternoon. The Hacienda del Cerezo recommended that I try the Black Mesa Chardonnay with dinner one night. I was disappointed neither by it nor the reds I later sampled.
2011 Black Mesa Syrah: What a beautiful aroma of jammy cherries and earth. This wine had a lovely texture, and it developed deeply and slowly. I loved the very sophisticated, tightly restrained black-pepper finish.
2010 Black Mesa Antelope: My notes tell me this is a 50/50 blend of Cabernet Sauvignon and Merlot, but the Black Mesa website also lists Cabernet Franc. Whatever is in it, this wine is lovely, with a creamy dark-fruit aroma and big, bold flavors. The ripe fruit, zesty acids and hint of green would certainly make this Bordeaux-style blend an ideal match for lamb.
2009 Black Mesa Petite Sirah: This wine really seduced me with its sumptuous aroma of deep red fruit and tobacco. On the palate, the lush fruit moved into a burst of black pepper and a graceful finish of tobacco. Lovely.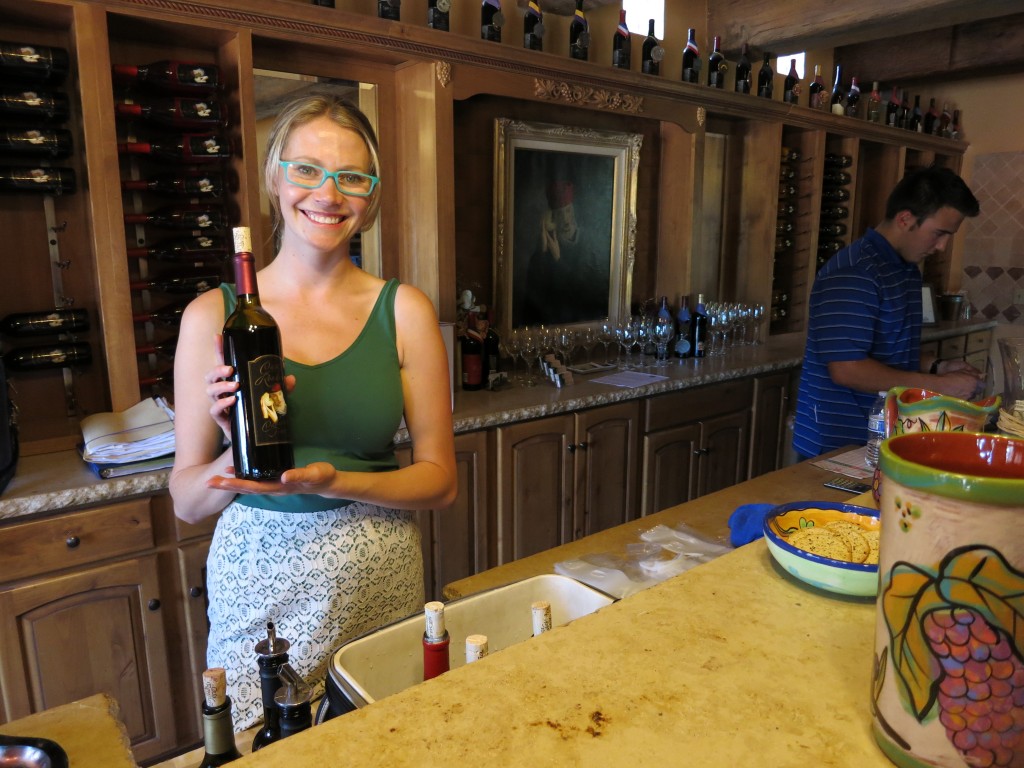 This winery on the outskirts of Albuquerque wouldn't look out of place in Andalusia (the owner/vintner studied flamenco in southern Spain). The tasting room also serves as a bar, where guests can purchase full glasses of favorite wines to enjoy in the grand lounges or fountained gardens.
2010 Casa Rondeña Meritage: A lively blend of Merlot, Cabernet Franc and Cabernet Sauvignon, this wine had creamy fruit, bright acids and some pointy spice, with something meaty in the finish. "Could definitely have a few glasses of that," I wrote in my notes.
2009 Casa Rondeña "1629": This blend takes its name from the year the first vines were planted in the United States, not all that far from where Casa Rondeña stands today. A mix of Syrah, Cabernet Sauvignon and Tempranillo, the 1629 had a heady, alcoholic aroma of dark fruit. It tasted rich, jammy and spicy, and I can see why it's a favorite of Cristin, who was pouring. Syrah, Cabernet Sauvignon and Tempranillo don't often appear in the same bottle together, except in New Mexico it seems (see the Vivác "Diavolo" above). But hey, it works!
2006 Casa Rondeña Animante: I thoroughly enjoyed this Cabernet Sauvignon-based dessert wine, with its richly raisiny fruit, dry underbelly, brassy spice and tannic finish. It cut right through the richness of some chocolate fudge — an excellent pairing.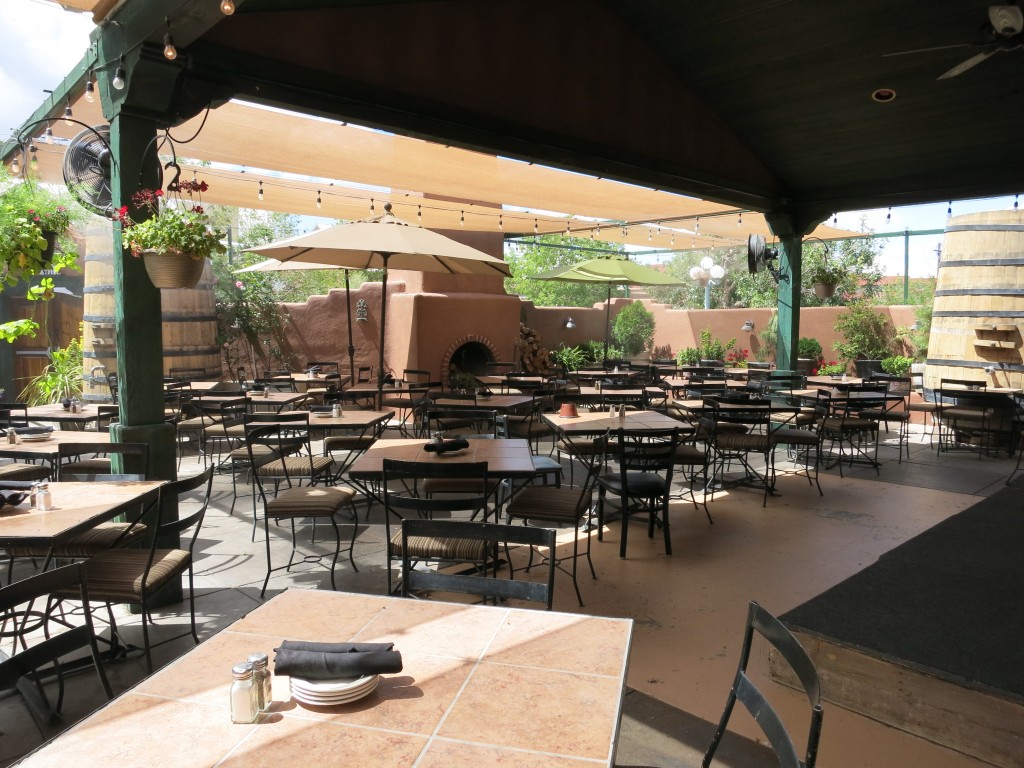 About 10 minutes south from Casa Rondeña, on the edge of Old Town, the Albuquerque branch of this winery is more of a wine bar and bistro. The patio looked like a wonderfully relaxing place for lunch. I stuck to drinking, however, and discovered all sorts of delights.
2009 St. Claire Reserve Merlot: With a nose full of cherries, tart cherry fruit on the palate and a tannic finish, this was cherry pie in a glass. But oddly, it didn't taste overly sweet.
2008 D.H. Lescombes Pinot Noir: This unusual Pinot Noir had a subtle nose of dusky fruit but little of the characteristic earth. It moved from tightly wound fruit to a bang of lemon/orange acids, finishing on a note of grape candy and white-pepper spice. For those who prefer their Pinots without a lot of earth, this is the one for you.
2008 D.H. Lescombes Cabernet Sauvignon: A pretty magenta, this Cab had an enticingly jammy aroma; big, full fruit; some well-balanced oak and a spicy finish.
2008 D.H. Lescombes Limited Release Petit Verdot: Originally a Bordeaux blending grape, Petit Verdot is seen more and more as a stand-alone varietal in various parts of the world (though not in Bordeaux). This expression had appealing notes of dusty raisins and black pepper, and an elegantly supple mouthfeel. This wine could hold its head high in any tasting of Petit Verdots.
See my round-up of favorite New Mexican whites here, and a review of a particularly delightful New Mexican Chardonnay here.