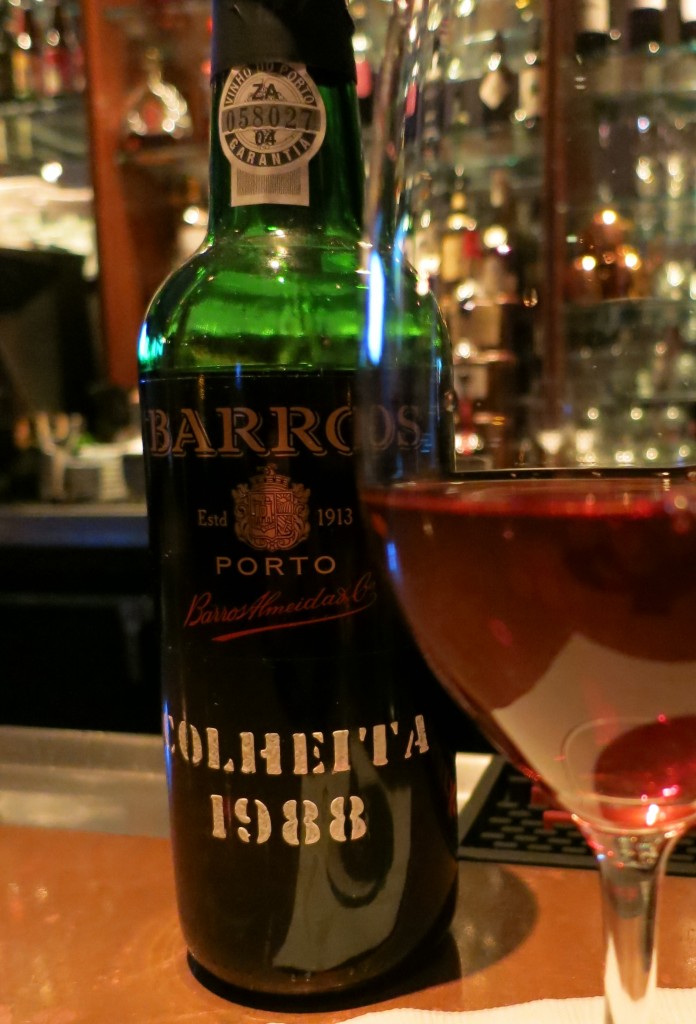 Most of the time, people ignore the "Dessert Wine" section of a wine list, either because they aren't ordering dessert or they think they don't care for sweet wines. But if you pass over that list every time, you're denying yourself some of the world's greatest wines, and sometimes some of the greatest wine values.
Port, for instance, usually ends up at the tail end of a wine list or on the dessert menu itself. That ensures that very few people will order it, which is a shame. I can think of few better ways to cap a meal than with a glass of port. It never fails to settle my stomach and engender a feeling of relaxed well-being.
I found myself in need of a good digestif after overdoing it at the Cosmopolitan restaurant in Telluride, and I was delighted to discover a real gem of a port on the menu — a 1988 Barros Colheita, priced at $16 a glass.
$16 may seem expensive for a glass of wine, and certainly that's more than what I'm used to paying. But it seemed like a bargain for the opportunity to try a 25-year-old vintage port, which would easily cost more than $50 a bottle retail if you could even find it.
Good port tends to age quite well because of its relatively high alcohol content and ample tannins. In fact, many discourage drinking vintage ports until they're at least 10 years old, because the tannins will otherwise be too tough. I don't like to wait that long (or pay the high price of vintage port), so I typically purchase "late bottle vintage" port, which, like vintage port, is also from a single year, but ready to drink upon release. It's also usually a heck of a lot less expensive, because vintage port is made only in "declared" vintage years, and only from the very best fruit of those years.
Colheita port is an even more complicated animal. Although it is a port with a vintage, it tastes very different from vintage port, which is typically concentrated, ripe and raisiny. Colheita is more akin to a tawny port, which can be anything from brown-tinged inexpensive port made from lighter grapes aged in wood, to port aged 10, 20, 30 or more years in fine oak made from high-quality fruit in undeclared vintage years. I think of tawnys as brownish in color, with caramel, oak and sometimes some oxidative sherry-like notes.
But Colheita port is a more clearly defined and restricted category than tawny port. The Oxford Companion to Wine offers this concise explanation of colheita:
Colheitas are best understood as tawny ports from a single year, bottled with the date of harvest on the label. The law states that colheita ports must be aged in wood for at least seven years, although most are aged considerably longer.
There are yet more styles of port besides colheita, tawny, vintage and late bottle vintage port. It's a ridiculously complicated beverage. And yet so irresistible. The 1988 Barros Colheita Port had a reddish caramel color and a bouquet that expanded far beyond the rim of the glass. It smelled very enticingly of wood, dark-red fruit, caramel and vanilla. Though my eyes were wide with anticipation at this point, the flavor did not let me down. Kapow! The forceful, driving flavors of wood, apricot, dried fruit and zesty spice seemed remarkably young, especially considering that the port was a quarter-century old.
Lively, gorgeous and exciting — well worth the $16 price tag. More evidence that the wines on the dessert menu can be some of the best in a restaurant's collection.