The Oxford Companion to Wine feels rather judgmental of those who grow Pinot Meunier outside of continental Europe. "Elsewhere," it pronounces, "Meunier tends to be grown by those slavishly following the Champagne recipe (as in England and California, for example)." Last I checked, the Champagne recipe seemed to be working just fine. I haven't had any English sparklers, but Champagne-style wines from California can be delicious. Why shouldn't they use a recipe with such a successful track record? Perhaps the Oxford Companion would rather that the Californians and English make sparkling wines with indigenous grape varieties? But I digress.
Unfamous Pinot Meunier ranks among the world's most ubiquitous obscure grapes. According to the Oxford Companion, "…until recently, it was Champagne's most popular variety by far, but [it] has now been overtaken by Pinot Noir." (Chardonnay completes the Champagne grape variety trinity.) I've twice been to Champagne, and though I sampled many a Blanc de Blanc and Blanc de Noir, not once did I taste a Blanc de Meunier. The grape, a mutation of Pinot Noir, features almost exclusively in Champagne blends.
I did once find a German Pinot Meunier varietal, as I described in this post, and I very much enjoyed its fruity character, focused spice and undertones of earth. But that post dates back to September 2012. It took another three years for me to encounter a second Pinot Meunier varietal wine.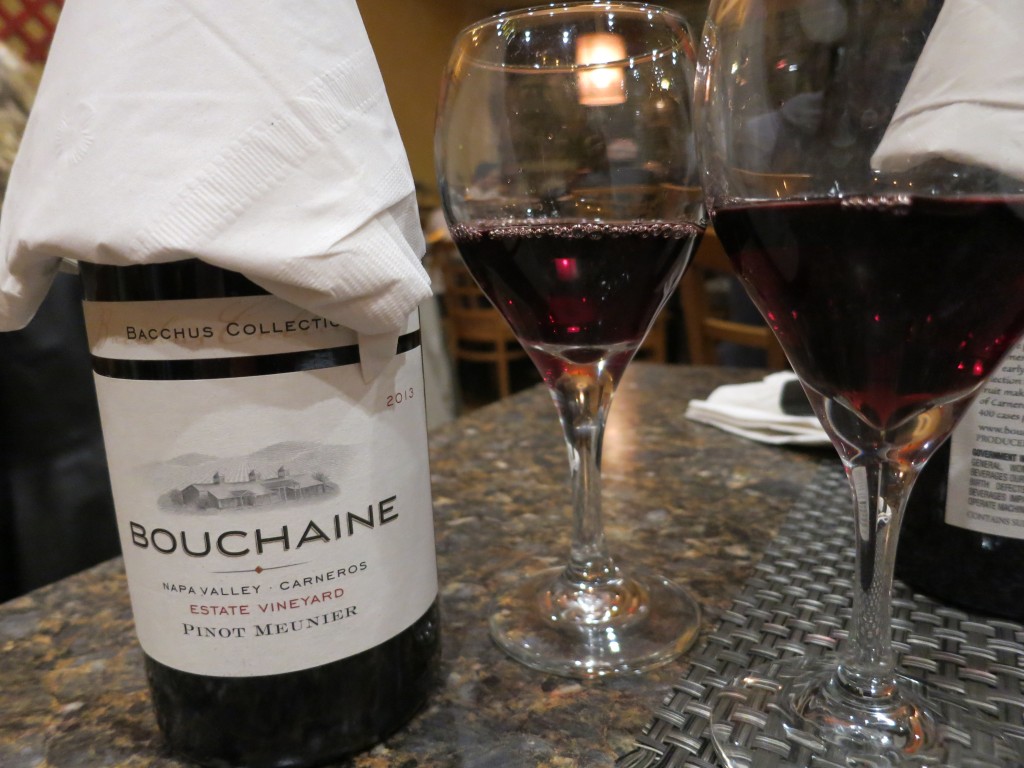 Bouchaine, based on the Napa side of Los Carneros in California, sent me a complimentary bottle of its 2013 Pinot Meunier. According to Emily in the winery's tasting room, Bouchaine planted the Pinot Meunier with the intention of making still wine — no "slavish" imitation of Champagne was ever planned. It had a lovely dusky red-fruit aroma overlayed with some violet. A light-bodied wine, it's not for those who gravitate towards Napa Cabernets or Argentine Malbecs. But I immensely enjoyed its ripe red fruit, broad and well-balanced acids, and light but rustic-feeling tannins. It cut right through the creaminess of a cheese blini at Kyrgyz restaurant Jibek Jolu, and it became bigger and spicier paired with a savory carrot salad. It even stood up well to beef pelmeni (tortellini-like dumplings) with sour cream.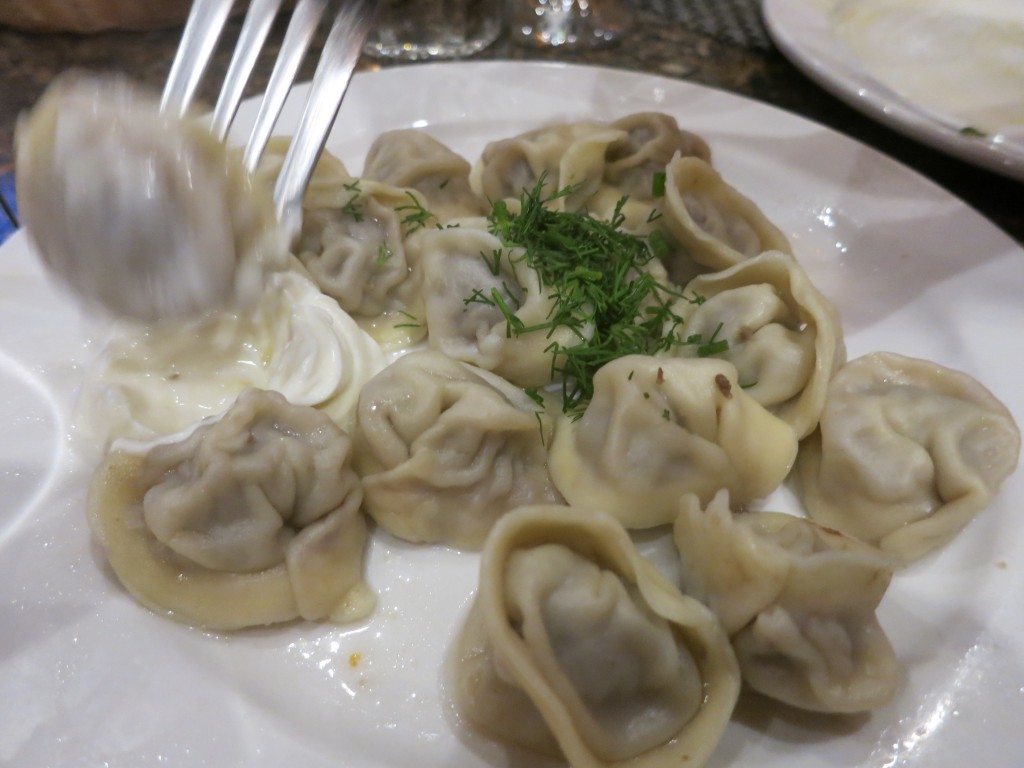 The wine was a delight, but Bouchaine grows only 3.2 acres of Pinot Meunier, planted in the lowest, most frost-susceptible plots on the winery's estate (Pinot Meunier requires a shorter growing season than Pinot Noir, budding later and ripening earlier). I love that Bouchaine exploited the full potential of this vineyard's terroir by using this little-known grape, rather than growing a more famous variety not as well.
It's a shame more wineries don't follow Bouchaine's example. I suspect Pinot Meunier's lack of name recognition is the biggest stumbling block. I'd love to see more wineries take a risk on the variety. I wonder how Pinot Meunier might fare in the cooler vineyards of Oregon's Willamette Valley, for example, a region already famous for its Pinot Noir. But for now, unfortunately, Pinot Meunier varietal wines remain quite a rarity. Should you encounter one — even though they tend to be rather expensive — I recommend splurging and buying it.
Note: The Bouchaine Pinot Meunier was provided free of charge. The wine usually costs about $40. Read about my side-by-side tasting of two different clones of Pinot Noir by Bouchaine here.