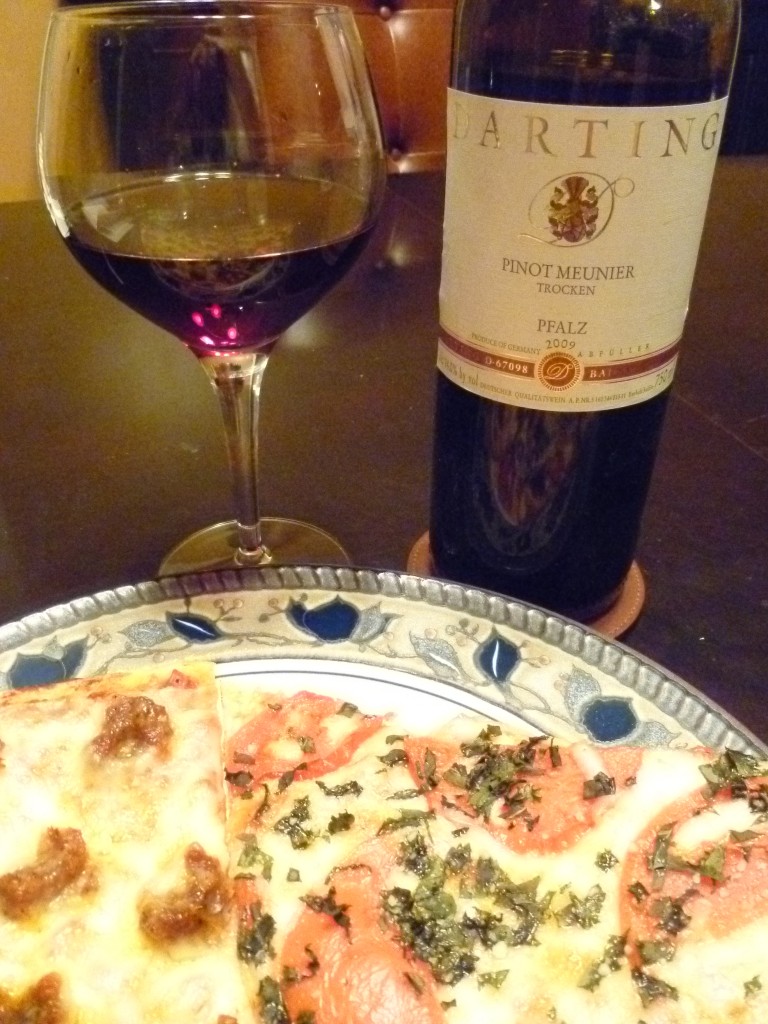 The first time I heard of Pinot Meunier was back in 2004, when I visited the Pommery Champagne caves in Reims. There I learned that it is one of three grapes allowed to be used in Champagne blends (Chardonnay and Pinot Noir are the others). According to "common wisdom," The Oxford Companion to Wine somewhat dubiously notes, "Meunier contributes youthful fruitiness to complement Pinot Noir's weight and Chardonnay's finesse." But though we tasted Blanc de Blancs (100% Chardonnay) and Blanc de Noirs (100% Pinot Noir), we never tasted a 100% Pinot Meunier Champagne. Even then, long before Odd Bacchus was even a teeny glimmer of an idea, I was most intrigued.
In the intervening years, I've never forgotten about Pinot Meunier, especially once I discovered that it occasionally did appear as a varietal wine. Perhaps three or four times, I've even seen Pinot Meunier on a wine list or in a shop, but I never got up the courage to order it. It tended to be expensive, and I didn't want to risk it, especially if I had to select a wine for the table in a restaurant.
Finally, at Binny's on Marcey, I broke through the fear and plunked down $20 for a bottle of German Pinot Meunier. I mean, if anyone could make a great red wine from Pinot Meunier, it would be the Germans, right?
With that happy thought in mind, the Pinot Meunier sat in my wine rack for months. I didn't want to bring it to a party, because it was kind of expensive, and I didn't want to present it at a special dinner, because I had no idea if it would be any good. Realizing that this sort of ambivalence has been responsible for the slow, silent murder of all too many bottles, I cracked it open with some slices of pizza one random Thursday evening. It was just time to drink the damn stuff.
And by golly, it turned out to be rather delicious! A transparent brick-red, the 2009 Darting Pinot Meunier had an unusually captivating bouquet of cherries, violets, iron and tobacco. It's a light-bodied wine with no tannins to speak of, but what marvelous flavor! It started with a rush of ripe, red fruit before expanding into a satisfying white-pepper spiciness, finishing off with a bit of earth. Paired with the pizza, iron notes came more to the fore. Wines in this flavor family can easily become incontinent, letting their fruit become flabby or their spiciness spin out of control, but the Darting Pinot Meunier maintained its focus and composure.
It reminded me of a certain grape popular in Burgundy and Oregon, and after reading the Companion's entry about Pinot Meunier (listed in the book as simply "Meunier,"), I understood why. This variety "is an early, particularly downy, mutation of the famously mutable Pinot Noir." Its dependable productivity makes it very popular in the Champagne region, eclipsing even Chardonnay and Pinot Noir in terms of acreage planted.
Several of my resources note that Pinot Meunier is also popular in Württemberg, where it's sometimes known as Schwarzriesling, but none mention it being grown in Pfalz, where the Darting comes from. This sunny region in southwestern Germany immediately north of Württemberg and the Alsace "is arguably [Germany's] most exciting wine region," according to The World Atlas of Wine. The Sotheby's Wine Encyclopedia agrees, calling it "Germany's rising star."
Bad Dürkheim, the home of family-owned Weingut Darting, has a map of its own in the Atlas. Germany's "biggest wine commune" used to be an "under-performer" in the region, but if the Atlas is to be believed, a number of exciting wines have been coming from this picturesque bit of countryside lately.
After drinking this Pinot Meunier, I believe it. I'm going to keep my eye out for wines from the Pfalz, and for other Pinot Meuniers as well. Darting's expression of the variety proved to be thoroughly charming.
SUMMARY
2009 Darting Pinot Meunier (Bad Dürkheim, Pfalz): Light bodied but full of flavor and charm. Fruity, spicy, focused and elegant. Not inexpensive, but a reasonable value nevertheless. Chill in the refrigerator for 20 minutes before serving. Pair with pork and dishes with non-spicy red sauce.
Grade: B
Find it: I purchased this bottle at Binny's on Marcey for $20.
Germany, Pinot Meunier/Schwarzriesling Bad Dürkheim, Binny's, Pfalz, Weingut Darting