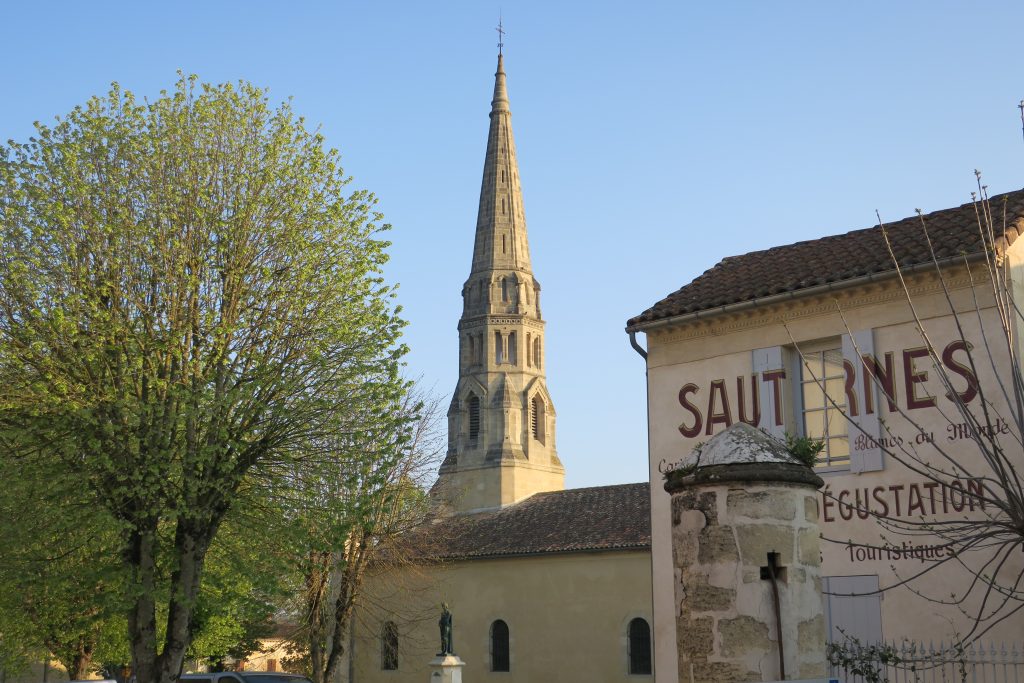 Everyone agrees that we should all be drinking more Sauternes. The World Atlas of Wine calls it "lamentably underappreciated but incomparable," and The Oxford Companion to Wine argues that "it remains underpriced in relation to the enormous pleasure it brings to those growing numbers of wine lovers who find a fine Sauternes has an undeniable place on the dinner table."
Alas, Sauternes is the gym membership of wine. We all think it's a great idea, but too few of us actually take advantage of it.
For perhaps the first time in my life, I attended a dinner where the Sauternes truly flowed: at the charming Auberge les Vignes in the village of Sauternes itself. Over some exquisite foie gras and sensationally flavorful duck breast that had been grilled in the restaurant's fireplace, the six of us who won the 2017 Millésima Wine Blog Awards discussed Bordeaux's famous sweet wine with Pierre Montégut, the Technical Director of Château Suduiraut.
"People tell me all the time that they love Sauternes, and that they don't understand why people don't drink more of it," he said. "Then I ask them, how many bottles of Sauternes do you drink in a month? Or in a year?" If people manage two or three bottles a year, they're at the top end of the curve, unfortunately. I'm ashamed to admit that I probably average only a bottle a year myself.
What makes Sauternes so special, anyway? In a word: rot. The vineyards of Sauternes (and neighboring Barsac) grow near the confluence of the Garonne and Ciron rivers. Starting in the early autumn, the Garonne is warm enough so that when the cool spring-fed waters of the Ciron flow into it, the temperature difference causes evening mists. The fog creates conditions ideal for the development of Botrytis cinerea, or Noble Rot. This mold looks ugly but it is vital to Sauternes.
Noble Rot causes minuscule holes in the skins of the grape, encouraging water inside to evaporate, concentrating the remaining juice. But simple concentration isn't enough — that only sweetens the wine. The mold also chemically alters the juice, usually Sémillon and Sauvignon Blanc, adding important complexity and aroma. Unfortunately, the mold does not affect all the grapes at once, and the best châteaux harvest multiple times, sometimes going so far as to select berries individually in the vineyard.
When it works, the wine is sweet, yes, but it also has an almost startling liveliness, with big but focused acidity and a shaft of spice, in addition to flavors such as green tobacco, mint, oak, orange, saffron and jasmine combining with the honeyed richness. It's one of the most sensual wines I can think of. The combination of sweetness, acidity and freshness is one of the wine world's most compelling.
Why do we deny ourselves the pleasures of Sauternes? Well, dessert wine just isn't a thing in the United States, for starters. I have yet to attend a dinner party in Chicago in which a friend presented a wine to pair with dessert (or a dessert wine as dessert), and people don't think to order it in restaurants, either. And it's not just Americans. Even in the city of Bordeaux, the Head Sommelier of the restaurants in the InterContinental Bordeaux – Le Grand Hotel said that she rarely sells Sauternes. People might order a glass from time to time, but it was highly unusual for a table to order a bottle.
On my visit, what we're missing by ignoring Sauternes became painfully clear. First, let's start with something inexpensive and relatively easy to find: the 2013 Lions de Suduiraut, a new Sauternes developed by Suduiraut to emphasize freshness and minerality, which you can open immediately with no decanting, according to Montégut. The flavor started on a rich and honeyed note, but a wave of sharp ginger spice swept in, along with bright, orangey acids. The finish was fresh and spicy, not sweet. It's absolutely delicious, rather sexy, and a screaming value at just $13 for a half-bottle.
What about something a little older and more expensive? We did an unforgettable vertical tasting (trying several different vintages of the same wine) at Château Suduiraut, one of which was the 2009. Its aroma had more to it than the Lions' did, with heady honeysuckle, tropical fruit and some spiciness. The flavor kept changing and flowing — honey, orange, cardamom, hay — and all the notes felt beautifully integrated and refined. Fellow Millésima blog award-winner Agnes Nemeth of Hungarian Wines remarked, "I would really use this as a perfume." Binny's sells this wine for $45 for a half-bottle, an excellent value considering the quality. Even better, buy a magnum of it from Millésima for $190 and throw a party.
Sauternes, though white, can age just as well as any red, especially in the good years. Consider the 1997 Château Suduiraut, which had an aroma redolent of honey and something savory as well. It tasted of overripe apricot and dark honey, which moved into toffee/caramel country. Deep and dark orange acids, along with some spiciness and a touch of something smokey, assured balance. Gorgeous and complex.
To hammer home the point, Montégut also presented us with a bottle of 1975 Château Suduiraut to have with dessert at the Auberge les Vignes. This wine is older than I am, and yet it still feels lively. The aroma had an almost startling freshness to it. And I felt thoroughly seduced by the flavors of dark honey, green tobacco, dark orange and honeysuckle. The acids and spice were more than up to the task of balancing the sweetness. This unforgettable wine can be had for $80 to $100, according to Wine Searcher. That's insane. I'm tempted to buy a bottle before I finish writing this post.
We also had the chance to try numerous Sauternes en primeur, which means that we sampled the latest vintage, 2016, well before bottling, in order to try to determine the vintage's quality. According to Montégut, Sauternes this young should display balance, freshness, and energy on the finish, if they're to attain greatness.
I think the 2016 vintage should be quite fine, even though the Noble Rot arrived only in the last half of October. The 2016 Bastor-Lamontagne had more citrus to it than honey, with ginger spice and a dry finish. Château Guiraud took things a step further, balancing its dark honey flavors with deep orangey acids and a surprising blast of eucalyptus freshness. Lafaurie-Peyraguey offered stone fruit, incense and more of that eye-opening eucalyptus. And then there was the Sigalas-Rabaud, which kept itself taut as it moved through flavors of honey and peach, ending with such freshness that I felt as if I'd just popped a breath mint. Wow.
Which brings me to breakfast. We started our vertical tasting of Château Suduiraut at 9:30 a.m., at the end of a long week of château hopping. The week was a joy, to be sure, but exhausting. That tasting at Suduiraut perked me up far more than the pot of coffee I'd had earlier. The wines — we sampled ten of them — felt positively invigorating. Each one made me feel more and more energized, even aroused.
At brunch, we Americans tend to drink only two alcoholic beverages: Bloody Marys and sparkling wine. Why not Sauternes? I wrote in my notebook, "These would be amazing with some chicken and waffles!" Or pancakes and sausages. It's an ideal breakfast wine. And because Sauternes is sweet and spicy, it also would work well with a range of Asian foods. If you think of sweet wines as simple and heavy, you're not thinking of Sauternes. Instead, think rich, racy, complex and fresh.
Rare is the wine which will please absolutely everyone, from the most amateur wine drinker to the most jaded connoisseur. Sauternes is one of those wines.
For more about Sauternes and some fantastic photos of the vertical tasting at Château Suduiraut, check out this post by fellow award-winner Jeff Burrows of FoodWineClick, or this post for more photos of the village itself.
Award-winner Chiara Bassi of Perlage Suite also wrote about Sauternes, posting about our dinner at Auberges les Vignes here. She also wrote about our 2016 en primeur Sauternes tasting here, including detailed tasting notes about 19 different wines.
And on my blog, you can learn more about the 2011 vintage and why Sauternes is Bordeaux's Most Underpriced Wine.
Note: These wine samples were all provided free of charge.