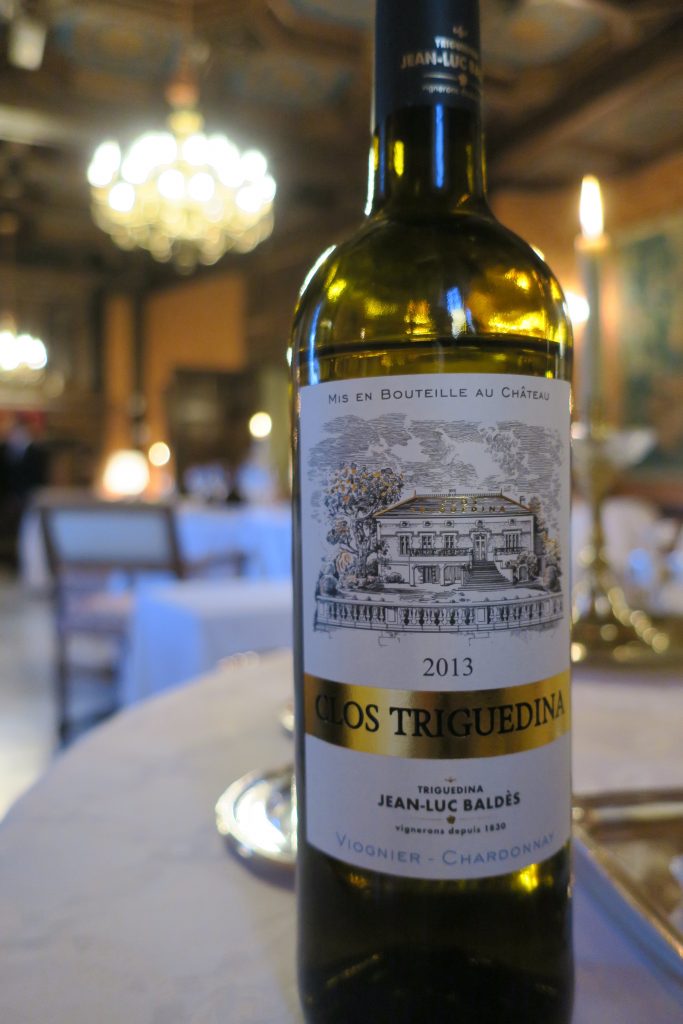 If you think of Cahors at all, you likely think of big, tannic reds. Stretched along the Lot River in southwestern France, this region is the original Malbec country. Argentina can claim responsibility for Malbec's renaissance — even Cahors winemakers admit this fact — but the grape variety was born in France. All AOC Cahors wines must be at least 70% Malbec, with the remainder a blend of Merlot and/or Tannat. Cahors white wines do not exist.
Which is not to say that white wine is not made in Cahors. Indeed, Cahors winemakers produce gorgeous white wines, made mostly from Chardonnay, Viognier and/or Chenin Blanc. But they are not Cahors. After tasting delicious white after delicious white, it struck me that the powers that be in the Cahors AOC have made quite the oversight.
And they're not the only ones. I can find no reference to the white wines of the region in any of my usual resources, The Oxford Companion to Wine, The World Atlas of Wine or The Sotheby's Wine Encyclopedia. My pre-trip research gave me no reason to expect that I would encounter a single white in Cahors during my stay.
So you will, I trust, forgive my surprise when the sommelier in the restaurant of the Château de la Treyne hotel first confronted me with a Viognier/Chardonnay blend by Clos Triguedina, one of the most important wineries in Cahors. When I tasted it, I was positively shocked: ripe and rich, with stone fruit and pineapple notes, sharpening into orangey, gingery spice and a dry finish. Well balanced and classy.
I tasted this wine again at Clos Triguedina itself, hidden in the countryside just south of Puy L'Évêque, a medieval town rising steeply from the Lot. Olga and I had a tasting in the cozy old tasting room, lit by stained-glass windows (a new minimalist tasting room is under construction). We tasted the soon-to-be-bottled 2016 rosé of Malbec together. "This is like a bon-bon," she exclaimed. And indeed, it had plenty of watermelon and strawberry fruit, but it tasted dry and spicy nevertheless. As with the Chardonnay/Vioginier blend, this rosé cannot be labeled as Cahors.
Owner and winemaker Jean-Luc Baldès worked for a time in Barsac, which, like neighboring Sauternes, produces sweet botryrized white wines. And, somehow, he has found a way to produce a botrytized wine in Cahors as well: a Chenin Blanc. The 2014 tasted lush and sweet, with ample dark honey, stone-fruit flavors like apricot, and orangey acids that slowly grow, ensuring that the wine remains balanced.
His wife, Sabine, led me to the vineyards behind the tasting room and estate house, where her mother-in-law lives. The vines occupy a gentle but distinct rise in the land, affording panoramic views in almost every direction. This pebbly hump counts among Cahors' finest vineyard locations, and in the coming classification, I would be surprised if it weren't awarded Grand Cru status.
But the slope of the Pigeonnier vineyard spilling down from the 15th-century Château Lagrézette gives Clos Triguedina some serious competition. Led by Sales Administrator Yannick Druon, I toured the winery, built right into the hillside. He explained that when workers dug out the space for the winery in 1992, they preserved each layer of soil individually, so that the terroir might be restored to its former condition once construction was complete.
I won't soon forget the 2015 "White Vision" Le Pigeonnier Viognier. It was wonderfully fragrant, with aromas of jasmine and white peach. It tasted full and fat, but not blowsy — oodles of focused spice and orangey acids gave the big, bold wine some firm boundaries. Nor was the less-expensive 2010 "Dame de Grézette" Chardonnay any slouch. It smelled fresh and fruity, not oaky, and though its fruit was deliciously creamy, this wine had no buttery or woodsy notes. Zesty spice built and built, and the wine ended dry. Very refined.
In fact, I didn't have to travel any farther than my hotel to find a winery producing a notable Cahors white. Under the front garden of the Château de Mercuès is a well-designed contemporary winery which seems to play second fiddle to the owner's more famous winery, Château de Haute-Serre. Nevertheless, the 2014 Château de Mercuès Chenin Blanc was a delight. It had a clear, pure, fruity aroma, and it tasted of ripe pear and lemon peel. Refined spice tightened into quite a long finish. I also had the chance to try the 2014 Château de Haute-Serre "Albesco" Chardonnay, which blew me away.  I loved its dewy aroma with notes of buttered popcorn, and its rich, buttery flavor that maintained balance with focused orangey acids and gentle spice. It might have been Burgundian.
So far, I have found just one book that talks about the whites of Cahors more than in passing. But even in Michael S. Sanders' Families of the Vine: Seasons Among the Winemakers of Southwest France, the whites aren't taken very seriously:
"…Many winemakers then complete their lines with the fruit of their playtime — rosés and whites made in small quantities because, quite simply, it amuses them to turn their hand to something different."
The whites I tasted were more than playtime. They were often quite refined and elegant, and they were always delicious. Perhaps its time for Cahors wine laws to recognize what is already happening in the AOC. It's silly that such well-crafted wines must be labeled as Vin de Pays.