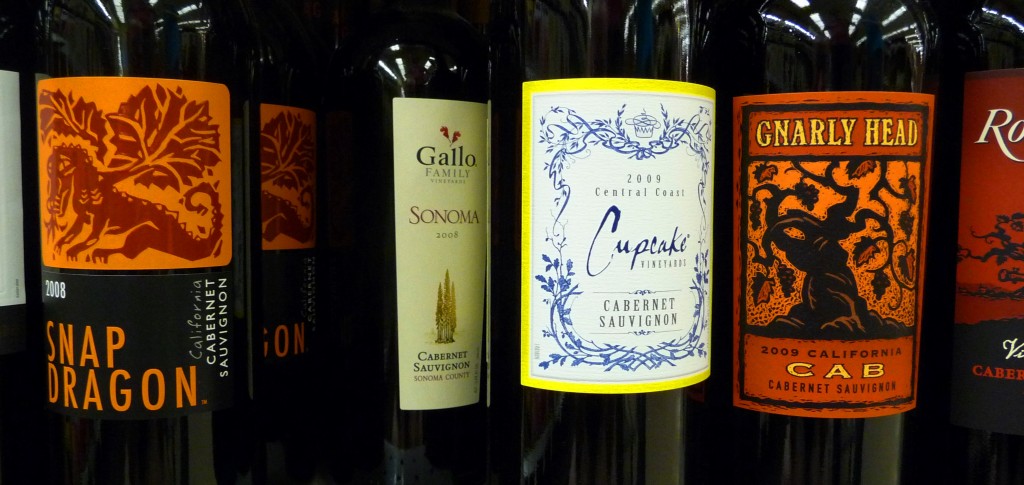 It's been a goodly long time since I've purchased wine in Jewel-Osco. Many giant chain stores stock an ample supply of wine, but their selection belies their motives: Appeal to the lowest common denominator while charging as high a price as possible.
But plenty of people surely purchase wine at Jewel-Osco, which led me to wonder: Is it possible to find anything remotely unusual or obscure in such a setting?
I started working my way down the wine aisle from left to right. Here were the inexpensive (and yet overpriced) jug wines, the coterie of cutesy-named Cabernets, the machine-made Merlots, the marsupial Shirazes, the greasy ocean of butterball Chardonnays, the run-of-the-mill Sauvignon Blancs and Rieslings, and finally, the insipid, shameless Pinot Grigios.
A few wines stood out — a $20 reserve here or there, a South African Chardonnay. I had begun to plot alternative blog post topics when I finally spotted something appealing: A $9 bottle of  2008 Concannon Petite Sirah from California's Central Coast. It may not qualify as obscure, but in Jewel-Osco it certainly drew my attention.
Petite Sirah is a relatively new varietal, developed in the late 1870's at the University of Montpellier in France by Dr. François Durif ("Durif" is another name for the varietal). He crossed Syrah and Peloursin, creating grapes resistant to powdery mildew. Unfortunately, the wines these grapes produced left much to be desired, at least in France. In California, the varietal expressed its potential much more strongly, and Concannon Vineyards bottled its first Petite Sirah in 1961 — California's first Petite Sirah ever. Many current California Petite Sirahs still come from old vines dating to this period or even before.
But to the wine. The fruity nose was pleasant enough, if a bit alcoholic. With the first sips, the wine tasted of ripe blueberries and black pepper. The flavor briefly expanded mid-palate before petering out at the finish. It was easy to drink, but without any underpinnings of earth, minerals, tobacco or other such flavors, the wine lacked complexity. Even the black pepper flavor lacked oomph.
The label on the back recommended trying the wine "with your favorite lamb dish," so I whipped up a little penne with ground lamb, zucchini, roasted garlic, olives and oregano in a light tomato sauce. I cooked for about 30 to 45 minutes, during which the wine warmed to room temperature and opened up a little. It was tasty enough with the lamb, but the wine reached its full potential with the Greek olives. Paired with a bite of olive, the wine's spiciness blossomed in a way it hadn't before.
Given the choice, I would still reach for an inexpensive Bordeaux to pair with a rustic lamb-based dish like what I had prepared. Nevertheless, the Concannon Petite Sirah proved to be perfectly pleasant and food-friendly. From the winery which produced the first Petite Sirah ever bottled in the U.S., it could even spark a conversation. Not bad for a $9.00 bottle from Jewel-Osco.
Jewel-Osco may be drowning in mass-market alcoholic grape water, but even here, with some hunting, it's possible to find something worth trying.
SUMMARY
2008 Concannon Petite Sirah: Simple, but fruity and pleasant with a bit of black pepper. An oasis in a desert of overpriced, nearly undrinkable plonk. Serve close to room temperature.
Grade: B-
Some grocery stores with thoughtful wine selections:  Sendik's, Trader Joe's, Whole Foods
California, Petite Sirah California, Central Coast, Concannon Vineyards, Jewel-Osco, Petite Sirah