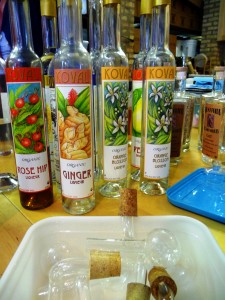 When two friends and I entered the diminutive Koval Distillery, a heady aroma immediately struck us. I thought it smelled like yeast, Andrew sensed vinegar and Mark caught a whiff of elephants. Something special was brewing here.
Chicago's first legal distillery since before Prohibition opened just 2.5 years ago, in a charming old brick building next to some commuter railroad tracks. Robert and Sonat Birnecker decided they wanted to start a family business, and since Mr. Birnecker had learned the craft of distilling from his grandfather in Austria, they opened Koval.
Now, they work to rejuvenate the boutique distilling traditions lost to the ill-advised experiment of Prohibition, creating unique, painstakingly handcrafted whiskeys and liqueurs. All are organic, and all are kosher.
But Mr. and Mrs. Birnecker are not just reviving traditions — they break entirely new ground with a number of their products. Seeking to express the individual personalities of the grains to their fullest potential, they use only one type of grain in each whiskey. Rye, oats and wheat have been used in whiskeys before, but Koval also distills millet and spelt — two grains which have never been commercially distilled in the U.S. (according to our Koval tour guide).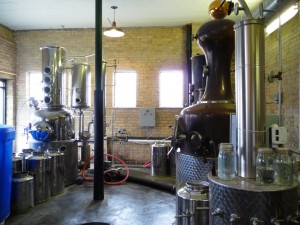 To get some cash flow, Koval first created white whiskeys, which require no aging. Government bureaucrats initially instructed Koval to label the bottles "Grain Spirits," but they changed their mind because the alcohol level was too low. The officials also didn't like the idea of labeling the white whiskeys "White Whiskey," because a whiskey must be aged in oak barrels. With their usual creativity and helpfulness, the bureaucrats had no alternative name to suggest. What to do?
Like any clever businesspeople faced with poorly designed  regulations,  the Birneckers found a loophole. Since the law does not specify how long the whiskey must be aged, they pump the whisky into an oak barrel and pump it right back out again. Aging requirement satisfied!
On our tour of the distillery, we sampled three versions of these tasty liquors:
Rye White Whiskey: Some butterscotch, with a peppery finish. Koval recommends mixing in Bloody Marys and dry martinis.
Spelt White Whiskey: Mellower — very smooth. Koval recommends mixing in Cosmopolitans and cream-based cocktails.
Millet White Whiskey: A smooth start, but it finished with a bang, becoming quite expansive at the back palate. Koval recommends mixing with a splash of citrus.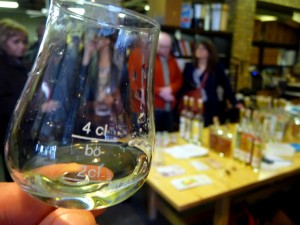 Koval also ages whiskeys, using 30-gallon barrels instead of the usual 53 (the smaller barrel size allows for faster aging). They also work with different char levels, using some "toasted" barrels and some which are more heavily charred inside.
We sampled three of the aged whiskeys as well:
Spelt Lion's Pride: Aged in toasted barrels.Very smooth, with notes of coconut and chocolate.
Dark Rye:  Aged in charred barrels. Butterscotchy, smooth and strong.
Dark Millet: Aged in charred barrels. Buttery, with a sweet finish.
Finally, we sampled several fruit and flower liqueurs, all of which turned out to be delightful. Not a single one felt cloying:
Jasmine Liqueur: Like drinking alcoholic jasmine green tea.
Chrysanthemum & Honey Liqueur: Mead-like but not syrupy. Subtle floral overtones.
Rose Hip Liqueur: The only liqueur distilled from rose hips in the U.S. Surprisingly spicy, with notes of curry.
Ginger Liqueur: Not as spicy as we expected — mild and smooth.
Koval's products aren't inexpensive, but all are beautifully made and certainly worth the price. Their website lists shops and restaurants carrying their spirits.
Tours cost $10 and are great fun. At first, the group of about 30 people seemed too large for the space, but we enjoyed the tour and tasting immensely.
Illinois, Spirits, Whiskey Chrysanthemum Liqueur, Distillery Tours, Ginger Liqueur, Jasmine Liqueur, Koval, Millet Whiskey, Rosehip Liqueur, Rye Whiskey, Spelt Whiskey, White Whiskey