In the last couple of decades, Lebanon has unfortunately been more famous for its wars than its wine. It wasn't always so. According to André Dominé's Wine, excavations at Byblos, one of the oldest continuously inhabited cities in the world, "…have shown that wine must have been made [in Lebanon] more than 5,000 years ago." The Phoenecians exported wine to Egypt, and the Romans erected a temple to Bacchus in Baalbek, even now the heart of Lebanon's wine industry.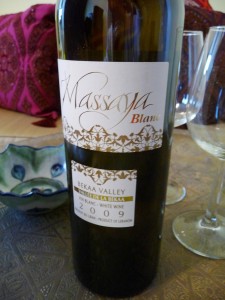 Despite this illustrious history, Lebanon boasted just five wineries as of 1991 according to The Telegraph, and Dominé's 2001 edition of Wine also lists only five wineries: Château Musar, Fakra, Ksara, Clos St. Thomas and Château Kefraya. These stalwarts have been joined by at least 25 more wineries in the last ten years, including "boutique" wineries such as Massaya.
This winery was something rather new, a partnership between the Lebanese Ghosn brothers, Dominique Herard (owner of Château Trianon near Saint-Emilion) and the Brunier brothers (owners of Domaine du Vieux Télégraph near Châteauneuf-du-Pape). In addition to producing highly regarded wines, Massaya embraced wine tourism, opening a welcoming tasting room and the idyllic Vineyard Restaurant.
I was fortunate to find a bottle of the Massaya Blanc at In Fine Spirits, my neighborhood wine shop. I secured the last bottle on the shelf, a bottle, the clerk confided to me, that he had intended to take home the night before.
"Massaya" means "twilight" in Lebanese, or in the more extravagant translation of Massaya's distributor, "the time of day when twilight sets on the vineyard and the sky turns purple as the sun sets behind Mount-Lebanon." The Massaya Blanc certainly made me want to see that sunset for myself.
Like the wines of the Brunier brothers' Châteauneuf-du-Pape, Massaya Blanc is a blend. Familiar varietals Chardonnay and Sauvignon Blanc each account for 15% of the wine, with the remaining 70% evenly divided between Clairette, one of the 13 varietals allowed in Châteauneuf-du-Pape, and Obeidi, an indigenous Lebanese grape about which I could find remarkably little. (Research is ongoing.)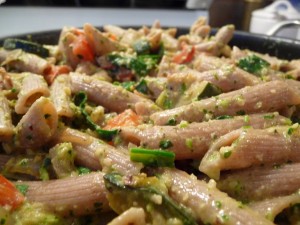 A bright straw color, the Massaya Blanc featured a thick nose of honey, and later a bit of pear as it warmed in the glass. The wine tasted of honey and wood (I'll say cedar for romance's sake), with a touch of resin during the long finish. These flavors evoked something exotic, and I found myself wishing I had some ripe figs and dates to try with it. Though a bit viscous on the tongue, there were enough acids to maintain balance.
Paired with farro penne tossed with walnut-cilantro pesto, red peppers, caramelized onions, chopped ramps and lardons, the wine came into stronger focus and the acids became more pronounced. I tasted some apples, and after the wine had aired about 30 minutes, the finish developed some spiciness.
The ancient flavors of honey, wood and resin stirred a desire to experience the terroir — to see the twilight in the Bekaa Valley for myself. Out of curiosity, I looked up Lebanon in New Horizons: The World Guide to Travel, published in 1955 by Pan American Airways (a gift from my globetrotting grandparents). The introduction is remarkable:
This is a wonderful little country, which has within its boundaries some of the most magnificent ruins in the world, the famous Cedars of Lebanon, and modern cities and villages which turn the clock back hundreds of years. There are wonderful beaches; within a short distance there are high mountains on which skiing is excellent. It is the biblical 'Land of Milk and Honey,' with orange and olive groves, banana plantations, wonderful wild flowers and crystal clear rivers gushing from grottos. It is a fascinating mingling of the old and new, and off the beaten track.
It sounds like it must have been paradise. Perhaps it still is.
SUMMARY
2009 Massaya Blanc: This delightful Lebanese blend presents unusual flavors and a strong sense of terroir. I suspect it would be delicious with pastilla, bacon-wrapped dates or couscous with raisins and almonds. Chill in the refrigerator but remove 5 to 10 minutes before serving.
Grade: A-
Find It: In Fine Spirits, approx. $13.
Blends - White, Chardonnay, Clairette, Lebanon, Obeidi, Sauvignon Blanc Andre Domine, Bekaa Valley, Brunier, Chateauneuf-du-Pape, Ghosn, Herard, Massaya Blanc, Pan Am