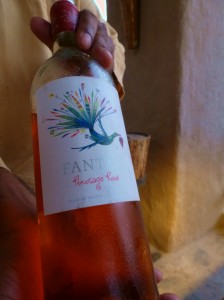 Guests arriving at Six Senses Zighy Bay, a resort on the coast of Oman's Musandam Peninsula, can descend the mountains to the hotel by road, or, for those inclined to flinging themselves off a cliff strapped to nothing but a piece of fabric and a Bulgarian fellow, by paraglider. I found myself in the latter camp the day we arrived, and after catching an array of "awesome thermals" followed by a death-spiral descent to the beach, a drink seemed to be in order.
I later learned that the resort tries to avoid "common labels" when stocking their cellar, so it comes as no surprise that the house rosé was something unusual — a 2010 Fantail Pinotage Rosé from South Africa's Stellenbosch region.
Now, I have long tried to like Pinotage, a cross between Pinot Noir and Cinsault (also known as Hermitage), but I usually find them rather off-putting. It's been a while since I've had one, to be honest, but I recall an overheated quality, with notes of heavy red meat that weren't to my taste. It was a bit of a relief then, to read Tom Stevenson argue in The Sotheby's Wine Encyclopedia that Pinotage "does not have half the potential of either [Zinfandel or Shiraz]."
But the variety certainly worked in this particular rosé. It had an herbal, almost oregano-like nose, and bright, fruity flavors giving way to some spiciness and a minerally finish. I liked the journey this rosé took me on — just the antidote for the more adventurous journey I had just undertaken.
Fantail wines, according to Stevenson, are "excellent-value entry-level wines" produced by the historic Morgenhof Estate in Stellenbosch. I consulted The World Atlas of Wine to learn more about this region, where "the climate is in general pretty perfect for growing wine grapes." According to the Atlas's map of the region, Morgenhof stands just north of the town of Stellenbosch on the southwestern flank of the Simonsberg Mountain, in the first wine ward to gain official recognition in the area. The Atlas asserts that the best wines come from this ward and those nearby.
This rosé certainly didn't refute that argument. Fantail might be difficult to find, but keep your eye out for other Stellenbosch wines. They're just the thing should you need to recover from a little paragliding.
Pinotage, South Africa Fantail, Morgenhof, Rosé, Six Senses Zighy Bay, Stellenbosch