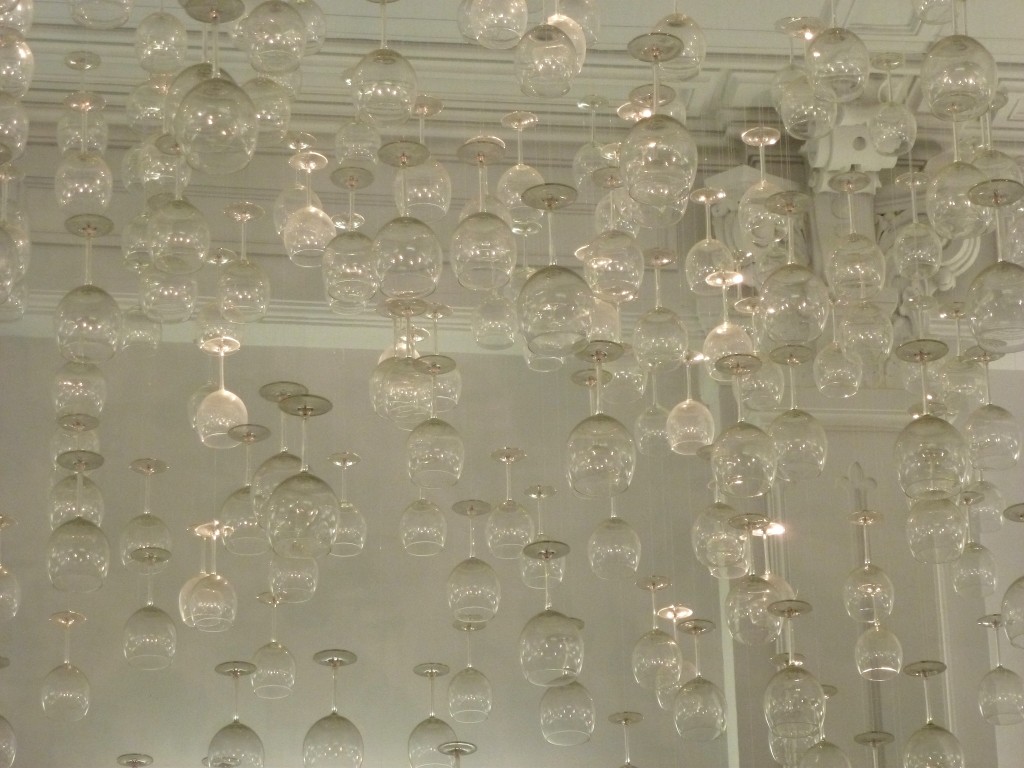 It may seem odd, at first glance, to see me discussing my tasting of Château Latour, Château Margaux, Château Cheval Blanc and Château Ausone on Odd Bacchus. After all, what are four of the world's most famous and celebrated wines doing on a blog devoted to drinking the unusual? Well, I don't know about you, but drinking wines that sell between $750 and $1,500 per bottle is certainly an unusual experience for me.
While visiting Bordeaux, I took advantage of Max, a wine bar filled with temperature-controlled cases of everything from basic Médoc to Premiers Grands Crus Classés. I put money on a card, inserted it into the case, and splash — I'm $40 poorer and 25 milliliters of Château Latour richer.
Château Latour is one of the four crus selected by the Bordeaux Chamber of Commerce as a Premier Cru (First Growth) in the landmark 1855 Classification, organized for that year's Universal Exposition in Paris, where the best Bordeaux wines were showcased. As such, Latour, along with the other First Growths, became a benchmark of quality, and it remains so today.
Alone in the wine bar except for the staff and an Australian couple, I tasted my first First Growth sip beneath glimmering wine glasses cascading down from the ceiling. The brick-purple 2004 Château Latour ($975) smelled of jam and earth and metal, and the fruit was deep and rich. The finesse of the wine caused me to note, in a moment of unchecked romanticism, that the wine "doesn't let it all hang out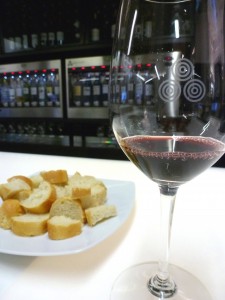 — it shows just enough to be thoroughly ravishing." Oy — purple indeed.
My notes about the 2004 Château Margaux took a more sensible tone. Which is surprising, considering that The Sotheby's Wine Encyclopedia calls this the "greatest" wine in the world, a distinction it's apparently had for some time. According to The Oxford Companion to Wine, Thomas Jefferson cited Château Margaux as a vineyard of "first quality" in 1787. It better be, for $750 a bottle.
I did love the Margaux's chocolate-raspberry nose, and its elegant, restrained palate. It didn't seem especially big, but the fruit was unquestionably lush and supple. Cocoa made an appearance again in the long finish. I enjoyed it, but it was a tough, tannic wine, needing more age to open up.
The vineyards around St-Émilion, a historic village in the Bordeaux region to the east of the city, were not classified until 1958, and then only two achieved Premier Grand Cru Classé status. I had the chance to try them both.
The 2006 Cheval Blanc ($1035) also had a chocolatey nose, but this wine tasted much more open.  It felt racier — sexier — with voluptuous fruit corseted by strong tannins. Bordeaux wines tend to be mostly Merlot or Cabernet Sauvignon, but Cheval Blanc uses 60% Cabernet Franc in its blend, according to Sotheby's.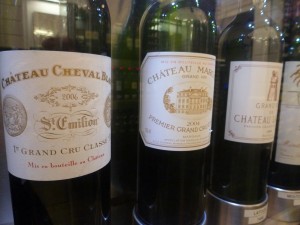 And then there was the 2006 Château Ausone, which Max offered for a mere $1,480 per bottle or $46 per 25 ml taste. It presented a full, plummy bouquet and luscious flavors of big, spicy red fruits, with significant (but not overwhelming) tannins. This wine had power, with a very long finish. Its strong tannins ensure it has many years to age. I wrote, "tough and sexy."
But are these wines worth the price tag? That's the age-old question. For me, the answer is easy: Of course not. The Ausone is a mortgage payment! I'm not going to get $1,480 of value out of any bottle of wine, no matter how delicious. However, if you're a millionaire wine lover, for whom $1,480 is pocket change, then by all means, go for it! You won't be disappointed. After all, the Ausone is "the quintessence of class, complexity and finesse," according to Sotheby's.
I certainly had a great time tasting these wines, but geez, I spent $157 for four 25 ml tastes, totaling about one glass. And all the wines I tasted were too young! Let that be a lesson to me: Better to drink less expensive wines that are ready to drink, rather than let myself be bamboozled by blockbuster adolescents.
But goodness, it is fun to write that I've tasted Château Latour, Château Margaux, Château Cheval Blanc and Château Ausone.
Blends - Bordeaux Style, France - Bordeaux Chateau Ausone, Chateau Cheval Blanc, Chateau Latour, Chateau Margaux, Max Bordeaux