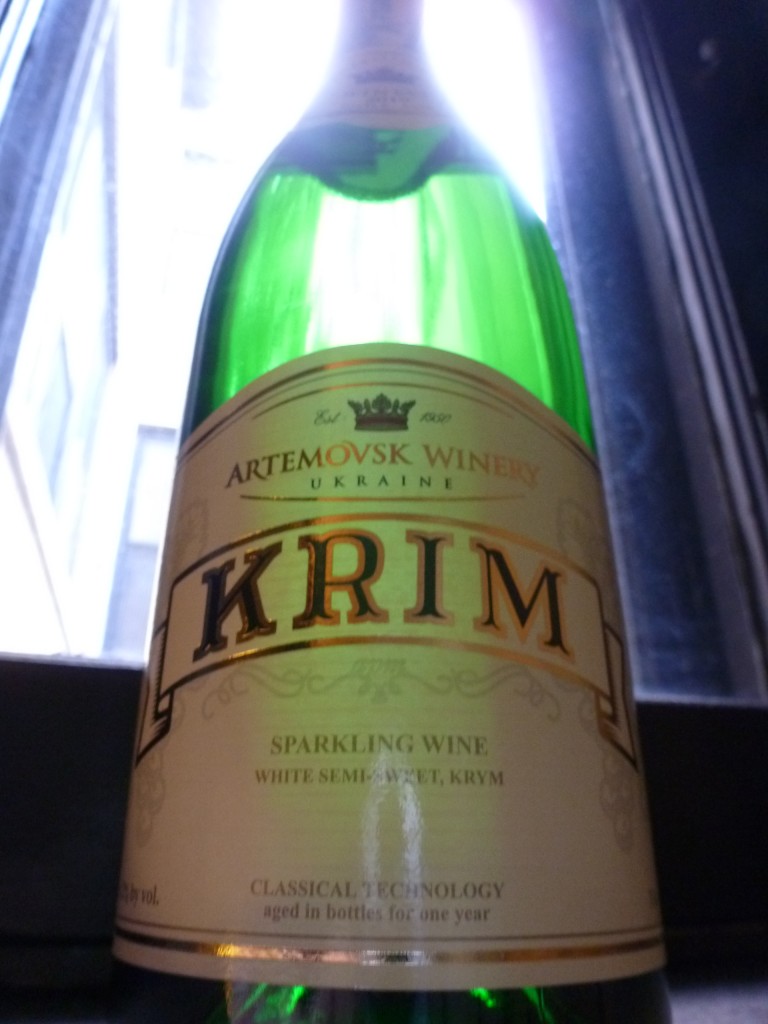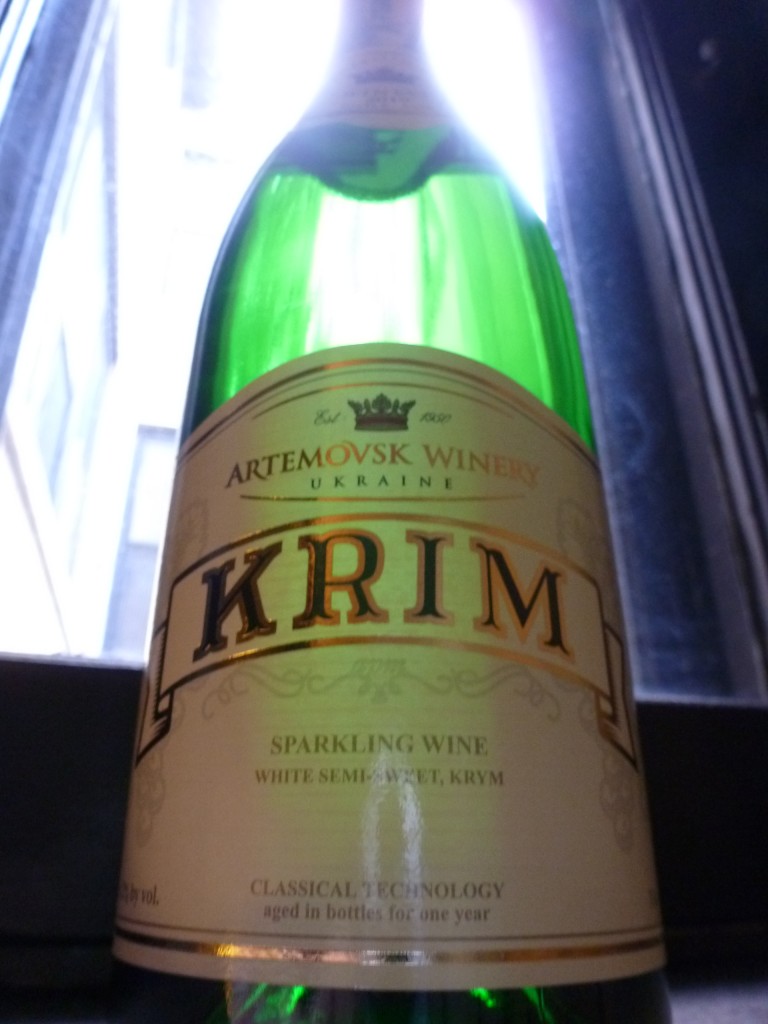 Shopping in the disorganized but intriguing wine section of Gene's a few days ago, I came across an exciting find: a bottle of 2010 Artemovsk Winery "Krim" semi-sweet sparkling wine. From the Ukraine! The label had the reassuring words "Classical Technology," which I interpreted as Méthode Champenoise, since it went on to say "aged in bottles for one year." It would seem I had a well-made Ukrainian sparkling wine on my hands! The $14 price tag indicated some ambition, so I snapped it up.
If you, like me, assumed that Ukraine didn't have much of a wine industry, you would be quite incorrect. According to The Oxford Companion to Wine, about 250,000 acres of vineyards currently grow in this former Soviet republic, mostly on the southerly Crimean Peninsula. Viticulture dates back thousands of years here. Serious sparkling wine production is a more recent phenomenon, starting in 1896 when Henri Roederer (of Roederer Champagne) founded a winery devoted to bubbly near Odessa.
The Russian Imperial Court loved sparkling wine, and the Soviets carried on that tradition (among others less palatable). One of the most important wineries producing Soviet "Champagne" was Artemovsk (also spelled "Artyomovsk"), located in the eastern Ukrainian town of Artemivsk.
No vineyards grace the countryside surrounding this industrial city, so why build a major winery here? Gypsum mines. These huge, abandoned mines provide ideal conditions for aging wine: cool and stable. With aging facilities like this, who cares if you have to truck the grapes up from the Crimean Peninsula?
For the Krim semi-sweet sparkling wine, Artemovsk blends Pinot Blanc, Aligoté, Chardonnay and Riesling, aging the wine one year 240 feet underground in the former mines. It had a surprising nose of ripe raspberries, and jammy flavors balanced by orangey acids (a drinking companion also noted dried apricots on the palate). The bubbles felt small and sharp. But in spite of the ample bubbles and acids, there was a certain heaviness to the wine — a sense of thickness.
I gravitate towards sparkling wines that are dry, yeasty and/or flowery, but I would certainly consider buying another bottle or two of this very fruity sparkler. It would make a fine pairing with a number of desserts, including fruit-based pies or even lemon meringue. Or lay a bottle down for the winter, and pair it with a cozy screening of Dr. Zhivago.
SUMMARY
2010 Artemovsk "Krim" (semi-sweet): A well-made sparkling wine, with lots of berries in the nose and palate. Pair with fruit-based pies or beet/goat cheese salad, and chill well before serving.
Grade: B
Find It: I bought this bottle at Gene's for $14.
Sparkling, Ukraine Artemovsk, Crimean Peninsula, Soviet Champagne