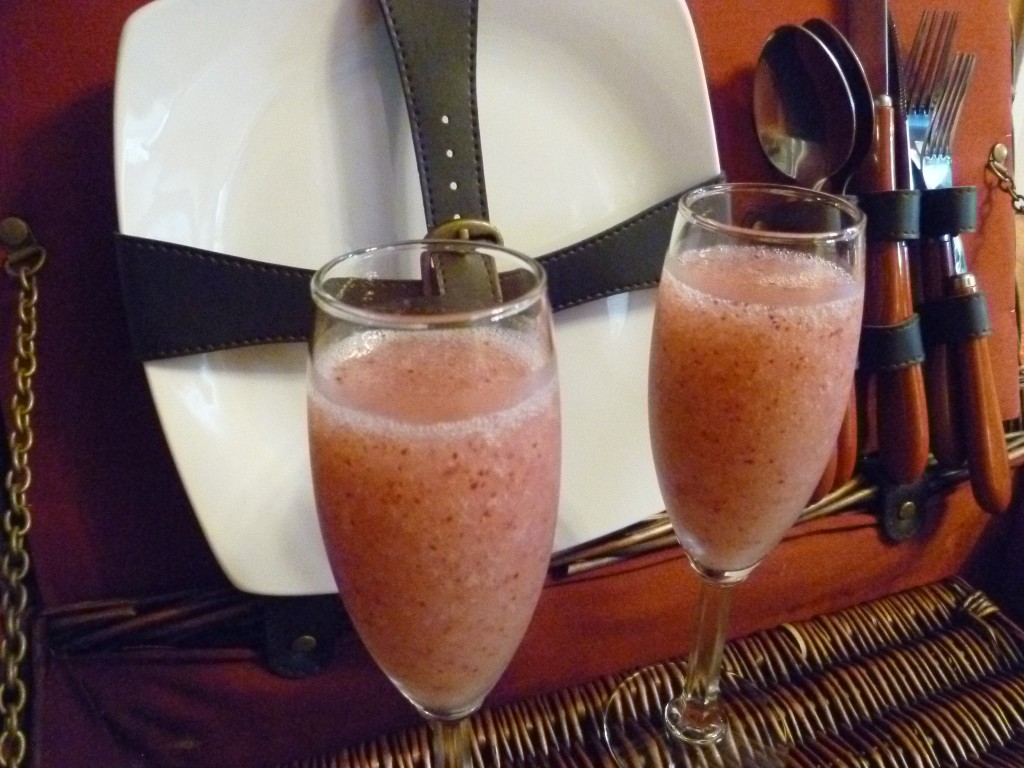 I love Labor Day weekend, when all of us are determined to get outside and have that one last barbeque or beachside picnic. Goodness knows that's what I want to be doing right now, so we're going to make this quick.
If you're having a Labor Day barbeque this weekend and would like to serve an easy, exciting and elegant cocktail that no one has ever had before, I've got just the thing: The one and only Nectarini Bellini Martini.
A Bellini, that wonderful classic Venetian cocktail, combines Prosecco and white peach purée. I've made these myself, and I think they're a pain. Harry's Bar suggests hand-grating the peaches (a food processor aerates the fruit, giving you a foamy mess when you add the Prosecco), but who wants to go through all that? So forget the Prosecco. We're going straight to vodka.
And let's change out the peaches as well. With peaches, you can either have little bits of furry skin floating in your drink, or you can peel them. Screw that. This is Labor Day. No peeling.
Instead, secure a good supply of white nectarines, which have thin, non-furry skin. They are in season right now (in the U.S., anyway), and though some groceries don't carry them, you should be able to find them at your local produce market or at Whole Foods. Make sure the nectarines are as ripe as possible, because you'll want that sweetness and fragrance.
White nectarines are a must in this cocktail (or heck, white peaches). In addition to tasting sweet and fruity, white nectarines have a wonderful perfumy quality you simply don't get from the yellow variety. They also look gorgeously pink when you blend them up. This drink would surely taste OK with yellow nectarines, but I promise you, white nectarines make a huge difference.
Triple Sec is also required. I tried this cocktail with vodka alone, and it tasted too pointy and strong. Triple Sec rounds things out and adds another layer of flavor and aroma.
Beyond that, all you need is some ice and a blender, and you've got yourself an unusually fragrant, fresh and refreshing cocktail:
NECTARINI BELLINI MARTINI
Two white nectarines, cut into large chunks
1 1/2 parts vodka (I use Sobieski, an excellent value for the money)
1/2 part Triple Sec
Ice cubes
Add the nectarines to the blender, followed by the vodka and Triple Sec. With my average-size fruits, I found that the cocktail tasted balanced with one ounce of booze per piece of fruit. If your nectarines are unusually small or large, adjust the proportions accordingly. The amount of ice cubes you add should approximately equal the amount of fruit.
Blend until very smooth, at least 30 seconds. Serve in champagne flutes (these are still Bellinis, after all). Two nectarines should get you about five or six full flutes.
Happy Labor Day, everyone. Cheers!
Cocktails, Vodka Bellini, Labor Day Cocktails, Sobieski, White Peach