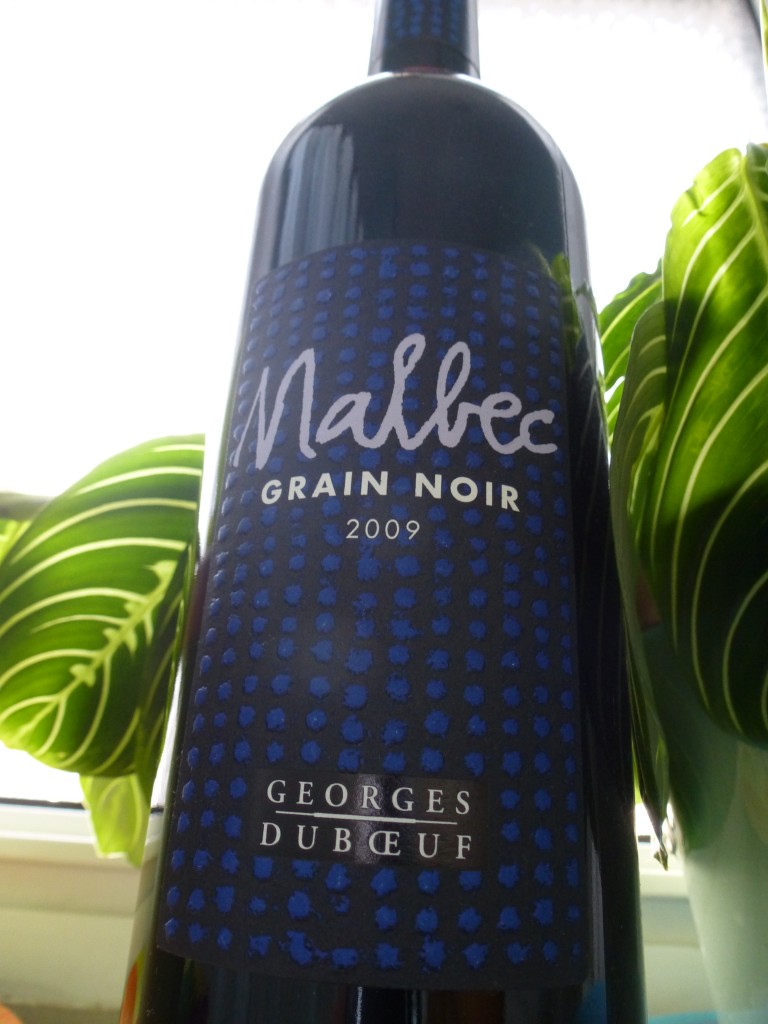 While browsing the wine section at Whole Foods, I noticed something surprising: a Georges Duboeuf Malbec. Georges Duboeuf is one of France's most famous vintners, infamously producing an ocean of (usually overpriced) Beaujolais Nouveau each year, as well as a range of perfectly tasty standard wines. But I had never seen a Duboeuf Malbec, and I had never seen a wine of any kind from Comté Tolosan, the Indication Géographique Protégée listed on the back label. This Georges Duboeuf wine had become very oddly irresistable, and I snapped it up.
Almost every wine drinker these days has heard of Malbec, thanks to its Argentinean success. I used to think Malbec originated in Argentina, but it's actually a French variety, though ever fewer French vineyards grow it. According to The Oxford Companion to Wine, Malbec is "still the backbone of Cahors," a red made in France's southwest, and it is from this wine that Georges Duboeuf must have drawn his inspiration for the Malbec varietal.
And that's where the real story is. Comté Tolosan is classified as a Vin de Pays, a very loosely regulated wine region which in this case encompasses almost the whole of southwestern France. Often in France, or in any terroir-driven wine country, the more specific the geographic designation, the higher the quality of the wine. The regulations on these geographic designations, or AOCs, can be very restrictive, however, preventing innovative winemakers from experimenting with different techniques or varieties.
In contrast, the Vin de Pays regions typically have very loose rules. In fact, according to The Sotheby's Wine Encyclopedia, red wine grapes in Comté Tolosan "are not specified beyond 'what is growing'!" (Exclamation point in the original.) It took the regulation-happy French a while to get to this point — it was only in 2000 that varietal wines were legalized, but even then, they had to be 100% that variety (most of the rest of the world allows winemakers to blend up to 15% of other varieties in varietal wines). Finally, in 2004, producers were authorized to adjust their varietal wines with a bit of blending, making them more palatable.
And with that, the French finally had a shot at capturing consumers who look for "Chardonnay" or "Malbec" instead of "Chinon" or "Mâcon-Villages." Now, according to the Encyclopedia, the Vin de Pays category of wine "includes some of the most innovative and exciting wines being produced in the world today."
I'm not sure the 2009 Georges Duboeuf Malbec Grain Noir qualifies as one of the most exciting wines in the world, but I certainly enjoyed drinking it. It had a pleasant aroma of brandied cherries, and some rustic fruit on the palate. That moved to black pepper spice and a softly tannic, more velvety finish. It kept an even keel, avoiding any surprises, making it sure to satisfy a wide range of red-wine drinkers. And after all, at about $10 a bottle, what more could you ask?
SUMMARY
2009 Georges Duboeuf Malbec Grain Noir: Moves from a rough, rustic start to a velvety finish. A fine value for the price, and sure to be tasty with pizza or pasta with red sauce. Chill in the refreigerator for 20 minutes before serving.
Grade: B
Find It: I bought this wine at the Whole Foods on Halsted and Waveland for $10, but a rather harried employee told me they don't have it in stock at the moment. You might see it in the wine departments of other Whole Foods branches, however.
France - Other, Malbec Comte Tolosan, Georges Duboeuf, Southwest France, Vin de Pays