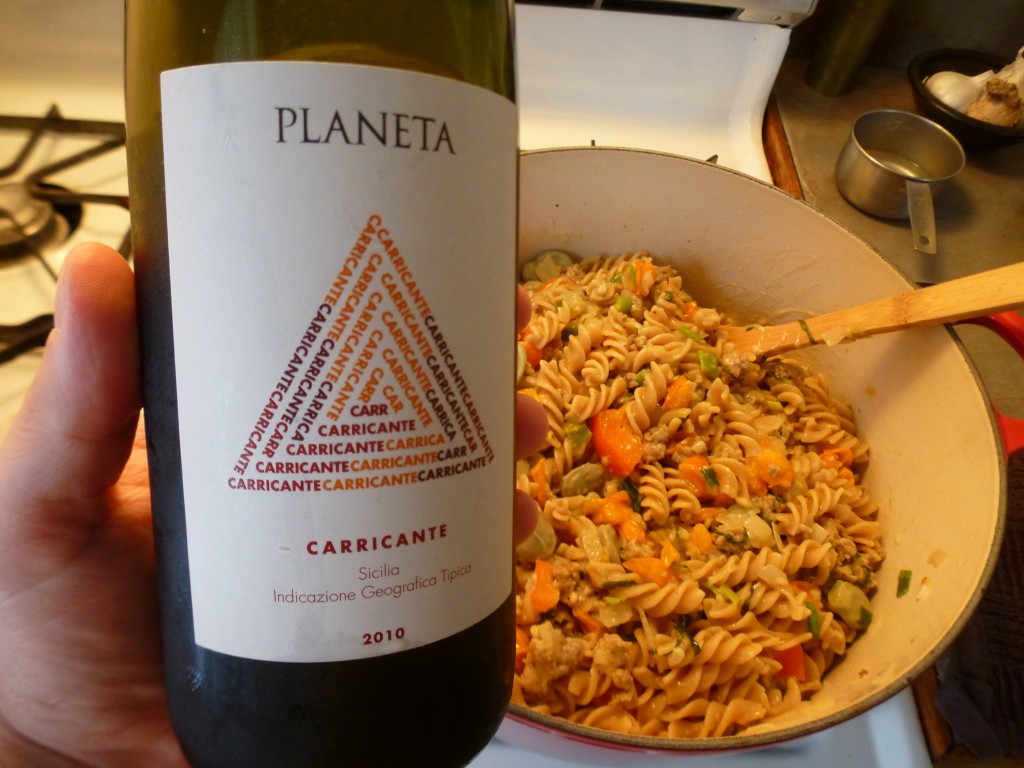 Over the years of writing this blog, I've tasted a lot of unusual wines and spirits, but I can't recall ever finding a wine made from a variety which does not appear in my 2006 edition of The Oxford Companion to Wine. If a grape isn't listed in that weighty tome, it must be seriously obscure.
But I can't really take the credit for "finding" this wine — it found me. A colleague was traveling through Sicily, and while drinking wine with the general manager of Rocco Forte's Verdura Resort on the southern coast, she brought up my blog. The thoughtful manager gave her a special bottle of Sicilian wine to bring back for me to taste, which she packed in her bags and presented to me upon her return. I finally opened it over dinner last Sunday. It made me want to jump on a plane then and there to thank that hotel manager personally.
The 2010 Planeta Carricante blew me away, but what is it? I was at least familiar with its homeland of Sicily, an island celebrated for its wines since ancient times. But between 1960 and 1987, the Oxford Companion notes, misguided governmental subsidies encouraged producers to focus on quantity over quality, leading to overproduction and declining prices. Things began to turn around in the last 20 years thanks in no small part to the very winery responsible for this Carricante.
According to The Sotheby's Wine Encyclopedia, after Planeta established its winery in 1995, "the wines started to attract attention and growing respect in the  early 2000s, and Planeta is now not only the island's top producer, but also one of Italy's greatest." The World Atlas of Wine agrees with this history, noting that "The regional wine institute, under the direction of Diego Planeta and through the innovative and savvy Planeta family winery, has put modern Sicilian wine on the world map." If anyone could make a good Carricante, then, it would surely be Planeta.
But what is Carricante, this mysterious variety absent from the Oxford Companion? The World Atlas of Wine at least mentions Carricante, calling it Sicily's "tartest" variety and noting its capability to "age gracefully for up to 10 years." The Wine Searcher website delves further, noting that this grape is "thought to have been growing on the volcanic slopes of Mt. Etna for at least a thousand years," going on to describe the growing conditions and vinification techniques ideal for this "ancient" variety. Wine Searcher also warns us not to mistake Carricante for its common blending partner Catarratto, "a variety for which (somewhat confusingly) Carricante is often confused."
If you can make it past this confusing confusion, I highly recommend seeking out a bottle of the Planeta Carricante (the 2010 was 100% Carricante, but the current vintage contains 5% Riesling). Its wonderfully seductive aroma had notes of honey, cedar and lily of the valley, one of my favorite flowers (a little like jasmine). A fellow taster remarked that "It smells like the best Kasugai gummy ever created." I loved the lush fruit, flinty minerals and the focused, almost incense-like spice that just kept going and going. Paired with some pasta with orange cherry tomatoes, fresh fava beans, onions, olive oil, garlic and ground pork, the wine's acids became even juicier and zestier.
It was rich, complex, balanced and elegant, but even more impressive, the wine took me right back to Sicily. I could imagine myself at some trattoria in Taormina, sipping a glass at an outdoor table while I took in the view of Mt. Etna and the sea, a little incense wafting out of a nearby church. This was a wine truly expressive of its terroir.
The Planeta Carricante might be hard to come by, but it's certainly not unlikely that you'll run into another wine by Planeta. If this Carricante is any indication, it's a winery worth remembering.
Note: This wine was provided free of charge by Rocco Forte's Verdura Resort.