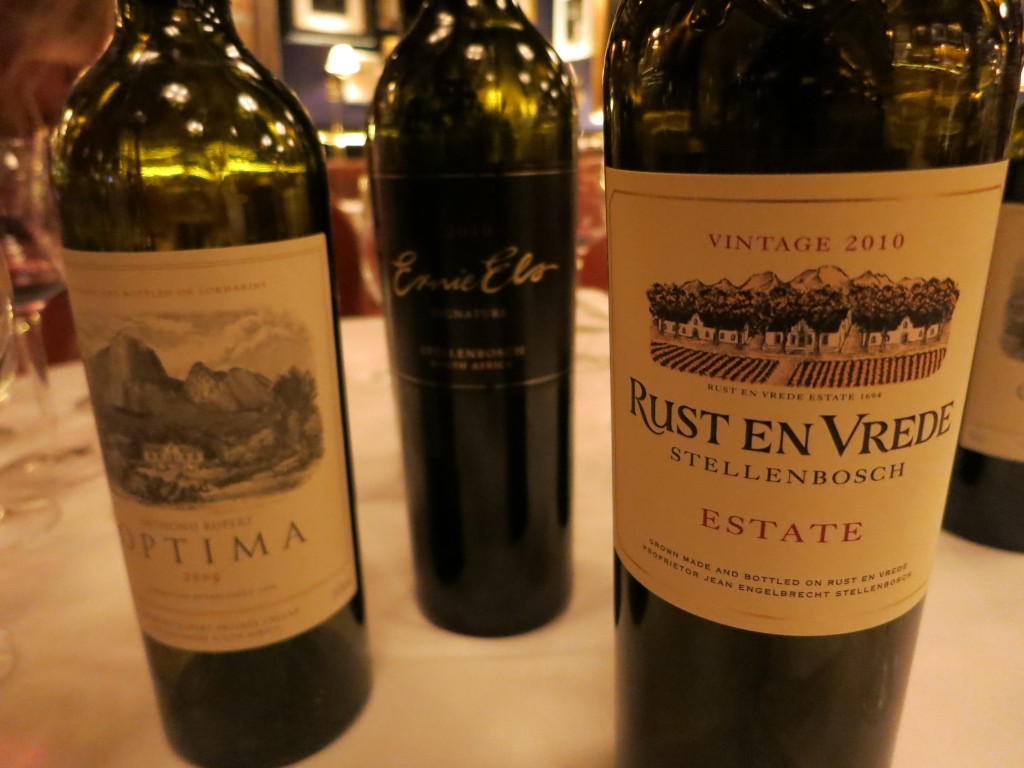 As I wrote in my previous post, South Africa's wine industry has changed dramatically since trade sanctions were lifted in the early 1990s. It was particularly reassuring to hear Jean Engelbrecht, owner of the Rust en Vrede winery in Stellenbosch, describe how wineries had spent considerable effort in recent years to focus on grapes well-suited to the terroir of their estates, rather than simply growing a little bit of everything. But would this translate into truly world-class wines?
If Engelbrecht couldn't convince me, no one could. He made it clear that he has little patience for anything that isn't the best. We started our dinner at Chicago's RL restaurant with flutes of NV Taittinger Brut, rather than a Cap Classique (South Africa's méthode champenois sparkling wine). "If you're going to drink bubbly, drink Champagne," he declared. "Why waste one day of your maybe 65 years on Earth drinking something else?" This uncompromising attitude regarding quality has raised the ire of some of Engelbrecht's countrymen — the wine list of his acclaimed restaurant contains nary a Cap Classique. It doesn't yet compete with Champagne, Engelbrecht explained, so why serve it?
I had confidence, then, that any wine Engelbrecht would pour with dinner would represent not only South Africa's best, but wine that would rank as some of the best anywhere. South Africa is already making a name for itself with vivacious Chenin Blancs, but it lacks a signature red (not counting inconsistent Pinotage). If this tasting was any indication, that signature red could well be Bordeaux-style blends. We tasted three together, and each dazzled with its concentration and control.
2010 Rust en Vrede Estate: This Stellenbosch estate in the shadow of the Helderberg has produced wine off and on for three centuries, though it took its present form only after 1977, when the Engelbrecht family purchased and restored it. Jean Engelbrecht's father, Jannie Engelbrecht, decided to focus solely on red wines after the 1979 Chenin Blanc left him less than impressed, a bold move at a time when South African wineries tended to grow a little of everything.
The Rust en Vrede Estate wine blends Cabernet Sauvignon, Syrah and Merlot in a "hermitaged" style of wine popular in Bordeaux in the 19th century, when producers would sometimes beef up their blends with Syrah from the Rhône's Hermitage region. The deep red-fruit aroma was very enticing, marked by additional meaty and floral notes (a fellow taster at the table also detected "man musk," which led Engelbrecht to half-joke that she was forbidden from sampling any more of his wines). I loved the wine's silky texture, rich red fruit, firmly controlled white-pepper spice and raisiny finish.
The Estate felt very supple, yet it still cut right through the richness of my beef filet. I lamented that I hadn't tried it with my appetizer of mussels, but Engelbrecht assured me I hadn't missed anything: "I'm more of a main course kind of wine," he quipped. But I was rather startled to discover that the Estate also paired well with a side of roasted asparagus, a notoriously difficult vegetable to match.
2009 Anthonij Rupert Optima: Anthonij Rupert has produced this Bordeaux-style blend of Cabernet Sauvignon, Merlot and Cabernet Franc since the 1970s, but the 2009 is the first vintage of the wine since Johann Rupert took over the winery following the death of his brother. Since Johann Rupert took the helm, he overhauled the Franschhoek estate, where most of the vineyards are planted on hillside vineyards abutting the Groot Drakenstein Mountains.
The work undertaken by Rupert to improve the winery seems to have paid off — this wine also proved to be quite delicious. It smelled dark and rich and a little out of reach somehow, which made me want to taste it all the more. Its dark fruit was kept under tight restraint for a surprisingly long time, until it finally blossomed into eye-opening spice. It felt like a logarithmic scale of flavor.
2010 Ernie Els Signature: In South Africa at least, Ernie Els is probably better known as a golfer than a winery owner, but that may yet change, especially since he has quite a close connection to Engelbrecht, who introduced Els to his wife. The flagship wine of Els' Stellenbosch winery is the Signature, which combines Cabernet Sauvignon, Merlot, Petit Verdot, Malbec and Cabernet Franc in yet another version of a Bordeaux-style blend. Els ages all the varieties separately in new French oak before blending them together.
The result proved to be very food-friendly, both with my mussels and my filet. It had a dark, dusky aroma, and one fellow taster detected black cherry. But another (of "man musk" infamy) smelled a note of black olive. "What??" Engelbrecht exclaimed, aghast. But I can see her point — beneath the lush fruit, hearty spice and rustic tannins was an underlying tightness, perhaps even a touch of salinity. With that undergirding, the wine as a whole felt very balanced and focused.
These three Bordeaux-style beauties certainly beat any Pinotage I've ever tried. They're not inexpensive, priced between $35 and $60, but if you tasted them side-by-side with similarly priced Meritage from California or Bordeaux from Bordeaux, these South African wines would hold their own admirably. I must admit I haven't written about all that many South African wines on this blog, but after this tasting, I'm certainly interested in trying a lot more.