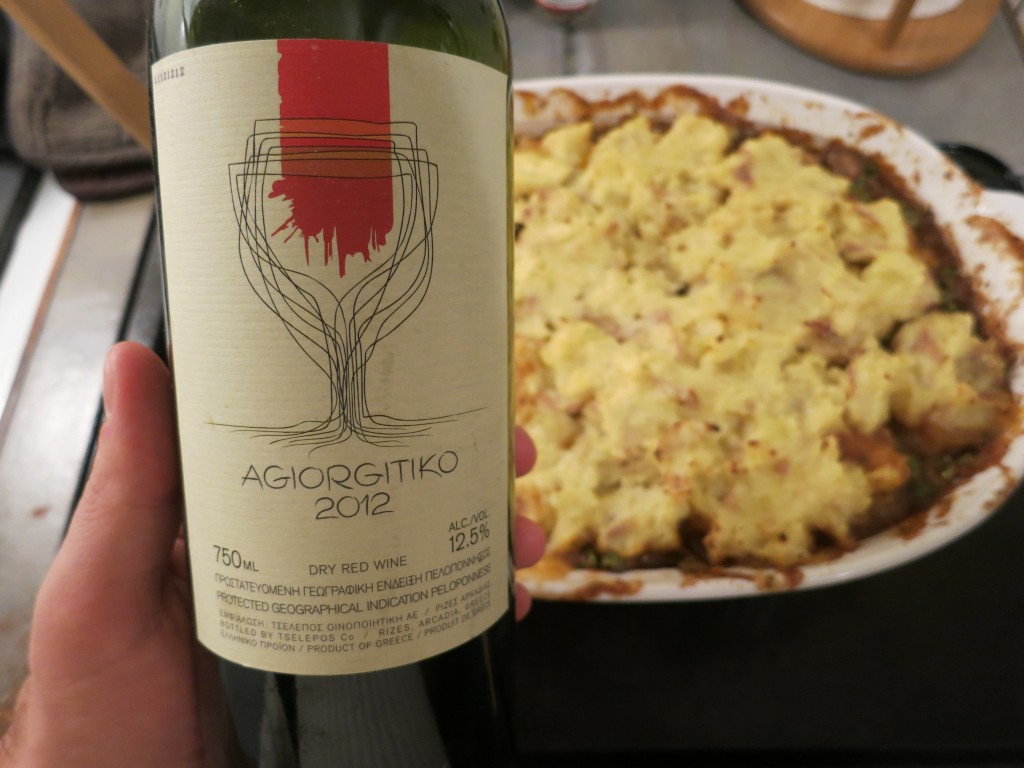 Now that spring has arrived, or so I've heard, I would ordinarily start turning my eye to the section of my wine rack containing richer whites, like Chardonnay or Riesling. But the ceaseless whirling of polar vortices continues to mar this so-called spring, and I'm not ready to turn away from hearty reds just yet. Facing yet another day of temperatures measuring 20 degrees below normal, I fixed up a comforting beef-and-bison shepherd's pie and opened some Agiorgitiko to go with it.
Greek Agiorgitiko is not a classic pairing for shepherd's pie, but it should be. This hard-to-pronounce variety (ah-your-YEE-tee-koh is my best approximation) produces ever-more delicious red wines in Greece's Peloponnese Peninsula. According to The World Atlas of Wine, the northern half of the peninsula "has seen even more energy and activity than any other part of Greece in recent years," and Agiorgitiko is one of the region's signature grapes.
The Oxford Companion to Wine gives mixed reviews of wines made from Agiorgitiko, a name it manages to make even more incomprehensible by using the ghastly spelling of "Aghiorghitiko." The Companion grumbles that these wines are "fruity but can lack acidity," although "grapes grown on the higher vineyards of Neméa can yield long-lived reds." The Sotheby's Wine Encyclopedia also has reservations about the variety, but for almost opposite reasons. "The Agiorgitiko grape provides a deep-colored, full, and spicy red wine," it argues, "that can be spoiled by dried-out fruit, or by a lack of fruit."
Fortunately, the 2012 Tselepos Agiorgitiko lacked neither acid nor fruit, despite its rather general "Arcadia" appellation (Arcadian grapes can be grown anywhere in the central Peloponnese, in either choice high-altitude vineyards or less-desirable plains). It smelled of raspberry jam and vanilla, and it had plenty of red fruit flavor, matched by prominent, rustic acids. But it's a dry wine, with some tannins on the finish along with a note of earth.
Casual and fun, the Tselepos Agiorgitiko would make a fine party wine, surely pairing well with a range of foods. It certainly matched the rich shepherd's pie well; the acids smoothed out and the tannins were just stout enough to clear my palate for the next bite. And at $11.50, the price I paid for the bottle at In Fine Spirits, it won't break the bank to serve a few bottles to your guests. Though this isn't a wine to serve for a special occasion, at that price, it doesn't have to be.
It looks like we've got more frigid "spring" evenings yet to come, and goodness knows we'll need help getting through them. The flavorful Tselepos Agiorgitiko provides a lot of comfort for the money.