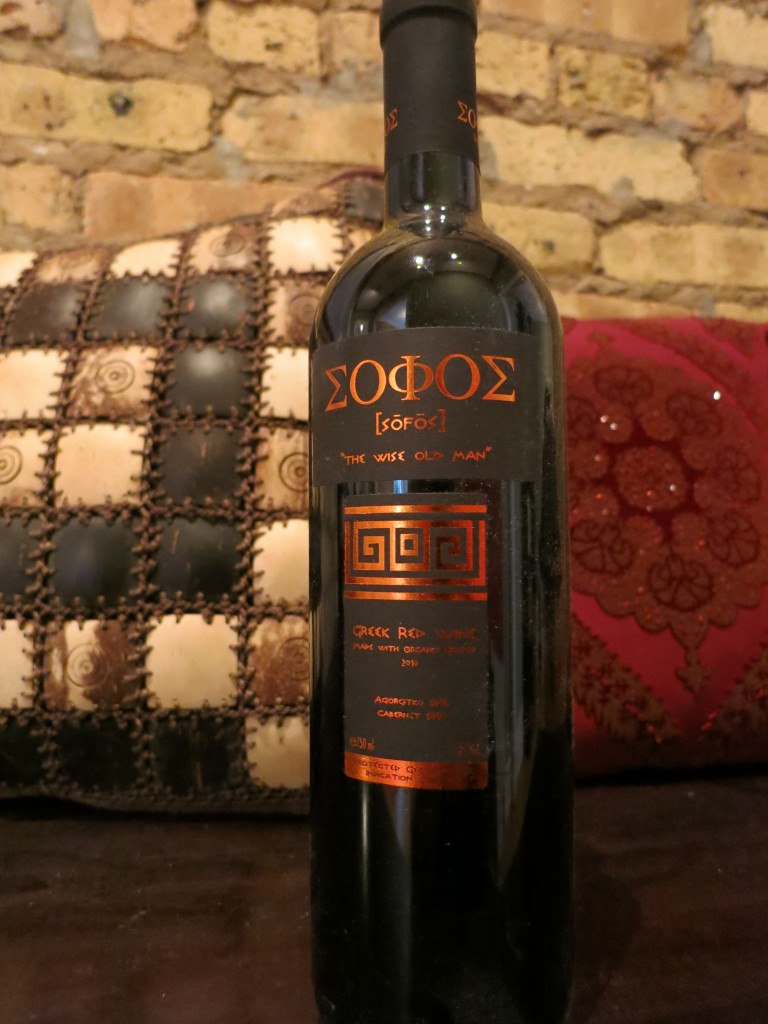 I've been having a lot of luck with Greek wines lately, so it was with no hesitation that I accepted free samples of two "Sofos" blends from the Peloponnese Peninsula. These wines, produced by Domaine Gioulis, intrigued me for two reasons besides their Greek origin. They each blend an indigenous Greek variety with a well-known international grape, and they are each organic.
In fact, the vineyards which produced these wines are the first in Greece to be "Non-GMO Project Verified." I'm not convinced that GMOs (genetically modified organisms) are especially widespread in the wine industry — The Oxford Companion to Wine notes that there have been field trials, but "consumer resistance in parts of Europe has been considerable," and it's not even clear if genetically modified vines can legally retain their varietal name. Nevertheless, if you wish to be 100% sure that you're avoiding anything produced from GMOs, these wines are for you.
Both come from the Klimenti region, a "Protected Geographical Indication" (PGI) adjacent to Neméa, one of Greece's very best wine regions. As The World Atlas of Wine explains, Neméa (and Klimenti too, according to a Sofos press release) has "milder winters and cooler summers than one might expect," because of the influence of the Mediterranean and the high altitude, respectively. Sofos' vineyards grow at 750 meters (about 2,500 feet), quite close to the highest zone of Neméa at 2,950 feet. At these altitudes, the vineyards produce "fine, elegant, almost "cool-climate reds," according to the Atlas.
Sofos (which means "wise old man") makes its red wine from 50% Agiorgitiko, a variety indigenous to the Neméa region which "can yield long-lived reds" from grapes grown in higher vineyards, according to the Oxford Companion. The other half of the wine is Cabernet Sauvignon, a variety with which Agiorgitiko blends notably well, the Companion asserts.
The high-altitude vineyards and ideal blending partners pay off in the bottle. Enticingly purple and opaque, the 2010 Sofos Red's fruit and minerality were evident at first sniff. "It's that rocky, chalky stuff," a tasting partner remarked, and another detected "an undertone of super-sweetness in the aroma." I agreed, smelling chalk, vanilla and red berries in the nose. It started with surprising lightness on the palate, given the deep color, with bright red fruit that darkened and broadened into purple plums, followed by orangey acids and some beefy tannins. Paired with a sausage pizza, spicier notes came to the fore. Quite a value for about $12 a bottle.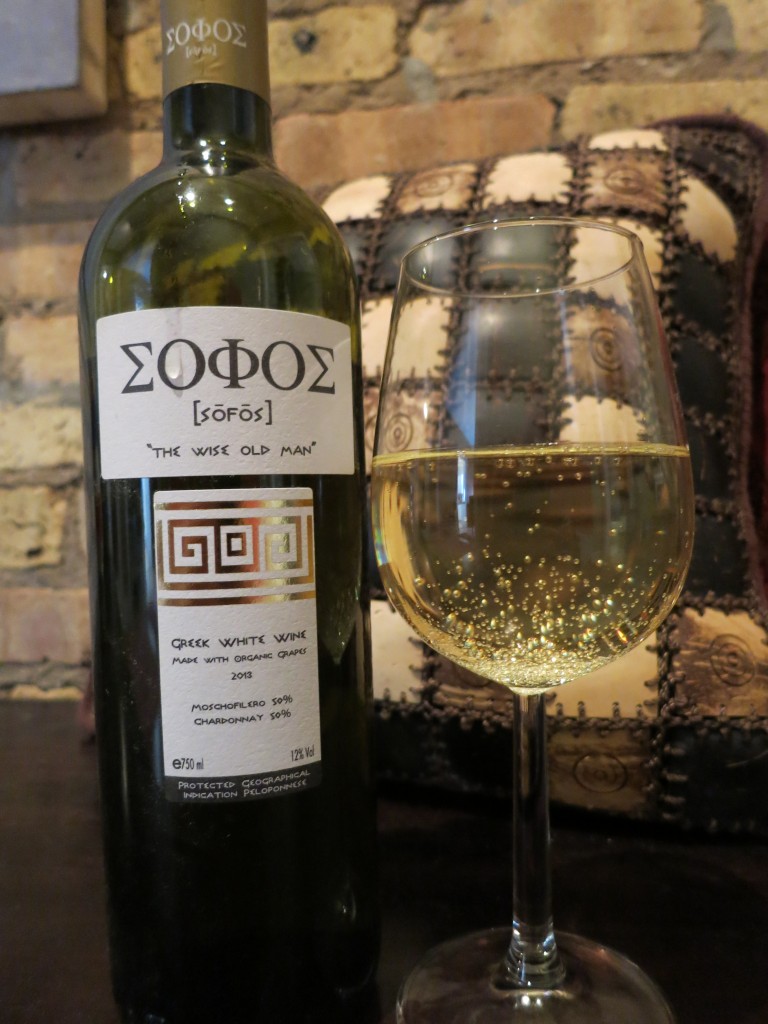 The 2013 Sofos White was even more of a surprise. Perhaps because this blend of 50% Moschofilero and 50% Chardonnay lacks stabilizing agents of any kind, my sample continued to ferment in the bottle, and by the time I opened it, it had become all but a sparkling wine. I asked the sales representative whether this sparkle was normal. She checked with the winery, which replied,
The pétillance [light sparkle] is due to the freshness of the wine. The white Sofos comes from the 2013 vintage that was bottled early, in October 2013. Thus there is a small percentage of bottles that could have appear pétillance in the border. The slight existence of CO2 -pétillance- in a fresh wine is something natural that unfortunately we cannot avoid it in 100%.
In my bottle it was no mere pétillance — the bubbles were clearly evident in the glass, not just on the tongue. But this was not necessarily a bad thing — Chardonnay, of course, serves as the base of many top Champagnes, and I also recently tasted a delicious sparkling Moschofilero, one of my favorite Greek white varieties (you can read more about Moschofilero here).
The Sofos white had aromas of ripe apples, tropical fruit and tart lime, but it tasted quite dry, with floral overtones and a lemony finish. The bubbles felt tight and fizzy, helping the wine cut through the richness of some barley risotto with asparagus, peas, mushrooms and Parmesan. And the risotto enhanced the wine as well, making it feel rounder and deeper. Another excellent value for $12 a bottle.
I've said it before, I'll say it now, and doubtless I'll say it again: There's something exciting happening in Greece. Many people still regard Greece as a second-rate wine producer — read about the reaction of a Binny's Beverage Depot sales clerk here — but those days are in the past. These Sofos wines provide yet more evidence that Greece is making delicious, fascinating and food-friendly wines. Most, like Sofos, are priced very affordably. Greek wine hasn't been this good since the days of Pericles, and it's only getting better.