I recently returned from a trip blessedly free from internet access to discover an aging invitation to have dinner and taste wines with Andrea Cecchi. My recent lack of connectivity suddenly seemed more like a curse. I scrambled to arrange a meeting, because Mr. Cecchi makes highly regarded wines in an obscure but very exciting region of Italy: Maremma.
Until the mid-20th century, Tuscany's coast was better known for malaria and buttero (cowboys) than fine wine. But Mussolini drained the swamps, the cattle herds dwindled and the Marchese Mario Incisa della Rochetta planted Cabernet Sauvignon vines in Bolgheri. Now, Bolgheri is its own DOC and the home of Sassicaia, one of Italy's most coveted wines.
But I don't have $200 to spend on a bottle of Sassicaia. Instead, I focus instead on what ranks as one of Italy's best red-wine values: Morellino di Scansano. The hill town of Scansano sits on high ground in Maremma, and the vineyards of Morellino (the local synonym for Sangiovese) reach as high as 1,500 feet above the nearby sea. "This is the Maremma's classic Sangiovese zone," according to The World Atlas of Wine, and Italy seems to agree. In 2009, Morellino di Scansano was elevated from its DOC classification to DOCG, the most most restrictive and (theoretically) highest-quality designation in Italy's wine classification system.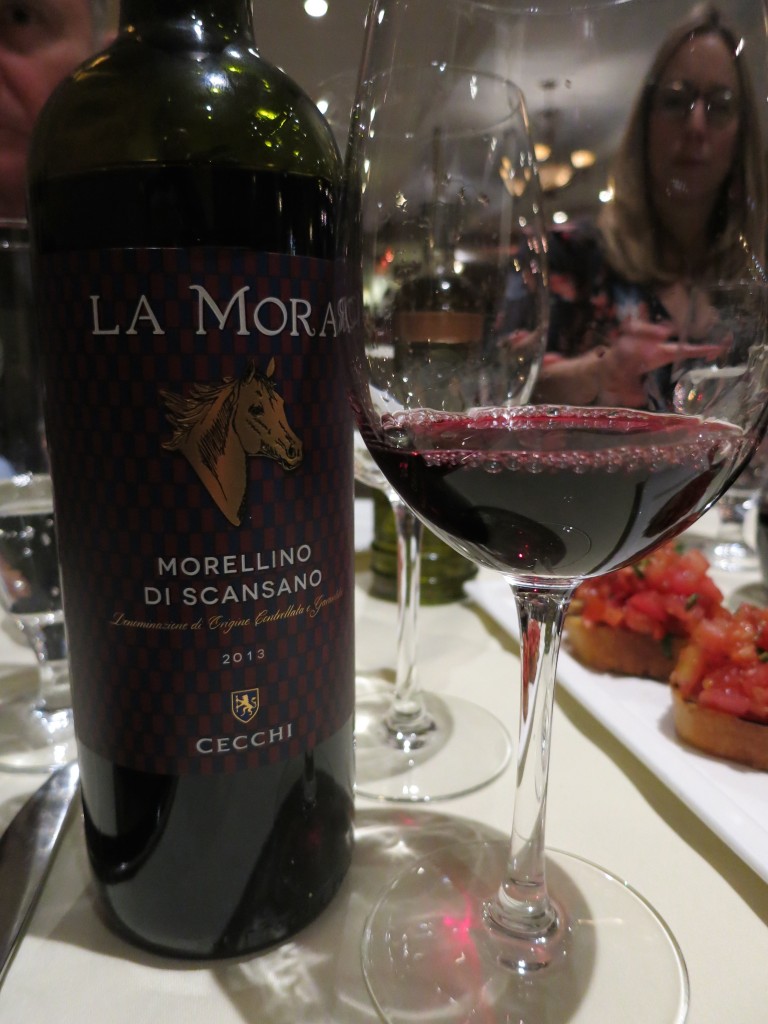 In 1996, Andrea Cecchi's father bought 360 acres of Maremma vineyards, expanding his wine company out of Chianti Classico, its home base since the late 19th century. He called his new wines "La Mora," in honor of the black-skinned horses for which Maremma was once famous, Andrea explained, indicating the horse-head silhouettes on the labels.
We talked about measures the winery takes to improve sustainability and how they continue to innovate, working to make even the most incremental of improvements, knowing that enough small steps forward eventually lead to great leaps in quality. In the not-so-distant past, the fashion was to amp up the extraction and oak flavors. Now, the pendulum has swung the other direction, and Andrea, like many other top winemakers these days, seeks to emphasize the quality and purity of the fruit. It all sounded good, but did it translate into delicious wine?
I smelled the 2013 "La Mora" Morellino di Scansano. It had a lovely rich aroma of red cherry fruit and violets. This wine sees no oak. "I want it to be very perfect, clean, into the bottle," Andrea explained, and he succeeded in that effort. The wine started with ample dark cherry fruit before moving to a brief perk of white-pepper spice, admirably round tannins and a clean, dry finish. It worked well with some tomato and basil bruschetta, becoming a bit bigger and spicier. A very good value for $23 a bottle.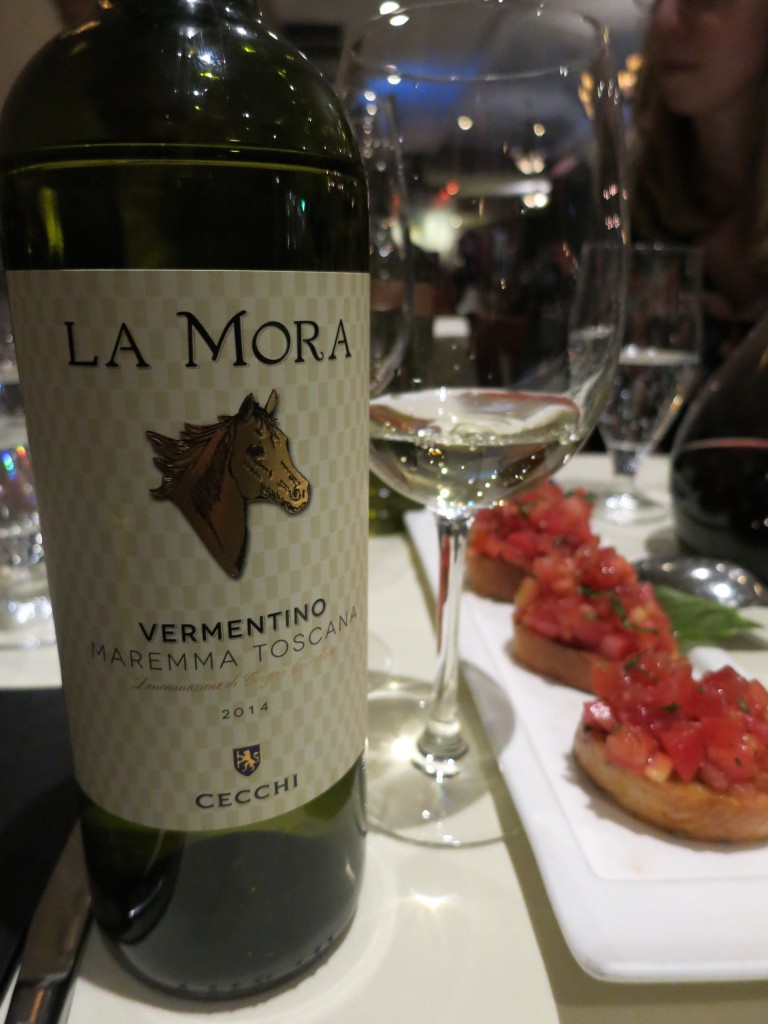 We also tried the 2011 "La Mora" Morellino di Scansano Riserva, aged 12 to 14 months in French oak barriques composed of 40% new wood (older barrels impart less oak flavor). I felt especially excited to try this wine, because only 10% of Morellino di Scansano is riserva. I loved its rich dark-chocolate and cherry aroma overlaid with a note of black licorice. On my palate, the cherry fruit felt cool and ripe, undergirded by mocha notes and well-integrated tannins. Like with the first Morellino, this example exhibited a general undertone of dryness — the wine didn't feel juicy or jammy. This wine is pricier at $40 a bottle, but if you have that money to spend, you won't regret spending it on this absolutely delightful riserva.
Maremma can produce notable whites as well, as demonstrated by the 2014 "La Mora" Maremma Vermentino Andrea presented. Demand for wines made from this indigenous grape far outstrips supply, according to The Oxford Companion to Wine, and I can understand why. This Vermentino smelled fresh and green, with just a touch of creaminess to it. A lengthy amount of time in contact with the yeast gave this wine a wonderfully even keel and elegant mouthfeel. Ripe fruit expanded on the palate, but taut acids underneath buoyed it up without becoming intrusive or overly tart. I also liked the dry, mineral finish. Many Italian whites require food to really appreciate them, but this wine worked just as beautifully all on its own. Very classy, and very well-priced at $20 a bottle.
Honestly, I had expected to end my writing about Andrea Cecchi's wines here, because though he planned on presenting some Chiantis, they hardly qualified as obscure. But these Chiantis did turn out to be unusual, and well-deserving of an upcoming post all their own.
Note: The tastes of these wines were provided free of charge.