A cast party seemed like an odd venue in which to taste wine, but as a recovering theater major, I have a soft spot for musicals. Getting a new one off the ground can be tough, especially if it's a wordy period piece, and I decided that if my blog post about the partner wine of the musical can also help promote a good show, then so much the better. So I accepted the invitation to the party celebrating the Chicago premiere of Hamilton.
Serving glasses of a wine named The Federalist during the intermission of a musical about Alexander Hamilton would seem gimmicky if the quality were less than excellent. After all, who cares if the wine's name ties in to the theme of the show if it doesn't taste any good?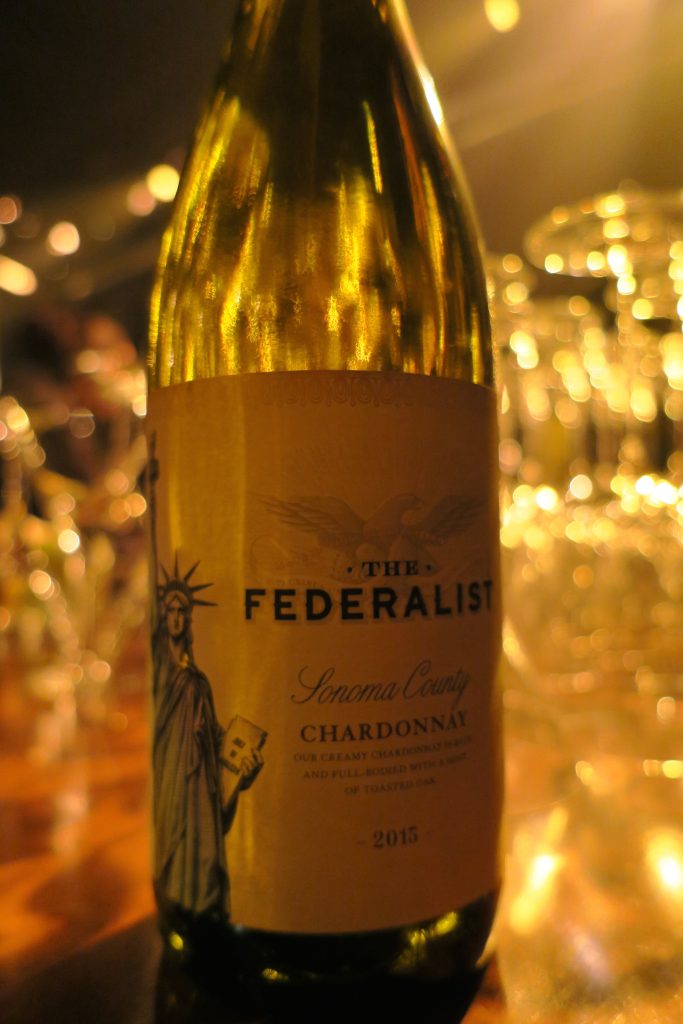 As we entered the party, I wasted no time in scooping up a glass of the 2015 Federalist Sonoma County Chardonnay. In general, Sonoma has a cooler climate than Napa, because the county is closer to the cool ocean currents off the coast. Cooler temperatures often result in higher acidity, which means that Sonoma Chardonnays are less likely to be blowsy and overripe than Napa Chardonnays.
And indeed, this Federalist Chardonnay was a well-balanced beauty. It suckered me right in with its aroma of buttered popcorn and a bit of tropical fruit. The fruit tasted rich and ripe, and there was an overlay of oak. Some people despise butter and oak, I know, but in the right proportions, they can be gorgeous flavors. Especially when they're balanced, as they were here, by ample acids and a shaft of white pepper spice. This wine sells for about $14-$16 a bottle, which is a fantastic value for the money. Comparable white Burgundies cost twice as much.
I also tried the 2014 Federalist Lodi Cabernet Sauvignon, which I approached with no small measure of skepticism. At this summer's Wine Bloggers Conference in Lodi, I tried a handful of Cabernet Sauvignons, and I found only one I could actually recommend. Now, I'm pleased to report, I have two. I enjoyed the cool, clean, rich fruit, the lively and rustic acids, the perk of white pepper spice and the supple tannins. It had some finesse, this Cabernet, and again, it's surprisingly affordable at around $17 a bottle. Another fine value.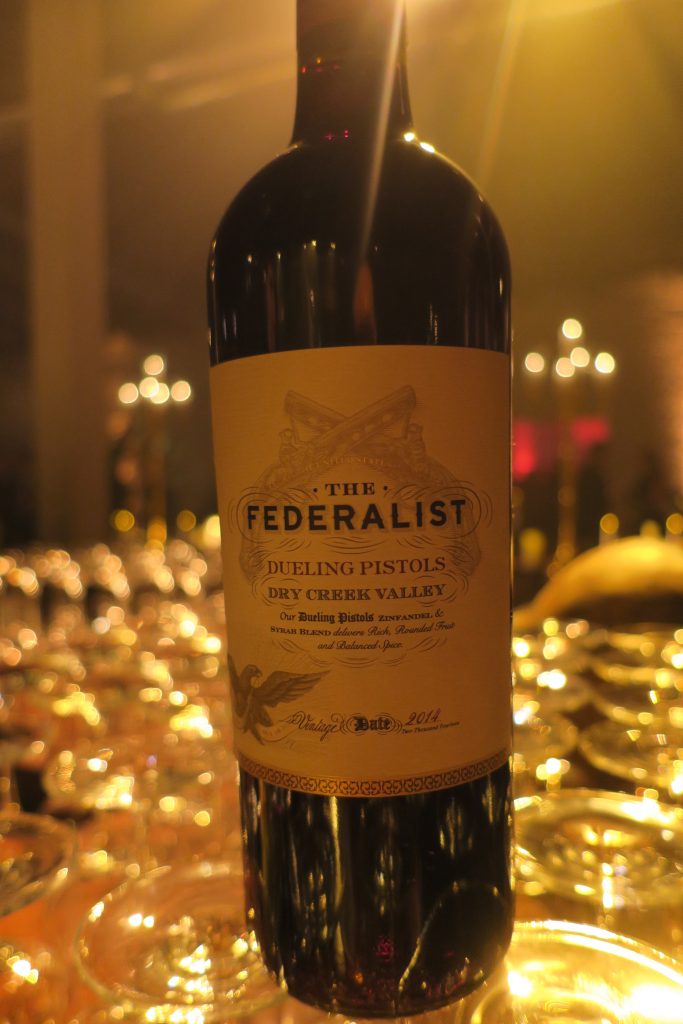 I noticed Lin-Manuel Miranda, the creator of Hamilton and the star of the production on Broadway, standing not far away, and I took the opportunity to ask him about Federalist wines and their partnership with his show. I had just started my question when Mr. Miranda took the opportunity to give me a pithy quote: "I have to go over there now," he said.
Well, he's more of a whiskey drinker in any case.
His speedy departure gave me a moment to try the third wine offered at the cast party, the 2012 Federalist Dry Creek Valley "Dueling Pistols" blend of 50% Zinfandel and 50% Syrah. I was especially excited to try this wine, because I can't recall ever trying such a blend. According to The World Atlas of Wine, Sonoma's "Dry Creek Valley still has a reputation for some of the finest examples of [Zinfandel]," and certainly this wine gave me no cause to dispute that assertion.
The "Dueling Pistols" smelled of rich, ripe fruit and tobacco — one of my favorite combinations. I absolutely loved its opulent fruit leavened with zesty spice, ample tannins and more of that wonderful tobacco on the finish. This wine is rich, dark and very sexy. It costs more than the others, around $35-$40 a bottle, but every penny you spend is repaid on your tongue.
Heading back to the bar for more, I turned around to discover Mario Cantone, of Sex and the City fame. He knew the Federalist wines well, since he spends quite a bit of time in Sonoma, and he agreed that the Chardonnay in particular is "delicious."
The lead of the Chicago Hamilton production, Miguel Cervantes, approached us as we were chatting, and it turned out that he had never tried any of the Federalist wines. My quick-thinking friend Liz Barrett of Terlato (The Federalist's distributor) offered to get him a glass so that he could give one a try, and she returned with a sample of the "Dueling Pistols."
Mr. Cervantes proved quite adept at describing his experience with the wine. He gave it a smell, and said, "Oh yes, I like bigger, spicier wines." After giving the "Dueling Pistols" a sip, he said, "I like the dry start — it's not a Kool-Aid start like some Syrahs." He took another taste and continued, "It gets in there dry, and then it's a big old kick-you-in-the-face finish. I like it a lot."
Me too. After trying this superb Zinfandel/Syrah blend, I have to wonder why we don't see that combination more often. It really works. And even at $35 or $40 a bottle, the "Dueling Pistols" goes down a lot more easily than the price of a Hamilton ticket.
Note: The samples of these wines and the tickets to the cast party were provided free of charge.
Cabernet Sauvginon, California, Chardonnay, Syrah/Shiraz, Zinfandel Hamilton, Miguel Cervantes