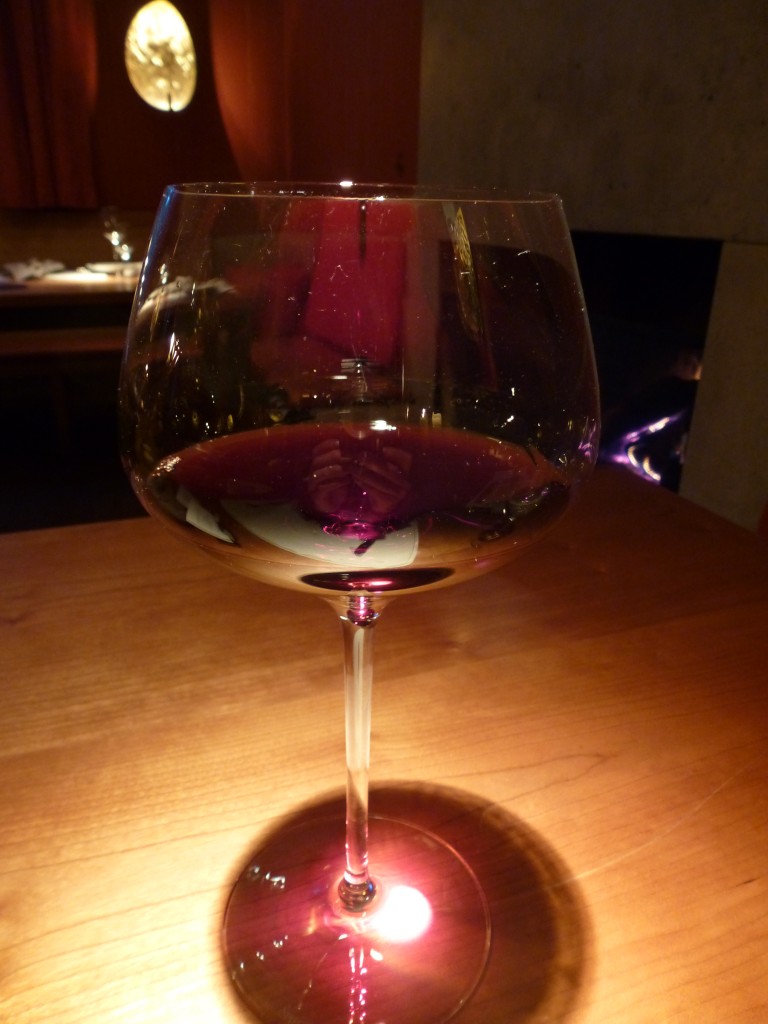 This list, especially when taken together with my companion list of whites, illustrates how absolutely delicious wines are being made in all sorts of unexpected places all over the globe. Nowadays, there is simply no reason to confine your drinking to wines from two or three classic regions.
You'll note that nary a wine from France made the list below, for example. Everyone knows top Bordeaux and Burgundy taste great, and the prices reflect that fame. Taking a risk on something lesser-known can reap significant rewards, both in terms of saving money and broadening the palate.
The planet is encircled with tremendous wine-making talent. Fantastic wine makers can be found in just about every wine region on the map, and just as important, insightful wine growers are exploiting vineyard sites to their full potential, finding new terroir for classic grapes as well as resurrecting nearly forgotten ancient varieties rich in character and history.
We wine lovers have never had it better, whether we're in California, Italy, Uruguay or British Columbia.  Cheers to the vintners in far-flung places taking risks on unorthodox wines, hoping that we'll notice their beauty, and cheers to the importers, restaurants and wine shops courageous enough to work with them. My life is much the richer for it.
The most memorable reds I tasted in 2013, in alphabetical order:
ART+FARM "THE MESSENGER" RED WINE NUMBER ONE (LOT #612):
This is one complicated blend. No fewer than 11 different Californian wines made their way into the mix, including Cabernets from Lake County and Napa, Merlots from Napa and Sonoma, Malbecs from Napa and Dry Creek, Cabernet Franc from Napa and Montepulciano from the Shenandoah Valley.
After reading the list above, you might be wondering what a Montepulciano is doing in a blend that's otherwise all standard Bordeaux varieties. According to winemaker Kat McDonald, just 12% of Montepulciano "completely changes the texture and color of this wine. As one of my fellow tasters astutely noted, "It's dark, but not heavy." I loved the aromas of mocha and dark fruit, and indeed, it tasted dark and dusky but lively as well, with well-balanced black-pepper spice. Paired with some dried blueberries, additional floral notes came to the fore, and the tannins became even more pronounced. This is one sexy blend, and a fantastic value at $18.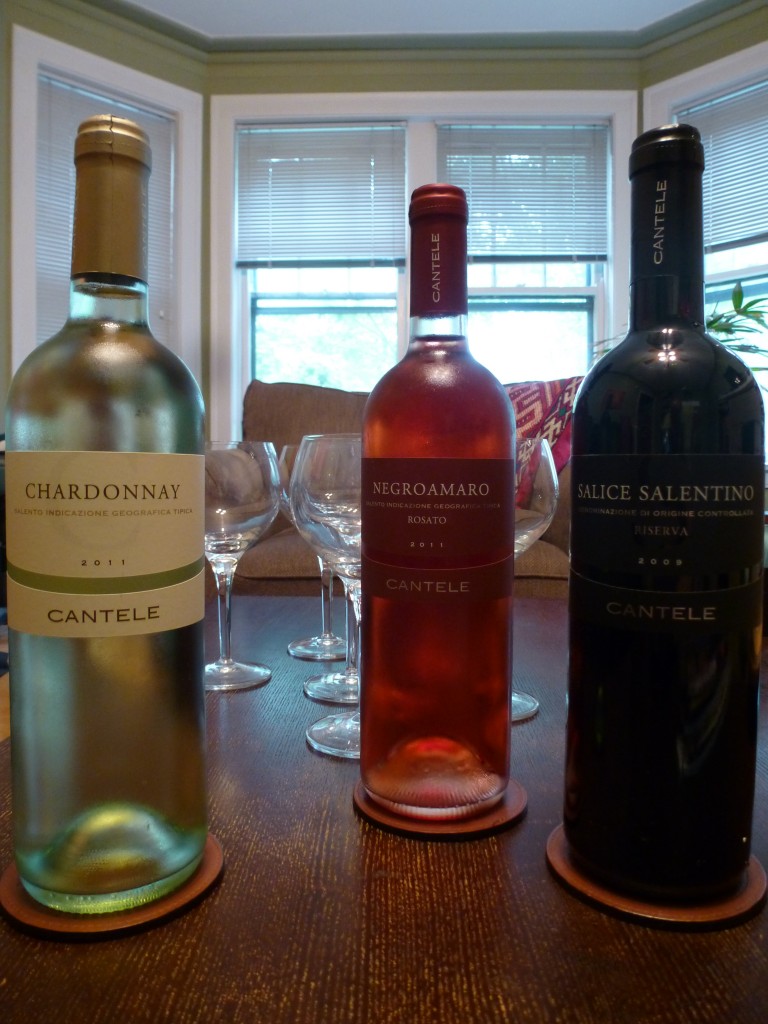 2009 CANTELE SALICE SALENTINO RISERVA:
According to The Sotheby's Wine Encyclopedia, the best wines in Italy's Salice Salentino DOC are its Negroamaro-based reds, and the Cantele certainly did not disappoint. This 100% Negroamaro had tight, powdery red-fruit aroma and ample fruit on the palate. I got a blast of cherries, and others in the group also tasted currants and raisins. Rich but bright, this full-bodied wine had well-balanced, rustic acids and some serious tannins on the finish. Binny's sells this red beauty for $11,  which is a steal.
2008 D.H. LESCOMBES CABERNET FRANC:
This wine was crafted by viticulturalist Emmanuel Lescombes and winemakers Florent and Herve Lescombes under the umbrella of St. Clair Winery, New Mexico's largest. I sampled their Cabernet Franc in St. Clair's Albuquerque tasting room and bistro, but the grapes were grown near Deming along the border with Mexico, at an elevation of about 4,500 feet. What a delight — it had an aroma of rich raspberry jam, and dark fruit balanced by bright, broad acids. The wine resolved into some tannins and focused spice on the finish, without a hint of anything vegetal. This wine has the richness and power to justify its rather steep $36 price tag.
This British Columbian blend contains all five of the classic Bordeaux varieties, grown on just eight acres of vineyards. It smells red and surprisingly minerally, and wow, that flavor. It has bright red fruit, focused acids, well-finessed tannins and some metallic earth on the finish. It's a delight to drink, and a very fine value for $25.
2012 DOMAINE TERLATO & CHAPOUTIER SHIRAZ-VIOGNIER:
An appellation of the northern Rhône which never fails to quicken my heart is Côte Rôtie, which produces some of the world's most coveted Syrah-based wines. These generally unaffordable wines were the inspiration for this Australian collaboration between Anthony Terlato and Rhône-based winemaker Michel Chapoutier. Together, they purchased some land north of Melbourne in the Pyrenees Hills, which is about as far from the Rhône as you can get. Nevertheless, the terroir must be similar, because this Côte Rôtie-style blend of 95% Shiraz (Syrah) and 5% Viognier is an absolute delight to drink. Shiraz, of course, is known to do very well in Australia, and it only makes sense that aromatic Viognier, another variety from the Rhône, would also flourish.
This wine had a startlingly beautiful aroma — jammy and redolent of violets. I loved its rich texture, extravagant fruit, and perfectly balanced spice and tannins. Gorgeously lush, without becoming overblown. Averaging about $17 according to Wine Searcher, this is one of the best red-wine values I've tasted all year.
2007 GEISEL WEINBAU BRENTANO "R" MARKELSHEIMER PROBSTBERG MERLOT TROCKEN:
I had a devil of a time finding a website for this single-vineyard Merlot (Markelsheimer Probstberg is the vineyard name), but I have a sneaking suspicion it's produced by the same Geisel family which owns the hotel where I tried it, the Königshof in Munich. The restaurant's adventurous sommelier, Stephane Thuriot, selected this wine from northern Württemberg in Germany to pair with a main course of rabbit with artichokes, spinach and saffron, and it was startlingly delicious. I knew I was in for a treat when I gave the wine a first sniff, enjoying the aroma of ripe red fruit and earth. It had a velvety texture, rich fruit and big but firmly controlled spice. Absolutely excellent.
2009 PALUMBO FAMILY VINEYARDS SANGIOVESE "DUE FIGLI" VINEYARD:
On a quiet side road away from the big wineries in Temecula, this winery was recommended by almost every local I spoke with. All the fruit for its wines comes from Palumbo's 13 acres of vineyards, because owner Nicholas Palumbo "believes in producing only what he grows himself," according to the winery website.
This single-vineyard Sangiovese was brick-red, with an earthy, jammy nose that had me itching to give this wine a taste. I was not disappointed. It was wonderfully lush, with jammy fruit, a luxurious mouthfeel and a tannic finish. Temecula is on few people's fine-wine radar, but if it can produce wines like this Sangiovese, it's a region worth keeping an eye on.
2005 PISANO "ETXE ONEKO" LICOR DE TANNAT:
The Sotheby's Wine Encyclopedia speaks very highly of the Pisano winery, noting that Eduardo Pisano "has produced some of Uruguay's best wines in recent years." I also discovered that this particular Licor de Tannat, a fortified wine made in the manner of port, merited inclusion in The World Atlas of Wine. The original Tannat vines in Uruguay, called "Harriague" by the Basque settlers who brought them, almost all died off over the years. "However," the Atlas notes, "Gabriel Pisano, a member of the youngest generation of this winemaking family, has developed a liqueur Tannat of rare intensity from surviving old-vine Harriague." This wine (the name of which means "from the house of a good family" or "the best of the house," according to Daniel Pisano) blew me away with its richly sweet, jammy fruit and impressively balanced acids. These were followed, as you might expect, by a big bang of tannins. Not only is this wine spectacularly delicious, it's a taste of history. If you see it on your wine store's shelf, it's worth the splurge.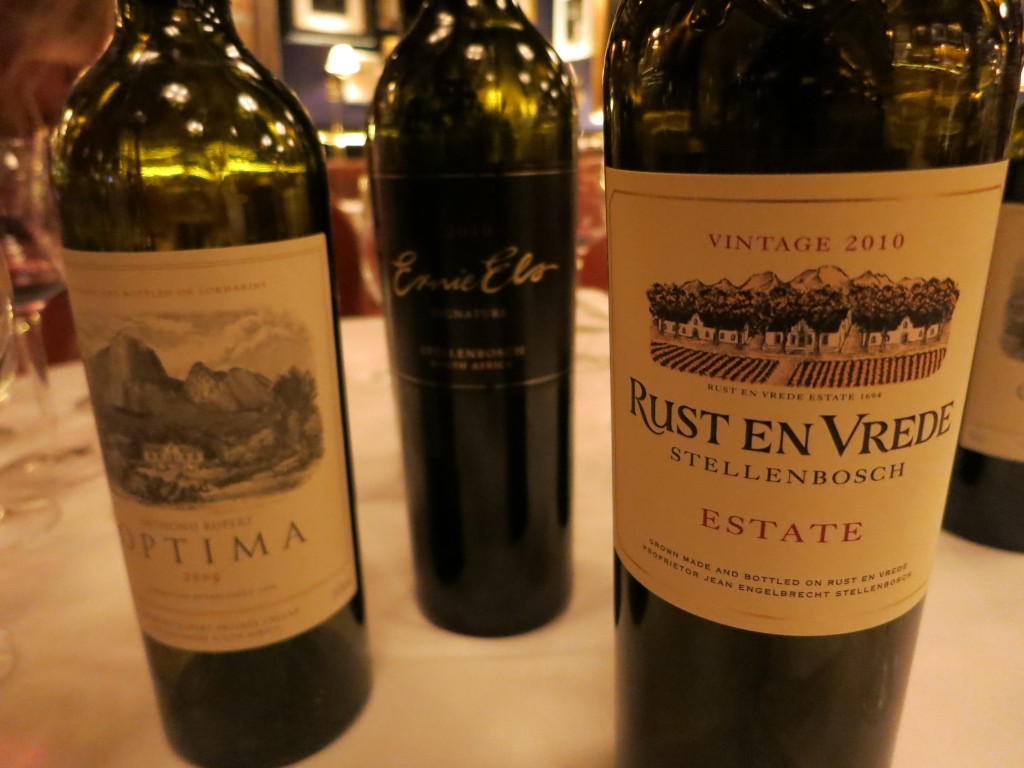 This Stellenbosch estate in the shadow of the Helderberg has produced wine off and on for three centuries, though it took its present form only after 1977, when the Engelbrecht family purchased and restored it. The Rust en Vrede Estate wine blends Cabernet Sauvignon, Syrah and Merlot in a "hermitaged" style of wine popular in Bordeaux in the 19th century, when producers would sometimes beef up their blends with Syrah from the Rhône's Hermitage region.
The deep red-fruit aroma was very enticing, marked by additional meaty and floral notes (a fellow taster at the table also detected "man musk," which led Jean Engelbrecht to half-joke that she was forbidden from sampling any more of his wines). I loved the wine's silky texture, rich red fruit, firmly controlled white-pepper spice and raisiny finish. The Estate felt very supple, yet it still cut right through the richness of my beef filet. I lamented that I hadn't tried it with my appetizer of mussels, but Engelbrecht assured me I hadn't missed anything: "I'm more of a main course kind of wine," he quipped. But I was rather startled to discover that the Estate also paired well with a side of roasted asparagus, a notoriously difficult vegetable to match.
2007 SKOURAS GRAND CUVÉE NEMEA:
The Sotheby's Wine Encyclopedia calls Greece's Nemea appellation "relatively reliable," and the Skouros Agiorgitiko I tasted at the Wine Bloggers Conference more than supports that rather tepid assertion. It was memorably delicious, with a beautiful aroma of tobacco and cherries, plenty of bright acids, ample fruit and luscious notes of mocha. Anyone who still thinks Greece is nothing but a sea of Retsina should taste this.
And this concludes my awards for 2013! You can read about my picks for top white wines here, and my favorite spirits and cocktails here. Happy New Year, everyone!
Australia, California, Canada, Germany, Greece, Italy, South Africa, Uruguay