5 October 2011
Comments Off

on Drinking: Good For You And The Planet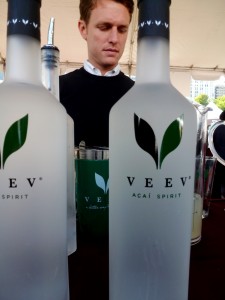 Let me start by saying that I enjoyed my taste of VeeV, a clear spirit distilled from Idaho winter wheat. Alone, it tasted sweet and smooth, with a distinct berry note from the infusion of açaí. Shaken with fresh lime juice and sage leaves, the VeeV made for quite a delightful cocktail. The citrus cut through the inherent sweetness of the 60-proof liqueur, and the sage added an unexpected twist.
VeeV's marketing campaign is a little harder to stomach. The brochure I received makes only one oblique reference to VeeV's taste, focusing instead on the health benefits of the açaí berry, "the world's preeminent superfruit," according to the VeeV website. This Amazonian wonderberry is Oprah's #1 superfood, a promotional brochure reassures us, with "57% more antioxidants than pomegranates."
Never mind that clinical studies have failed to show that antioxidants prevent chronic diseases such as cancer or heart disease. And exactly how much of that big bottle of booze is actually açaí berry anyway?
The second half of the brochure's cover goes on to tout the company's green initiatives. VeeV (or rather, the consumer) donates $1 per bottle to rainforest preservation, wind power provides part of the distillery's electricity and carbon offsets ensure that the company is carbon neutral. All of which is very admirable, if tangential to the flavor of the spirit.
So, basically, if you're seeking a pseudo-health liqueur which goes out of its way to assuage your guilty consumer conscience, by all means, drink up. You can "Drink Better. Live Better. See how at veevlife.com."
Personally, I prefer not to pretend that 60-proof alcohol is a health food. I think I'll be getting advice on how to "live better" elsewhere.
VeeV: Available for $30 a bottle at Binny's.
To make the cocktail described above, shake two parts VeeV (or berry-flavored vodka), one part fresh lime juice, a dash of simple syrup and two fresh sage leaves vigorously with ice. Strain in a martini glass, and garnish with a fresh sage leaf or a lime slice.