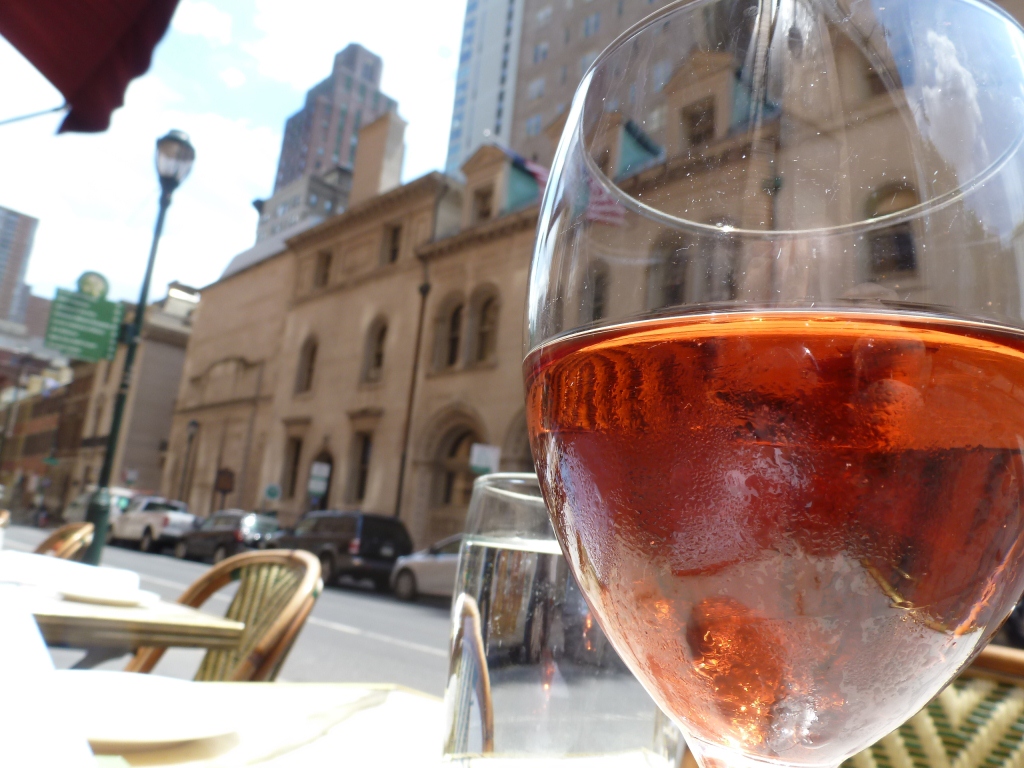 COURSE 3: Costières de Nîmes rosé
I had a very relaxing lunch one day at Parc, a resolutely traditional French brasserie on Rittenhouse Square. Perhaps it's a silly way to choose a pairing, but when I eat salmon, I tend to pick a wine equally as pink. Dry rosé and salmon just seem made for each other.
As I was waiting for my Provençal-style baked salmon with ratatouille and cous-cous, I couldn't help but overhear the conversation of the well-dressed young ladies at the table next to me:
"Your dog doesn't have a middle name?"
"Well, I think it's normal for a dog not to have a middle name. But can I just say, I would never hire a dog walker as hot as yours."
It would take a wine of great interest and vivacity to draw my attention away from such an exchange, but the 2011 Mas de Bressades, a rosé blend of Grenache, Syrah and Cinsault from the Costières de Nîmes, succeeded in doing just that. Sandwiched between the southern Provençal cities of Nîmes and Arles, the Costières de Nîmes appellation produces wines "closer to those just over the river in the southern Côtes du Rhône" than in adjacent Languedoc, notes The Oxford Companion to Wine. The rosés in particular tend to be "good-value dry wines with a delightful color and ripe fruit," according to The Sotheby's Wine Encyclopedia, and so it was with this excellent example.
The Mas de Bressades had an appropriately salmon-pink color, and on this hot afternoon, it tasted vibrant and refreshing. It had my ideal rosé flavor profile: Very fruity but unquestionably dry, with zesty, food-friendly acids and a bracing finish of minerals. It was sunny Provence in a glass, and it worked beautifully with the perfectly rare salmon filet. If this wine is any indication, it's worth keeping your eye out for rosés from Costières de Nîmes.
COURSE 4: Junmai Daiginjo Sake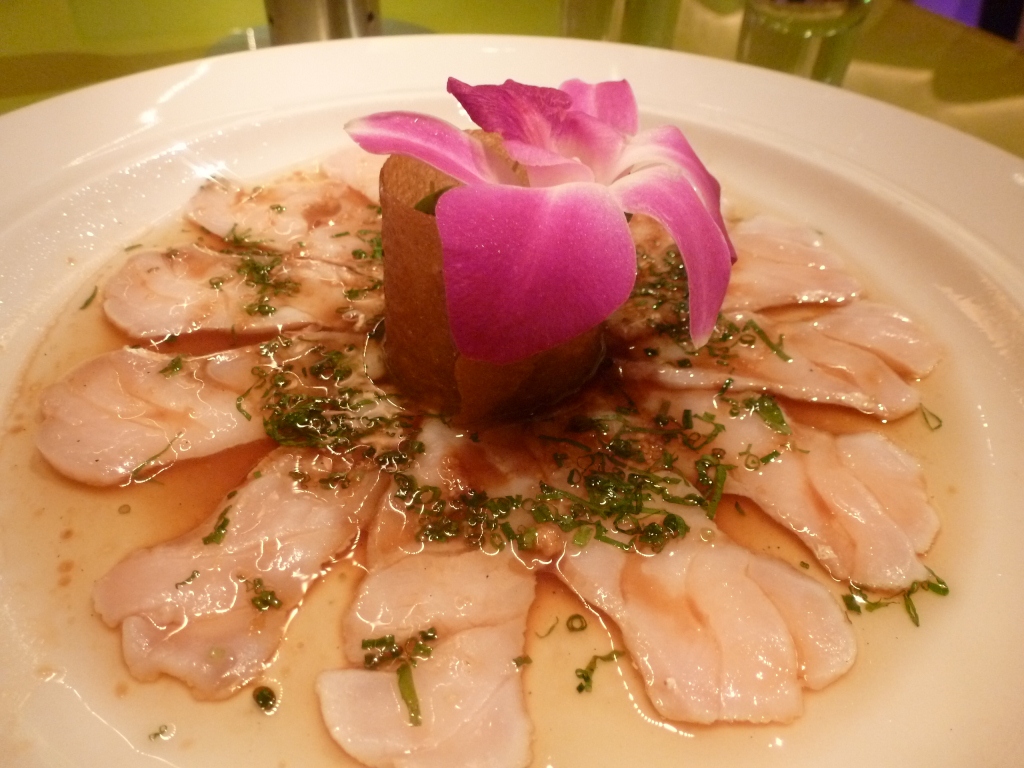 The wine and seafood were very different but equally as delicious at Morimoto, Iron Chef Masaharu Morimoto's first restaurant, glowing with color-changing booths and retro-futuristic table lamps. To pair with an appetizer of whitefish carpaccio with yuzu-infused soy sauce, hot oil and mitsuba leaf, I chose one of Morimoto's signature sakes, a Junmai Daiginjo produced by the four-hundred-year-old Fukumitsuya Sake Brewery in Ishikawa, Japan.
A sake brewery? Many of us, myself formerly included, think of sake as "rice wine," but it's produced in a process closer to brewing beer, using a special type of large-grain rice. This rice is polished to remove the bran, and then fermented. Additional distilled alcohol may or may not be added at the end, either to increase yield (in cheap sakes) or, in smaller amounts, to pull out more aromatic and flavor compounds.
The words "Junmai Daiginjo" give us clues as to the production process and quality. Any sake labeled "Junmai" has no additional alcohol added to it; it has been produced with rice only in the traditional manner. Other words indicate the amount the rice has been polished. The more polish, the more refined the sake. "Daiginjo" indicates the most polish, followed by "Ginjo." You'll encounter a lot of other words on sake menus and bottles, words I certainly don't have committed to memory. Really, I have only scratched the surface of sake. So at this early point in my explorations, I always just look for Ginjo or Daiginjo, and I rarely go wrong.
This particular Daiginjo came chilled, as many fine sakes do, and like the rosé described above, it tasted fruity but dry. Honeydew flavors gave way to some spice and a touch of yeastiness. It felt rich but finished dry, and it had enough acids to pair well with the sublimely savory whitefish carpaccio.
For the final two courses: A dark Spanish beauty and a fortified red from my earliest wine tasting days.
Blends - Rosé, France - Rhone, Japan, Restaurant Reviews, Sake Costieres de Nimes, Ginjo, Junmai Daiginjo, Morimoto, Parc Restaurant, Philadelphia