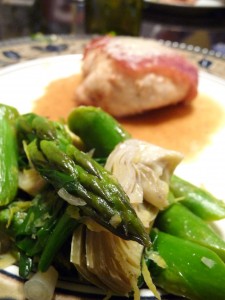 Every now and then I treat myself to some saltimbocca, that classic Italian recipe in which a protein (usually chicken, pork or veal) is sautéed in sage-infused butter, wrapped in prosciutto and crisped in the oven. The rich butter, aromatic sage and salty prosciutto work wonders together.
Inspired by the succulent version I'd eaten at The Purple Pig (see the review here), I whipped up some chicken breast saltimbocca accompanied by asparagus, ramps and baby artichokes sautéed in olive oil and tossed with lemon zest. To pair with the salty, umami-rich chicken, I wanted something on the sweeter side, ideally with a touch of green to work with the spring vegetables.
I found just what I was looking for in a 2009 Huff Kerner from Germany's Rheinhessen region. This expansive area south of Mainz has a bit of reputation mending to do — it's the home of cloying Liebfraumilch, insipid Blue Nun and many a flabby Oppenheimer Krötenbrunnen "Qualitätswein."
Many vintners rise above this sea of plonk, however, crafting well-balanced wines with flavors beyond Welch's white grape juice. André Dominé's Wine notes that "…outstanding wines are being made again, in particular on what is known as the Rhine Front," a plateau of red sandstone descending steeply to the Rhine River. I felt encouraged that Huff uses fruit from both Hipping and Pettenthal, two of the best vineyards on the Front, according to Dominé.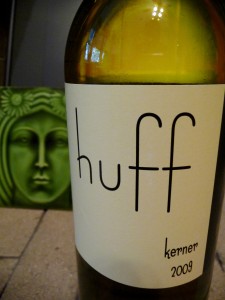 But Kerner? I must admit I can't recall ever sampling this cross between Riesling and Trollinger, and what I read about it wasn't especially flattering. Dominé asserts that Kerner "cannot achieve the same high quality" as Riesling.  Wine.about.com calls it a "fairly no-nonsense" variety, and Wine Searcher spills the beans that Kerner gives "generous yields," often a sign of weaker fruit. Adding insult to injury, Wine Searcher notes that while Kerner is "Not often seen as a varietal, it is used in Liebfraumilch blends."
Incidentally, "Liebfraumilch" translates literally as "Milk of the beloved lady," or even "Milk of the Virgin Mary." Blessed is the fruit of thy womb, but not necessarily of thy vine.
I prayed this pale straw-colored Kerner wouldn't be a taste of purgatory. Thankfully, Huff clearly made this wine with care, balancing the sweetness with a tang of acidity and a slight prickle on the tongue. Aromas of green apples and ripe pears continue through to the palate. After a rush of sweetness at the front of the tongue, the acids kick in towards the middle and the back. It worked wonderfully with the saltimbocca as well as the spring vegetables — no mean feat.
This variety may not boast the same lofty potential as noble Riesling, but a well-made Kerner will be unlikely to disappoint.
SUMMARY
2009 Huff Kerner: Well balanced, with flavors of green apples and ripe pears. A fine choice for saltimbocca, Wienerschnitzel or a cutlet of pork, chicken or veal in cream sauce. Chill in the refrigerator but remove 5-10 minutes before serving.
Grade: B+
Find It: Purchased at Whole Foods Evanston South for $11, discounted from $14.
Germany, Kerner Hipping, Huff, Liebfraumilch, Pettenthal, Rheinhessen, Saltimbocca, Weingut Georg Gustav Huff, Whole Foods