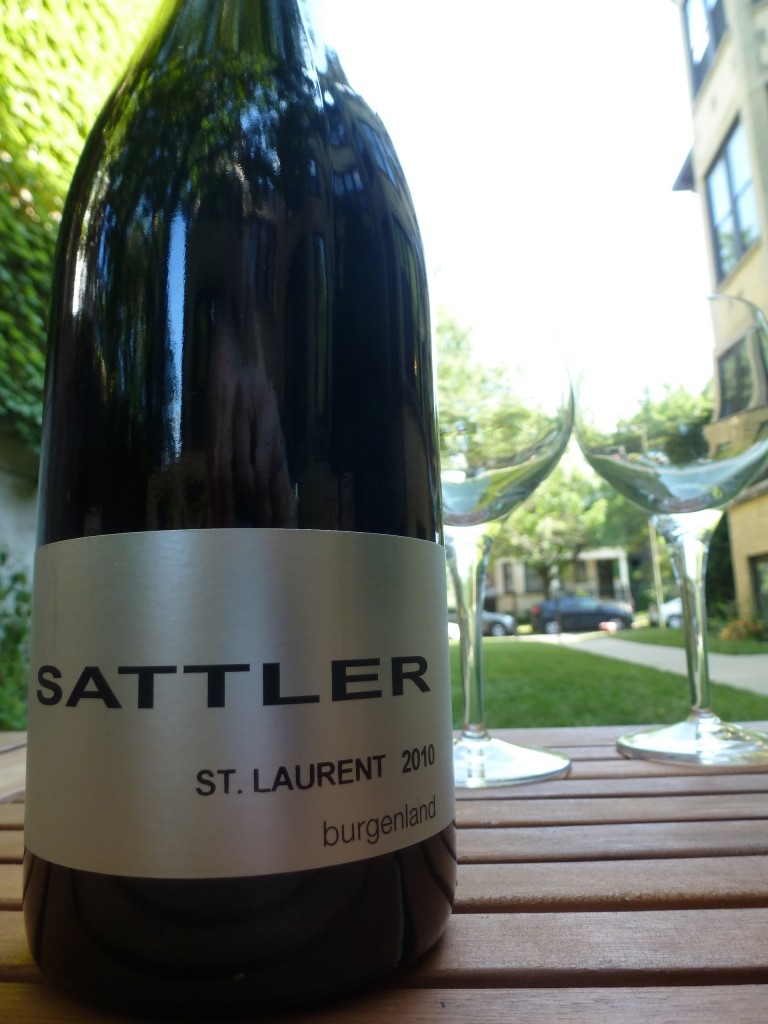 I sampled an array of fantastic wines at the "Austria Uncorked" tasting held in Chicago this past April, but nothing impressed me so much as the luscious red wines made from St. Laurent. This relative of Pinot Noir originated in France centuries ago, perhaps in the Alsace region, but it grows particularly well in eastern and southeastern Austria. Not that we would ever know.
This variety, despite "producing deep-colored, velvety reds with sufficient concentration — provided yields are limited — to merit aging in oak and then the bottle," remains essentially unknown in the United States (source: The Oxford Companion to Wine). Precious few restaurant wine lists have a St. Laurent on the menu. Indeed, it's still rare to see many wines of any kind from Austria, despite the rising popularity of Grüner Veltliner, that tart, peppery white for which Austria has become well-known.
We're really missing out. After tasting several excellent St. Laurents at Austria Uncorked, I was hooked. Determined to add a few St. Laurent varietals to my wine rack, I paid a visit to Binny's. Although the service is laughably awful, the selection of wine is unequaled in the city (or almost anywhere, for that matter). Binny's even boasts an entire "Austria" section. Unfortunately, it's dominated by Grüner Veltliner and Riesling, with barely a red in sight.
(UPDATE: Binny's happened to see this blog post and took pains to find out where their service went wrong. Our correspondence gives me great hope that their customer service has markedly improved.)
I found but one lone St. Laurent, a 2010 Sattler St. Laurent from Burgenland, a large wine region along Austria's Hungarian border. It cost $18, which is honestly a little more than I usually spend, but I had a feeling it would be worth it. And in any case, what choice did I have?
It was worth it. After giving it about 20 or 3o minutes in the refrigerator to bring it down to cellar temperature, we opened it with a dinner of spicy pasta. The wine had alluring aromas of dark fruit, iron and earth. It felt tightly wound on the palate, with lots of dark fruit, some spice and a laser focus from start to finish.
The Sattler family clearly knows how to coax the best out of this finicky variety. And it is still the Sattler family operating this winery. Erich Sattler grew up in the vineyards and is a fourth generation winemaker. This fine expression of St. Laurent shows how well he knows the terroir. It's a serious wine, made with some serious love.
SUMMARY
2010 Sattler St. Laurent: Unwaveringly focused, with big, dark fruit and a healthy dose of earth and spice. A good pairing with beef, and a fine value.
Grade: A-
Find It: I purchased this wine at Binny's for $18.
Austria, St. Laurent Binny's, Burgenland, Erich Sattler, Neusiedlersee